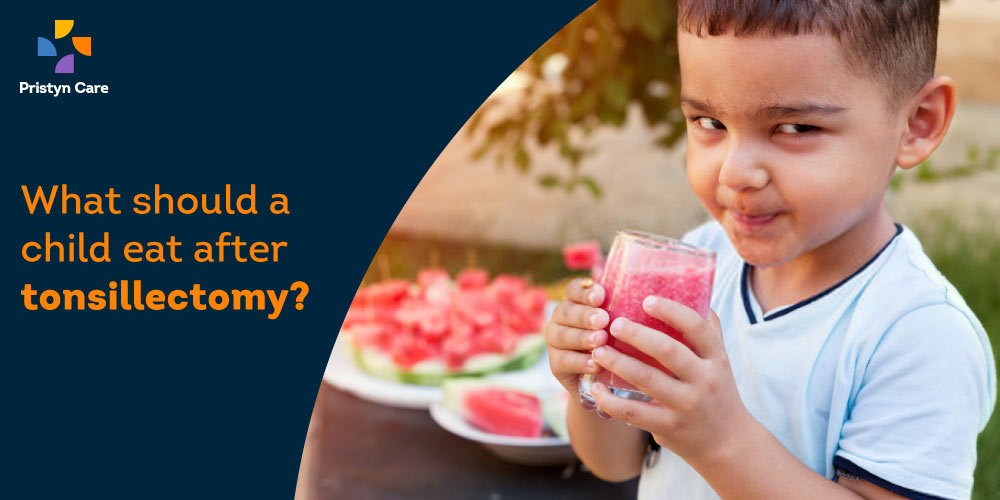 Wondering what is right diet for your child after tonsillectomy? Here is all you'll need to know.
Tonsillectomy is the surgical removal of the tonsils and is commonly performed in children. It is a short procedure, which is typically completed in under 45 minutes and your child would be discharged from the hospital the next day.  
It is normal for the child to have a sore throat and pain after the tonsillectomy. He or she may also have difficulty in swallowing or eating. This is all normal and the ENT doctor will suggest to you what you can do to put your child at ease after a tonsillectomy and what should the child eat during the recovery period. Avoiding foods that are hard, spicy, sharp, or hot is the first thing the doctor will recommend to keep your child comfortable.  
Also Read- How to take care of children after tonsillectomy?
What should my child eat and drink after a tonsillectomy surgery?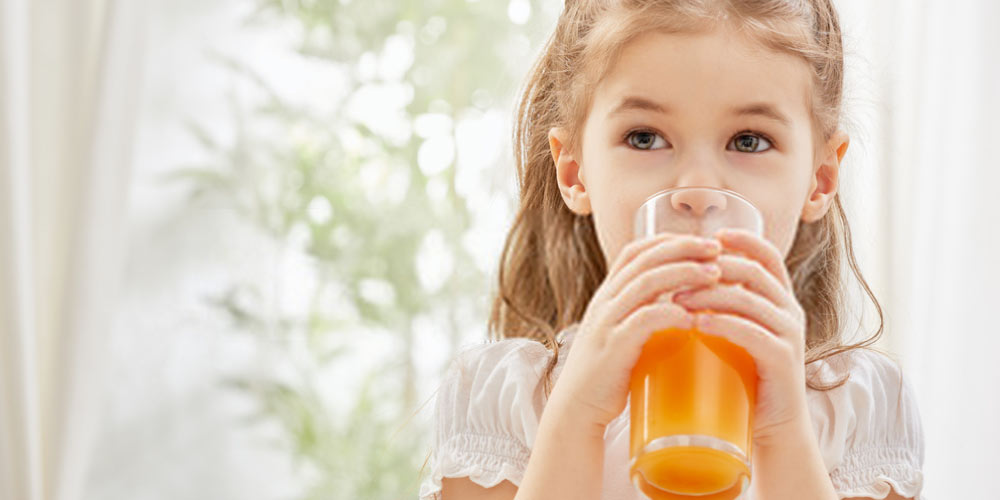 Eating and drinking can be a challenge after a tonsillectomy/ tonsil removal surgery. Your child is likely to experience discomfort for 7 to 10 days, and care must be taken to ensure the wound heals without any complications. Here are some guidelines that will help ensure your child remains well-nourished and hydrated after the tonsillectomy, without much discomfort. Most people find the typical "tonsillectomy diet" really helpful after their surgery. You can follow this diet for a week to prevent pain while eating or swallowing-  
Beginning with clear liquids such as water, broth, apple juice, popsicles, Jell-o, and kool-aid (or clear, flavored drinks) is a good idea. Your child will not feel much pain while drinking clear, cold liquids. Encourage your child to drink small sips at a time.  Cold or lukewarm liquids should be preferred at first. 

You can also add other soft, cold foods including pudding, ice cream, milkshake, and soup (should not be very hot, just lukewarm). It is very important to make sure that whatever you give to your child is non-crunchy, non-spicy and without nuts or anything hard.  You can add soft foods to your child's diet as soon as he or she feels ready to eat. In soft foods, you include scrambled eggs, mac and cheese, mashed potatoes, soft cereal, oats and flavored yogurt.

You can start giving your child solid or semi-solid foods once he or she can swallow better, without pain. It is normal if your child does not want to eat solid food in the first week. Just make sure to give nutritional drinks and liquids to your child to ensure they remain hydrated and nourished. Strictly avoid acidic and spicy foods (including orange or grapefruit juice, tomatoes) as they may make your child's throat sorer and cause discomfort, but will not do any harm.
Your child can eat and drink- 
Clear liquids such as apple juice

Cola drinks

Warm tea

Warm clear cream soup 

Broth

Mashed potatoes

Popsicles

Ice cream

Jell-o

Soft pasta, macaroni and cheese

Bananas

Ice cream

Milkshakes

Applesauce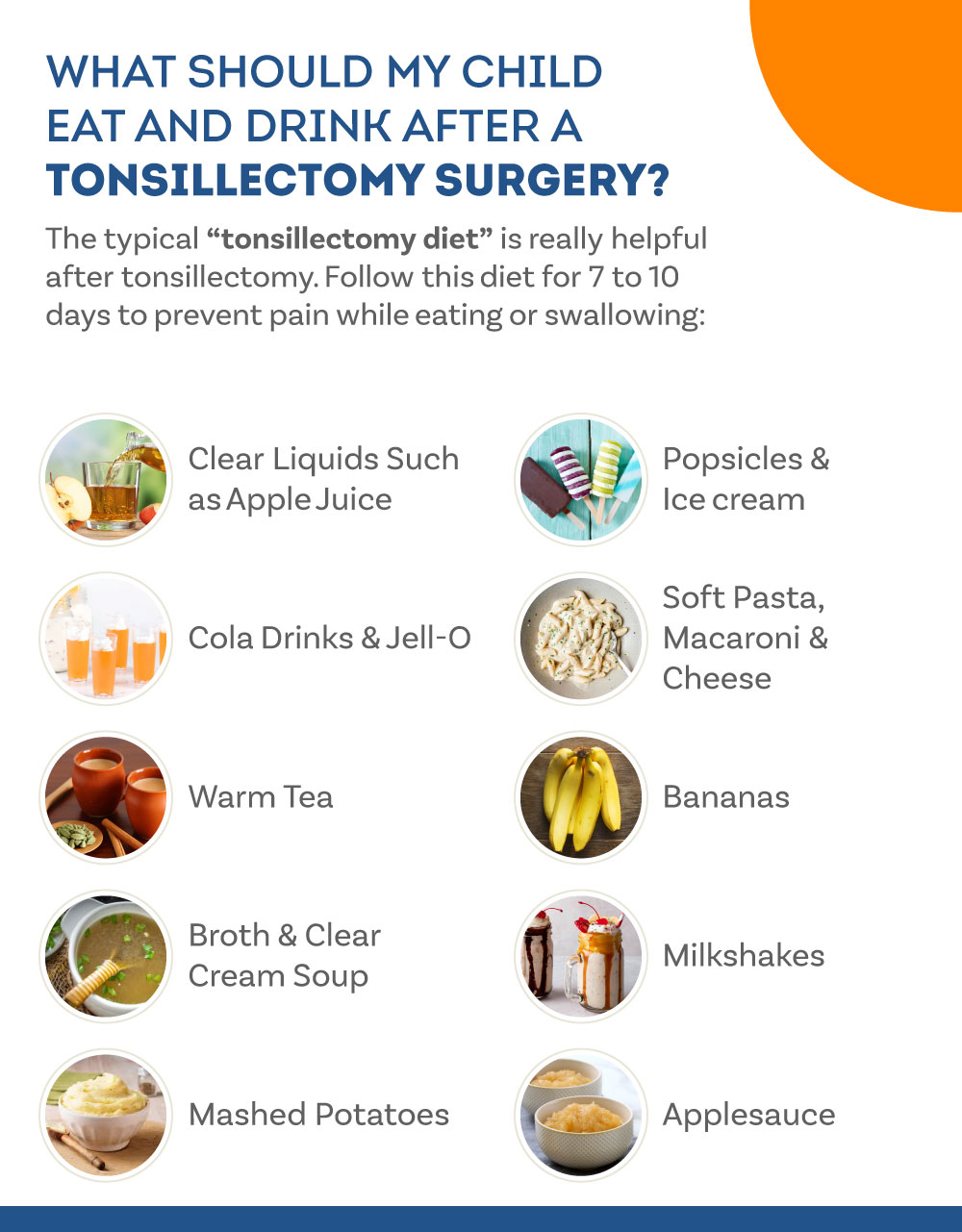 After tonsillectomy, your child should not eat or drink the following foods for at least 2 weeks- 
Popcorn

Chips, nachos, and other solid munchies 

Nuts

Cold, crunchy cereal

Lemonade

Very hot drinks or soup

Carrots

Raw apples

Tomatoes and tomato juice

Spicy or acidic foods

Crackers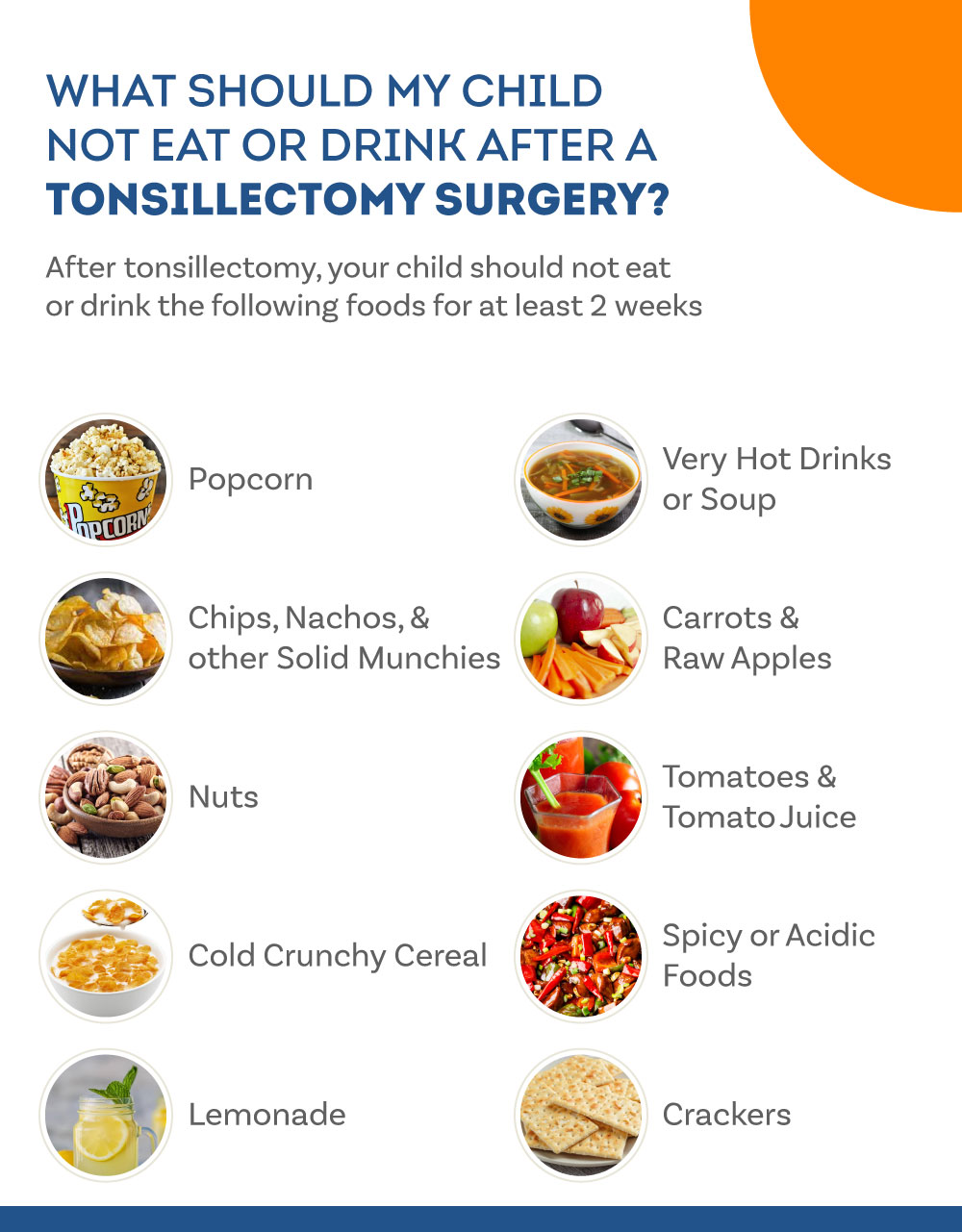 As long as your child is drinking enough fluids, do not worry much about eating. Many children do not start eating solid food for several days after the surgery. Some children may also lose weight, which will be gained back when a normal diet is resumed.
You should not emphasise on your child's nutrition or calories during the first 2 weeks. Solid foods are not as important to take as are the liquids in the first 1 to 2 weeks after tonsillectomy. Teenagers and older children may feel okay to begin a soft diet immediately after the surgery, but it can be difficult to convince a younger child to eat after a tonsillectomy. Do not give your child foods which are spicy, sour, salty, sharp or hot as this may cause pain and discomfort and in worst cases, may cause bleeding.
What to do if my child has pain after tonsillecotmy?
Your child will have a sore throat for 7 to 10 days after the tonsillectomy surgery. It is possible that the sore throat gets worse before it gets better. The ENT doctor will prescribe medications to manage pain and prevent infections after the surgery. Ensure that your child takes all medications on time. If your child has severe throat pain, they should eat 30- 40 minutes after taking the pain medication. 
Final Words
The most important part of recovery after a tonsillectomy is to drink plenty of good fluids. The more your child drinks, the sooner will the pain subside. Water, juices, and flavored drinks are excellent sources of liquid and will help to decrease the pain and keep your child healthy. Be firm and patient with your child and encourage him or her to drink even if they do not want to.  To discuss more about the outlook of tonsillectomy in children and how your child will benefit from tonsillectomy with an expert ENT doctor. You can book your appointment with our ENT specialists from our website or by calling us and consult the doctor online them from the comfort of your home or visit a Pristyn Care clinic near you. 
Read more: What Happens During Tonsils Removal Surgery?