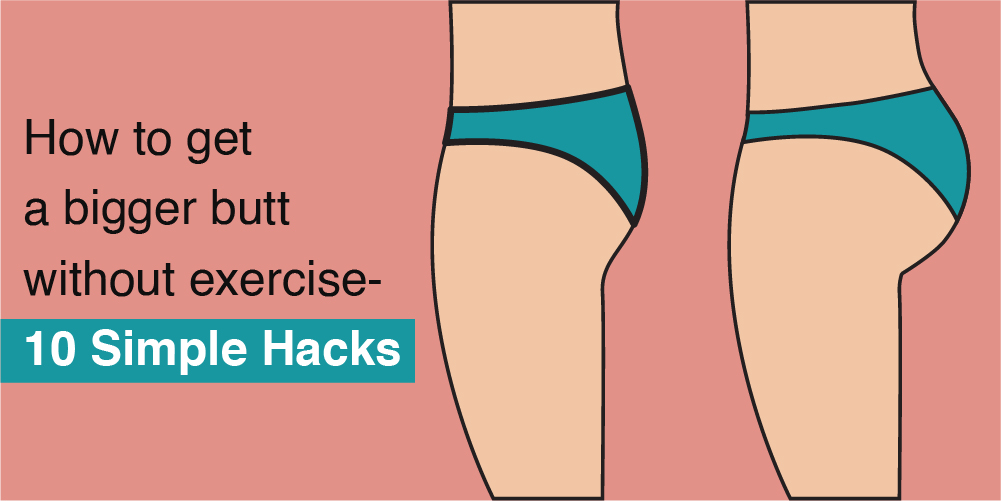 1. Eat What's Right 
The best natural way to get a bigger butt is to eat the right food which can increase the butt size naturally.
Foods that have the ability to make your butt bigger actually can cause an overall weight gain as well. This is because you cannot decide where in your body you want  gain fat. However, you can make the right food choices and choose healthier alternatives to deep-fried junk food. 

Just a single cup of dates can give you 500 calories. These are all healthy calories going inside. Eating dates or having a shake with lots of dates can be an excellent way to increase the daily calorie intake and help in weight gain.
Raisins and prunes are very high in calories, with over 400 calories in a cup-sized serving. One cup of shredded coconut gives you about 283 calories, a cup of avocado slices has about 235, and a cup of fresh figs has 167. These dried fruits are a great source of good fats that can help build a bigger booty. 

One of our favorite guilty pleasure food- peanut butter has enormous health benefits. Due to its high fat and protein content, peanut butter can also help gain weight on the booty.
As per a study conducted, it was found out that peanut butter consumption can also decrease the risk of certain cancers of the gut. Eating nuts and peanut butter is also associated with the risk of type 2 diabetes.
Source- https://www.ncbi.nlm.nih.gov/pmc/articles/PMC3257681/#__ffn_sectitle

Just one ounce of nuts contain up to 200 calories. Nuts are fully packed with calories.  They also make up healthy and nutrient-rich snacks that you can eat anytime. 
The fat and protein from these nuts can provide a boost to the scanty fat and protein reserves of your butt.

Cottage cheese is a must try for those who want a  bigger, toned, tighter butt. As it is rich in protein and rich in fat-burning properties, it can boost the glutes in the best way! 

Sweet potatoes are composed of phytoestrogen. If you are not familiar with what phytoestrogen is, it is the plant analogous to estrogen, the female hormone. As estrogen plays the role for deposition of fat in the butt of the women, adding sweet potato to your meals can help you get a bigger butt.
2. Butt-Enhancing Creams

Endorsed as butt firming, butt lifting or booty plumping creams, these products promise to give a bigger and fuller butt and improve the skin and texture of the butt.
Although, most of these creams fail to deliver the promised results and even give side effects. Some butt-firming or plumping products provide a lift to the saggy butt and give a rounder, fuller appearance. Butt enhancing creams have recently become the talk of the town after Kylie Jenner announced these products to be the reason for her perfect booty. This is the reason many girls and women still try them and some of the females even claim that they work.
3. Butt-Enhancing Supplements

Most butt-enhancing supplements are available in the form of pills and contain natural herb extracts such as maca root, saw palmetto, and other phytoestrogens. These herbs are said to work effectively for the growth of the butt.
4. Lifestyle Changes

If you're do not have time to exercise for your butt, try to indulge yourself in activities that will help tone the muscles.
Take the stairs instead of taking the elevator. It will help the lower body workout which will firm up the glutes.
Make sure your posture is correct. Standing with your back straight and butt protruding out will automatically enhance its appearance.
6. Massages
If you're searching for natural ways to get bigger buttocks, massaging with essential or herbal oils will work wonders for you. Some people claim that they got a temporary effect because the moisture and increased blood flow gives a bigger and fuller appearance to the butt. While there are some others who claim to have got desired, long-time effects.  Try massaging with any of the following oils for about 15-20 minutes each time, twice a day:
Fish Oil

Coconut Oil

Gasoline
9. Surgical Options
If the previously mentioned options do not seem to work for you or for whatever reason you cannot do them or benefit from them, you always have the surgical options. If you are impatient to get , and you have a good budget to spare money on this, you can consider surgical options. 

Plastic surgery for a bigger booty fast is of two types:
As per a research conducted by Eric Swanson ( MD ), fat is the method for butt augmentation as it is more safe and effective.  During the procedure, the surgeon simply takes fat from one part of the body like the abdomen or thighs, and inject the fat to the fatty tissue of the butt.
Source- https://www.ncbi.nlm.nih.gov/pmc/articles/PMC4995709/
This procedure can give better, safer, faster and more lasting results. The only downside is that the expense of the procedure may strain your bank balance. 
This procedure involves the use of artificial silicone implants which are placed surgically inside the butt tissues to boost the  size of the butt. There are various grave complications involved with this. So, it is not often used now.
It is recommended to consult a specialist before you decide to go for any such surgical procedures.
10. Hold On, Stay Consistent!

Getting bigger butt without exercises may seem like a tricky challenge initially, but consistency is the key to reach the goal of your desired body. 
Continue with your efforts and definitely, sooner or later, you will get good results.