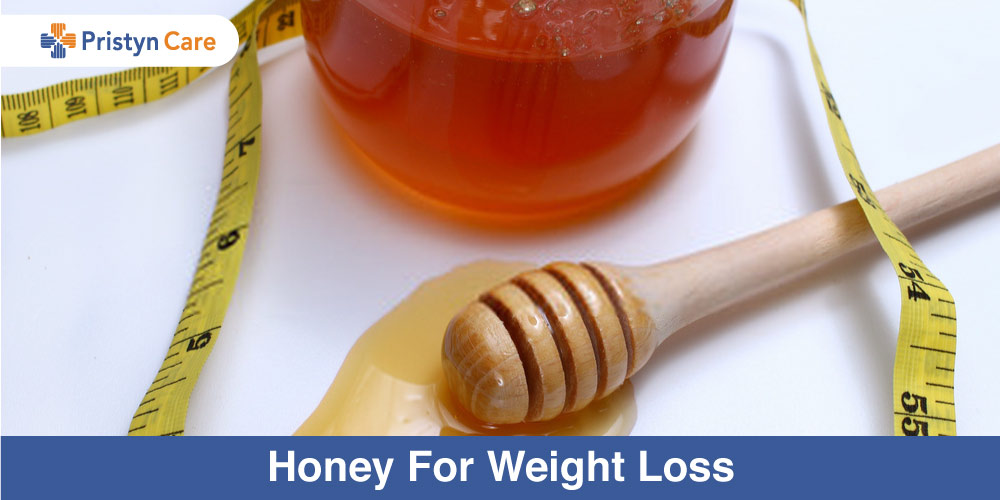 As per Greek mythology, honey is the golden nectar that has unimaginable powers. As per Indian traditions, its value is great as it is used as one of the sacred ingredients in rituals and ceremonies.  Honey is used as both- food and medicine. Among many health benefits, one is weight loss. In this blog, we will see how honey can help with your weight loss.
Honey for weight loss:
Honey is a great

immunity booster

that helps increase your energy. So, you can stay active and burn more fat with more workout.

It can regulate your lipid metabolism and control weight gain and obesity with regular use.

Helps

to remove toxins

from your body by acting as

probiotics that clear your digestive tract. (Also read: Eating habits for healthy intestine)

It can help your body to prevent diseases that might be a result of some metabolic syndrome. Prevention of it will aid weight loss too.
How to have honey to shed those extra pounds?
These are several ways in which you can start toning up your body and even start losing weight if you take care of your diet all day. You can have honey in several ways.
Honey and lemon water for weight loss:


This is how most of the people who try losing weight consume honey. Mix 1.5-2 tablespoons of honey along with one tablespoon of lemon juice in a glass full of water and drink it first thing in the morning. This is a great detox for your body which aids weight loss. Honey helps in reducing weight and obesity. Lemon helps detoxify the body to aid weight loss.

Honey and lukewarm water to lose weight:


This is an easy peasy weight loss drink for all the lazy ones out there. You just need to have a glass of lukewarm water. Then, you have to add one tablespoon of organic honey in it and sip this drink. It is that easy and effective too. For the people who are overweight, drinking more water will help them reduce their BMI and improve their body composition too.

Honey with green tea to lose weight:


If you can develop the habit of drinking green tea consistently, you will observe yourself shedding good weight with time. Green tea is a very rich source of antioxidants which helps you boost your metabolism and aid your weight loss. Adding honey to it will give it a better taste and will be great to accelerate the whole process. Add one tablespoon of honey in one cup of green tea and sip this healthy drink every day. Keep exercising in your schedule too. It can be a great start of your day when you consume it on empty stomach. You can have two cups of this drink in a day for the best results.  

Honey with milk for weight loss:


If you like milk, you can have a glass of warm milk with one tablespoon of organic honey. Milk will give your protein. A cup of milk contains 7.69 grams of protein. This will help in boosting your metabolism, feeling of fullness, curb hunger, cuts belly fat and lowers blood pressure. Honey will enhance the taste and this process as well.

Honey and cinnamon for weight loss:


Cinnamon, commonly known as Dalchini is an effective and natural thing to include in your weight loss journey. Cinnamon along with honey will help your body reduce some bad effects of eating high-fat foods. It has a good effect on your blood glucose levels which ultimately helps in reducing overall weight. To prepare this drink, boil a cup of water. Now add ½ table of cinnamon to it and stir. Now, add a tablespoon of raw organic honey to it and stir. Drink hot or warm.

Honey, ginger and grated saltwater for weight loss:


To have a different experience to your taste buds, you can try this combination. Heat water in a pan, but do not bring it to a boil. Stir in it grated ginger and honey with a pinch of black salt to add taste. Ginger will make you feel fuller for longer. Make sure to do some exercise as well for better and quick results. This drink will give your body a good kick start and will also boost your metabolism.
What makes honey an exclusive remedy to problems?
Honey is loaded with many beneficial plant compounds which yield to several health benefits. Weight loss is one of them. Instead of using refined sugar which is 100% empty calories, honey is very healthy to use. If we talk about the nutritional value, one tablespoon of honey contains 64 calories. As honey is sweeter than sugar, we need to add a little amount to satisfy the sweet craving. 
Also, it is a rich antioxidant, it can prevent health issues including heart problems. The best part of honey is it is fat-free, cholesterol-free, and sodium-free. 
Some major benefits of honey:
High in some plant compounds.

Rich in antioxidants.

Helps in stabilizing blood pressure.

Better than sugar any day.

It can lower triglycerides (a risk factor for heart disease).

Helps improve cholesterol.

Increases blood flow to the heart.

Helps in dilating the arteries in your heart.

Effective in treating wounds, burns and many skin conditions.

Can help treat coughs in children
Also read: Benefits of Munaka Honey
Where can I get honey for weight loss?
The honey available in the markets or grocery shops is processed. For weight loss, you must use unpasteurized or unfiltered raw honey that contains nutritional values that it should. 
Take Away 
These are some amazing benefits of this age-old renowned golden nectar. But this is not it! You have to combine the consumption of honey along with proper diet control and exercise routine. Only then you will witness proper weight management and fat loss. With some cautions, you can certainly incorporate honey in your daily routine to lower your weight gain rate. It is an amazing natural remedy to detox your body and maintains a healthy lifestyle. And girls out there, honey will not only help you with weight management but also will help in enhancing your beauty and face glow!
Disclaimer: Tips mentioned in the blog are for information purposes only and should not be considered as professional medical advice. Always consult your doctor, trainer, or a dietician before starting any fitness program or making any changes to your diet.

Also read: Best weight loss food for fat burning
Also read: Yoga asanas for weight loss