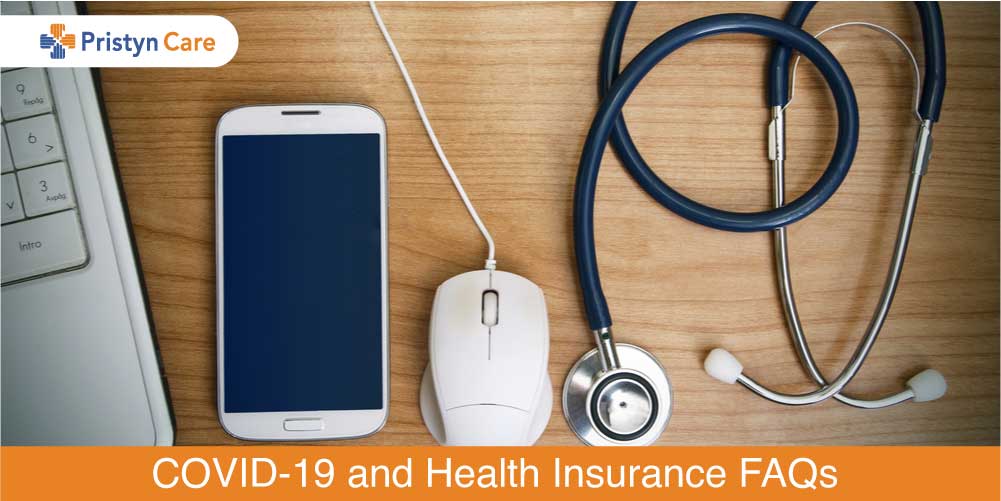 The total number of coronavirus cases in India has gone up to 500 by 24th March 2020. The numbers are confirmed by MoH&FW (Ministry of Health and Family Welfare, Govt of India). And the numbers are likely to increase rapidly. The government is taking all the possible steps to help people during this time of pandemic. The Government has now announced 50 lacs of insurance per person for healthcare workers for 3 months
Considering the present scenario, it is certainly a critical situation that has led to some questions regarding health insurance cover against COVID-19
Let's look at some of the most frequently asked questions relating to COVID-19 and Health Insurance:
Does health insurance cover the treatment for COVID-19? 
Yes, in most of the cases, health insurance covers the treatment for COVID-19. But there can be chances that you may not get the claim for COVID-19  treatment in the following conditions.
1. COVID 19 is declared as a pandemic – As WHO has declared this disease as an epidemic/pandemic, then your claim approval totally depends upon your insurer. The insurance company may not settle your claim for COVID-19 treatment under your health insurance policy. However, you must ask your insurer to confirm whether or not your health insurance provides the cover against COVID-19 treatment.
To confirm this, Subramanyam Brahmajoysula, Head – Underwriting and Reinsurance, SBI General Insurance said, "If coronavirus is declared as a pandemic by the WHO or Indian Government, or both, then claims might not be payable as such claims are excluded under many health insurance policies".
If you are hospitalized for at least 24 hours- Your claim of health insurance for coronavirus treatment will be payable only if you stay in the hospital for at least 24 hours. If you don't get hospitalized, then the claims under the insurance might be refused. 
Will I get a claim under planned treatment?
If you are already suffering from respiratory diseases and have regular health insurance under an indemnity or any specific insurance for COVID-19, your claims might be rejected.  
The symptoms of coronavirus are quite similar to common flu. Hence, it requires further investigation. If after investigation, your results come out positive for coronavirus and you plan to buy a new health insurance policy to cover against coronavirus, your insurer will refuse the claims under it.
I traveled to a coronavirus affected country. Will I be covered under a health insurance policy?
If you have contracted coronavirus during international travel, your claims might be settled as long as you are quarantined in India. However, if you travel to countries that are severely affected by coronavirus then you will not get the claims. Those countries are China, Hong Kong, Macau, Taiwan, Italy, Kuwait, Japan, Singapore, South Korea, Thailand, etc. Also, your claims will not be settled even if you contract COVID-19 from a family member who traveled to any of these countries. (Also Read: How To Self-Isolate In a Shared Home During Coronavirus? )
What to do if you do not have health insurance?
If you do not have health insurance, you should check with an insurance provider about your eligibility. However, you must know that the decision to cover you against COVID-19 entirely depends upon the insurer.
Will my insurance cover testing for COVID-19?
If you want to get tested for COVID-19 in India, all the testing facilities as of now are Government regulated and are free. This will be valid until the Government decides to rope in private labs for testing in the near future. For testing, you must exhibit certain symptoms first.
Keep yourself updated with the T&C's of your insurer and notifications by the Government. Also, verify the existing terms and conditions of your existing policies. Ask your family and friends to check their health insurance too.
Also Read: