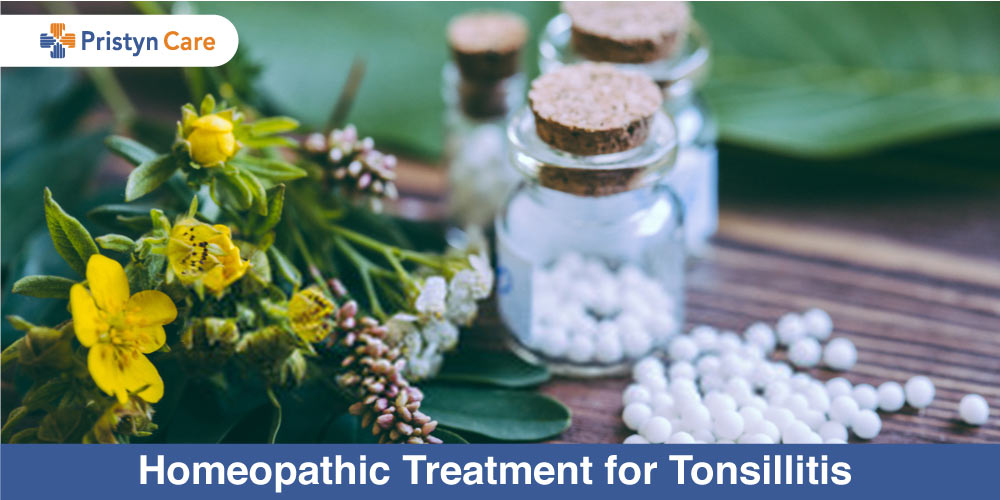 The conventional method of treatment for tonsillitis includes pain-killers, anti-inflammatory medicines and antibiotics. The problem with these medicines is that these incur some serious risks and complications. Also, it is not suitable for children. Sometimes the side effects of the medicines outweigh their results. In such circumstances, homeopathy is a more preferred option for several people. Read this blog to know more about the medicines to take for tonsillitis and how effective they are. 
6 Homeopathic Medicines That Can Treat Tonsillitis
After proper diagnosis of the condition, the doctors prescribe the following medicines-
How Does Homeopathy Work Against Tonsillitis? 
Homeopathy is able to treat all three types of tonsillitis. The above-mentioned medicines are able to alleviate symptoms of tonsillitis in the following ways-
Provides relief to the condition of tonsillitis as compared to conventional medicines such as antibiotics

Reduces dependency on the antibiotics that tend to incur some side effects

Reduces the frequency of the episodes of tonsillitis considerably

Alleviates the allergic reaction that reduces the individual's immunity

 

Ensures minimum side effects and it is very safe to consume

Can be given to all age groups- from an infant to an 80-year-old individual

It aims at a holistic well being of a person thereby, curing chronic conditions including tonsillitis. The medicines improve the hypersensitivity of a person's immune system to a healthy one. 
How Long Does It Take For Homeopathy To Treat Tonsillitis?
The duration of the homeopathic treatment for treating tonsillitis depends on the type of tonsillitis the individual is suffering from. For instance, a person with acute tonsillitis is more likely to cure faster than chronic or recurrent tonsillitis. Also, the severity of the condition defines how long will it take for the condition to cure. Generally, individuals suffering from tonsillitis are able to cure completely in six months. 
To What Extent Can Homeopathic Medicine Treat Tonsillitis? 
Homeopathic medicine can treat tonsillitis effectively but not permanently. Once the person recovers from one episode of the condition, they may be again susceptible to another episode. Also, as mentioned above, the whole treatment takes around 6 months to effectively show results. Within this time, the weather can change a couple of times that increase the likelihood of the throat getting infected. In addition to this, there is very little evidence on the side effects of these homeopathic medicines. Moreover, there are no set of warnings that can indicate who should take and avoid using these medicines. 
Are there any Alternative to Homeopathy Treatment for Tonsillitis?
In order to get relief from the symptoms of tonsillitis, there are alternative options one can consider. 
Home Remedies-
The first and foremost being home remedies. Here are some remedies that can be effective-
Take a hot shower to moisten the throat linings and provide a soothing effect on the throat.

Get enough sleep.

Eat cold foods and popsicle sticks that can numb the throat.

Drink Herbal teas such as ginger tea, turmeric tea, etc. that can boost the immune system. 

Avoid breathing dry air to prevent further irritation of the throat.

Drink a mixture of warm water and a tablespoon of honey a couple of times a day.

Consume throat lozenges that contain menthol can have a cooling effect on the throat.

Instead of crunchy or hard foods, eat soft foods that have a soothing effect on the throat. 
Tonsillectomy
For people looking for a permanent solution from tonsillitis, they should consider removing the tonsils surgically. In this procedure, the ENT doctors take out the tonsils under the influence of anesthesia. In this way, it is ensured that tonsillitis doesn't occur again. Also, people don't have to suffer from bad breath or difficulty swallowing food anymore. The results of the tonsillectomy depend on the doctor performing the surgery. 
Conclusion 
Homeopathy is one of the treatment options one can consider for getting relief from the symptoms of tonsillitis. However, for long term management of tonsillitis, one should consider tonsillectomy. As mentioned before, tonsillectomy should be performed by experienced surgeons. At Pristyn Care, doctors are specialized in providing tonsillectomy with the most advanced equipment. Book an appointment with our doctors to know more. 
Read more: