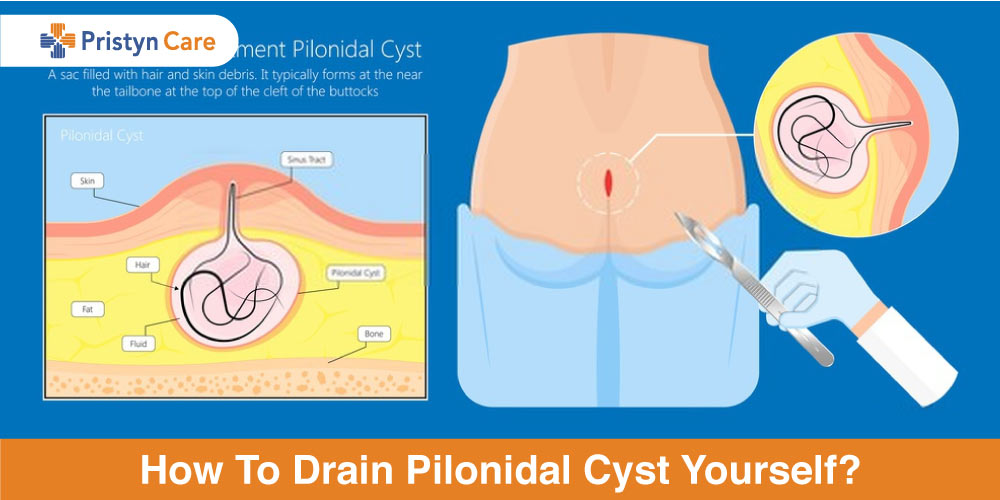 Suffering from pilonidal cyst? You must be eager to squeeze the pilonidal cyst in the same way you do it with your pimples. The difference is you may be able to get rid of pimples that way but do not think that way with a pilonidal cyst. You can not get away with it by squeezing the pilonidal cyst. 
How can I treat pilonidal sinus at home?
First thing, you cannot drain pilonidal cyst yourself. You may need help from one of your family members. Also, do not cut pilonidal cyst yourself. You can infect yourself by slicing the unaffected are too and gradually the infection may spread. In case if the cut you make gets deeper, then you may not be able to sew it on your own. Here are some natural remedies for a pilonidal cyst that you can consider at home. 
Castor oil:


Castor oil is anti-inflammatory that aids in pain relief and inflammation reduction. It can be a very effective home remedy for pilonidal cysts. It also helps in boosting the healing of wounds. See how to apply: 

Dip a cotton swab in castor oil.

Rub it on the affected area and cover it with a bandage.

You can apply it 2-3 times a day. 

Wash your hand before and after applying the oil to the affected area. 

Aloe vera:


Aloe vera has always been effective in treating skin problems. It can be a powerful home remedy for pilonidal cyst. The anti-inflammatory and anti-bacterial agents found in aloe vera are effective for easing the discomfort and fostering the process of healing pilonidal cysts. 

Neem:


There are several home remedies for pilonidal cyst that originate in India and one of them is Neem. There are two ways to use neem:

Grind Neem leaves and apply to the affected areas for about 20 minutes. Then, you can use lukewarm water to wash the areas.

Another way is to put neem leaves in water and boil them until the amount of water reduces to half. Let the mixture cool and use it to wash cysts.

Warm compress:


Apply warm compress to the affected area to get relief from pain. It helps with pus and discharge in pilonidal cyst to foster the healing process. However, warm compress is not responsible for preventing the development of pilonidal cyst. You can do it 2-3 times a day. 

Honey:


Honey is, in general, healthy food and one of the best home remedies for a lot of health problems. It is all due to its anti-inflammatory and antiseptic properties. It helps in reducing the symptoms of pilonidal cyst faster. How to use it? Use raw honey and apply it to the affected area. Let it flush out the pus and toxins from the wound. Wash it in 15 – 20 minutes and clean the affected area with clean clothes.

Turmeric:


Similar to honey, turmeric is also effective for pilonidal cyst. It helps relieve pain and inflammation. One is you can apply it and another option is drinking turmeric milk. This is how you can apply turmeric: 

Add one teaspoon of turmeric to water and make a paste. 

Apply the paste on the cyst and let it dry. 

Rinse or clean it with warm water. 

You can do it twice a day. 
You need to take care of the wound in the following ways: 
Keep the affected area dry and clean. 

Rinse off the area with water and a clean cloth or soft wipes after using the washroom.

Try to avoid creams or gels on the infected areas since it can cause irritate the skin.

Avoid prolonged sitting to banish cyst or such skin problems and foster the healing process. 

Avoid touching and squeezing the cysts. 

Cover the cysts with a bandage to protect the wound to ease your regular movement. 

Avoid stretching your anorectal area to prevent further damage. 
Take Away
If you drain a pilonidal cyst at home, the chances are higher pilonidal cyst recurs. To avoid recurrence of pilonidal cyst, the best way is to get rid of it surgically. If there are small cysts and are not recurring then the above home remedies can help you treat them but medical intervention is important. You can contact us or write below to know about pilonidal cyst and its treatment. Know what Pristyn Care offers you. You can do online consultation with our experts who will be happy to serve you.