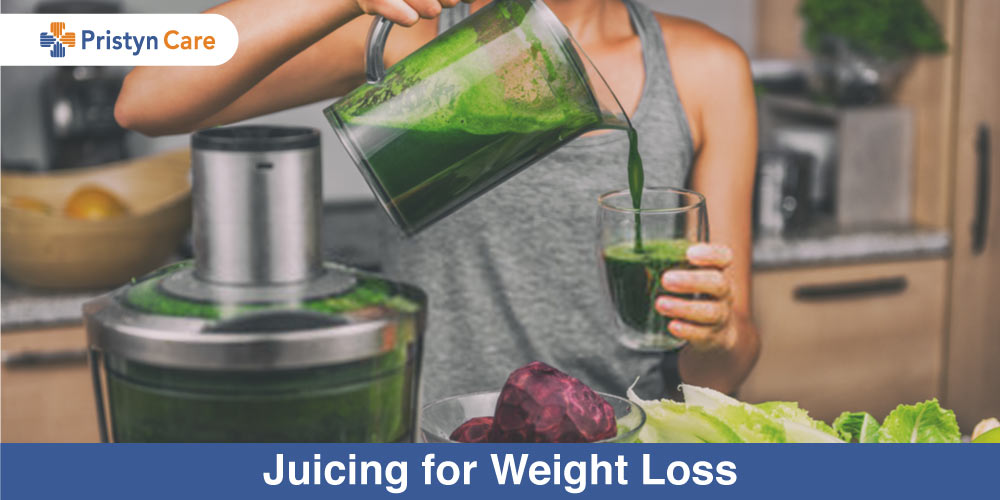 Is juicing good for weight loss? Is juice fasting for weight loss effective? There are many people who opt for juicing for weight loss by adding some fresh juices to the weight loss plan. It is one of the best ways to detox your body. You can consume several nutrients without having to eat whole fruits and vegetables. 
Now the question is what juicing for weight loss means? People prefer juice as they do not have to go for whole fruits and vegetables. Juicing not only helps you look good but also makes you feel good. The most common weight loss juices include carrot juice, cucumber juice, amla juice, pomegranate juice, cabbage juice, watermelon juice, orange juice, pineapple juice, bottle gourd juice, etc.  
What do you mean by Juicing?
Juicing is extracting liquid from fruits and vegetables while removing the roughage and fiber using either juicer or with your hands. Extracting liquid from its skin, seeds and pulp are juicing. Juicing is widely used across the world as a weight-loss method. 
Here is one-week juice plan for weight loss
Juicing for weight loss is a great option. But instead of replacing it with a meal, make it an addition to your meal plan. Here is seven days juice plan for weight loss. 
1st Day: A green juice – Add parsley and celery in juice. 
2nd Day: Tomato vegetable juice
3rd Day: Strawberry Cucumber juice
4th Day: Blueberry Cabbage Power 
5th Day: Spinach Apple juice
6th Day: Ginger Beetroot juice
7th Day: Carrot Orange juice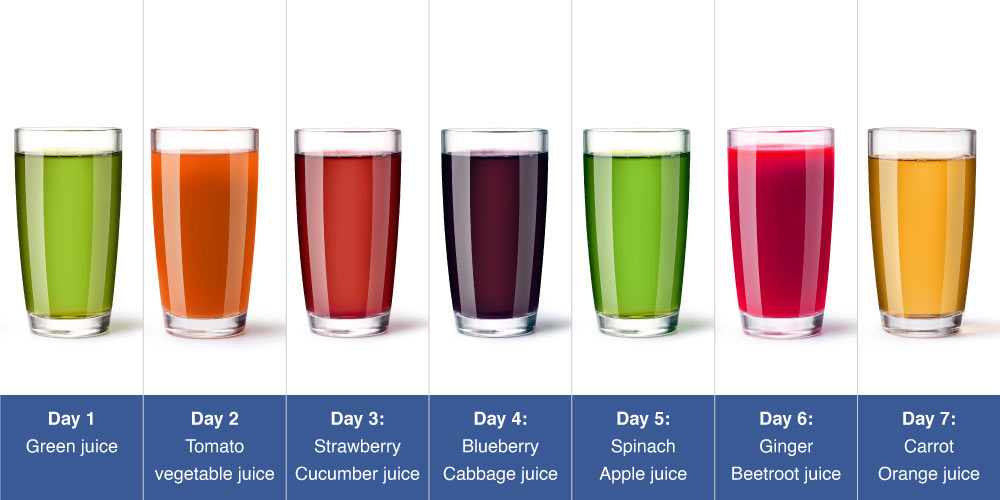 How to prepare these juices?
Here are the tips to make your own healthy fresh juice at home: 
Wash all the fruits and vegetables well.

Every juicer or machine is different so follow the instructions as per your juicer.

Add leafy vegetables or delicate fruits first for the juice.

Lastly, add hard vegetables and drink it fresh.

You can add honey to taste if needed. 
How effective is Juicing for weight loss?
If you do not consume whole fruits and vegetables, juicing is a very good way to give nutrients to your body. 
Also, if you decrease the amount of starch, your body sheds water. This further leads to weight loss and motivates you to lose negative weight. 
As there is a reduced calorie intake in juice diet, you can easily settle to smaller meals every day. So, when you return to a normal eating routine, you get used to eating small meals. It helps you maintain healthy weight. 
Juice fasting helps improve gut health and cleanses the body for long. It also keeps you hydrated. 
Some of the fulfilling juices for weight loss
Here are some recipes of juices and smoothies for weight loss that are also very healthy. 
Power smoothie

: Ingredients: 1/2 bowl spinach, 1/4 bowl basil, 1/4 avocado, 3 tbsp coconut milk, 1/4 lemon soaked chia seeds. Blend these ingredients together for a quick burst of energy in the morning or evening, or have as a post-workout meal with a scoop of protein powder. Benefits: Rich in iron, vitamin B, vitamin C and good fats

Smoothie for breakfast

: Ingredients: ½ bowl of beetroot, ½ bowl of pumpkin, 1 orange. Blend them together. Benefits: Rich in hemoglobin, high in fiber, low in calories, rich in calcium, and magnesium.

Daily detox

: Ingredients: Pani puri juice, 1 bowl of coriander leaves, 1/2 bowl of mint leaves, 1 cucumber, 1/4 green chili, rock salt, 1 amla. Blend them all together. Benefits: Blend all the ingredients and enjoy a glass of pani puri packed with phytonutrients, vitamin C, vitamin B, antioxidants.

Carrot apple energy booster pre-workout juice

: Ingredients: 1 carrot, 1 apple, 1/2 tbs cur-cumin blend Benefits: High in pantothenic acid, folate potassium, iron, and beta-carotene. 
Also read: Apple cider vinegar for weight loss
Types of pressed juices
There are different types of juices that depend on the way juice is prepared – cold-pressed, hand-squeezed, raw, pasteurized, and high-pressure processing (HPP).  
It is always better to have freshly prepared juice for weight loss than any frozen or cold-pressed juice. There is nothing better than homemade freshly prepared juice.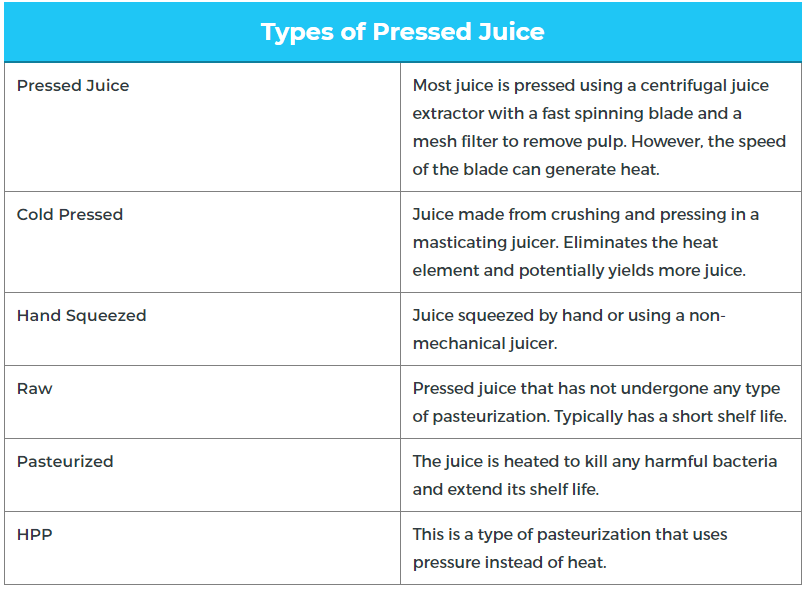 Juice Diet or Juice Fasting
A lot of people replace fruits and vegetable juices with other meals of the day. Their aim is to lose weight fast by refraining from solid foods. However, solid foods are more fulfilling, they are eliminated from the diet routine and the intake is completely dependent on the juice diet.  (Also read: How obesity affects your heart health)
Juicing can be harmful
Juicing can be safe for a few days, otherwise, juice fasting may have side-effects or risks if they are extended for a longer period of time. 
Insufficient fiber intake
If you take whole fruits and vegetables, they are a great source of fiber. There are no fats for hormone production when juices are preferred over fruits and vegetables. Fat is important for nerve functioning, nutrient absorption, healthy skin and hair. 
If you stick to juice fasting for a long period of time, it may lead to a deficiency of nutrients such as calcium, vitamin D, iron, vitamin B12 and zinc. All of them play a vital role in the body and have certain functions. Deficiency may cause anemia. 
Risk of infection may increase
Inadequate amount of nutrients and proteins make your immune system weak thereby, increasing the risk of infection. If the immune system becomes weak, you tend to catch cold and flu easily. 
Weakness is a very common side-effect of juice fasting for weight loss. If your body does not get sufficient amounts of nutrients, you remain deprived of the energy essential to move. Hence, you feel weakness and fatigue. 
Lean muscle mass may reduce
As the amount of protein is very less, it can lead to reduced lean muscle mass. The decrease in the lean mass muscle may reduce the metabolism which means you may not be able to burn sufficient calories for weight loss. 
Take Away
If you are looking to lose weight, juicing for weight loss can be a good option when done right. It can help you lose weight in a sustained and healthy manner. Juicing gives you instant energy and ensures that you are satiated. There are juices that you can consume to burn fat without harming your body. Check the nutritional values before you make a weight loss plan. If there are obesity-related health issues, consult a doctor before making such dietary changes.
Disclaimer: Tips mentioned in the blog are for information purposes only and should not be considered as professional medical advice. Always consult your doctor, trainer, or a dietician before starting any fitness program or making any changes to your diet.
Also read: Ajwain water for weight loss
Also read: Tips for Successful Weight loss