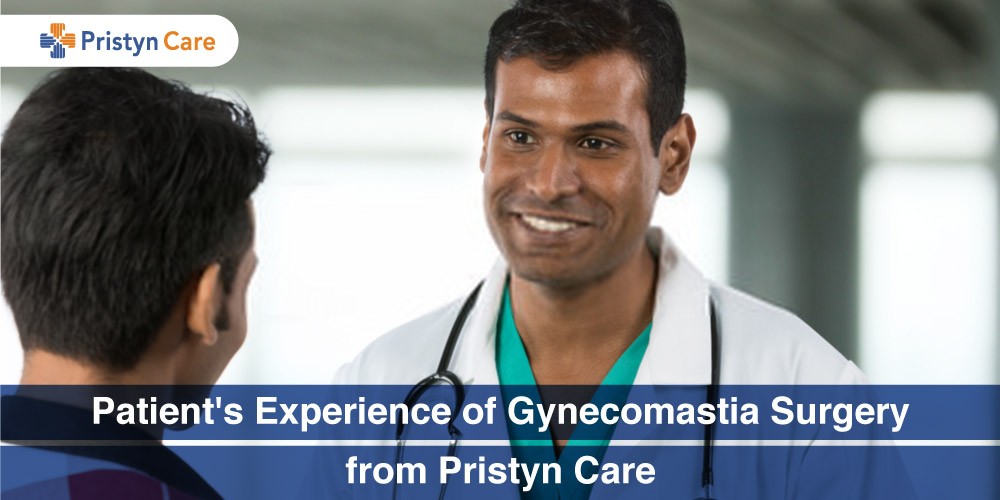 The following story is shared by one of the patients from Pristyn Care who have successfully undergone gynecomastia surgery. His name is Dhruv Sehgal (name changed due to privacy concern). His self-esteem shattered when he saw that his male breasts were growing. Hence, he decided to reach out to us. We have tried to keep his experience as real as possible only with some minor tweaks.
Moments of Embarrassment
I have been suffering from an enlarged prostate due to which I had to take some medicines. The doctor then advised me that these medicines can cause some swelling and puffiness around the nipples. As expected, my breasts became swollen and the chest enlarged. However, even after stopping the medicines once the enlarged prostate was cured, the swelling continued. So much so that it appeared like female breasts. I started wearing loose-fitting clothes but the nipples were visible over the shirt too. 
On a friend's recommendation, I joined the gym to shed some extra fat. Within the first couple of days, I could see people staring at me and talking about my nipples which were visible over my sweatshirt. My face turned red and I quit going to the gym. 
It got worse at work and I skipped going to the office and avoided any social gatherings as well. My self-confidence took a dip and my performance also started to hamper. I made up my mind that something needs to be done without any delay. A more promising solution. 
During Consultation
My wife looked for several options on the internet. I took several medicines and tried Ayurvedic treatment too but nothing yielded any effective results. While browsing on the internet, I came across an ad from Pristyn Care offering gynecomastia treatment. I went to their website and looked thoroughly. Several patients recommended highly of them and also mentioned that the doctor has high expertise. There were videos too of the doctor explaining the gynecomastia treatment. I spoke with a medical coordinator and clarified some of the doubts that I had. 
I booked an appointment with them for the next day. After reaching the clinic on  time, we didn't have to wait much longer and were taken to the doctor. The doctor asked several questions related to medical history and physically examined. He said I had developed stage 4 gynecomastia which can be cured with a liposuction and gland excision surgery.
He explained that they use the VASER technique liposuction. This is a cosmetic procedure in which the doctors make several incisions and insert several ultrasound probes to emit the waves that break the stubborn fat. While the gland excision surgery is performed to remove excessive tissue growth from around the nipples. He further explained that it would be performed under the influences of anesthesia hence, it would be painless. Also, with proper precautions and wearing a compression garment for 3 weeks, I would experience desired results. Convinced with his explanation, I decided to undergo the surgery. 
Before The Surgery
After the doctor's appointment, I spoke with the medical coordinator and arranged for a financing option which was the zero-cost EMI. On the same day, I got all my diagnostic tests such as blood tests, urine tests, etc. done. I purchased a compression garment online. Also, I stopped taking my vitamin supplements and other medicines to reduce the risk of any complication. I gave up drinking alcohol too. 
On The Day of Surgery
I woke up in the morning of surgery feeling nervous. The doctor recommended being on an empty stomach hence, I skipped breakfast. Knowing that I won't be able to shower properly for a couple of days, I took a bath and got ready. At the stipulated time, the cab arranged by Pristyn Care which was supposed to take us to the hospital was waiting at my doorstep. Without any more delay, we got into the cab and went to the hospital. 
We reached the hospital right on time. As explained by the medical coordinator from Pristyn Care, a Care Buddy was waiting for us. As soon as he saw us, he approached us. Surprisingly, he asked me to wait with my wife while he completed the entire paperwork for the admission process. While waiting, staying with my wife helped me prepare mentally for the surgery. After he finished the necessary process for hospitalization, he showed us our private consultation room which was well ventilated and hygienic. There was a personal room kit also. 
Within a couple of minutes, the hospital staff helped me prep for the surgery. Then the doctor came in and thoroughly checked a couple of parameters such as body temperature, blood pressure, etc.  He explained to me that this was necessary to make sure that the anesthesia doesn't cause any severe side effects. After this, the anesthetist checked me thoroughly and injected the anesthesia through an IV channel. Within a few seconds, I went into a deep slumber. 
After 2-3 hours of the surgery, I woke up but I still felt tired. I could make out that the surgery was complete as there was an extensive bandage around my chest. The doctor came in and checked up on me. He smiled at me and said that the surgery was 100% successful and there were no side effects. After hearing this, I dozed off again. 
After The Surgery
The next day, I woke up and the doctor and hospital staff checked up on me frequently. Once the doctor was sure that there were no major complications and that my vitals are normal, he discharged me. Moreover, he advised me primarily to take rest until the anesthesia effect wears off. 
I was feeling tired and fatigued most of the time. I was not feeling any pain or much discomfort due to the anesthesia. Also, the nurse helped with the dressing and advised my wife how to care for the wound. After this, I wore a compression garment throughout for the next 7 days, even when I went to sleep.  
During the discharge, he gave a list of tips for the recovery and a prescription of some painkillers to get relief from the pain and swelling. We went home on the same day on the cab provided by Pristyn Care, so I didn't have to arrange for transportation services either.
As I reached home, the anesthesia effect started to wear off and the pain started to kick in. It was mild and there was some swelling too. But as the doctor advised, I didn't open the compression garment. I took ample rest on that day and mainly ate a liquid diet. I followed the prescription word-to-word and never skipped a dose. 
On the second day itself, I was able to resume my daily routine. I could've started going back to work but I decided to stay back home and work from there. My head didn't feel heavy but I felt a little nauseated. I took breaks repeatedly and made sure that I go for light walks to increase blood circulation. On the fifth day, I resumed going back to work but didn't over exhaust myself. I drank water repeatedly. Whenever I stepped out of the home, I covered myself completely to protect from sunlight. For the entire recovery period, I quit smoking as well as drinking alcohol. 
Conclusion
After a week, I went for my follow-up consultation which was free of cost. The doctor physically examined me and removed the bandages. Also, he said I need to wear the compression garment for two more weeks. He informed me that the recovery is progressing as expected and that I can start with some light cardio exercises. He further added that it is okay to take a shower now. 
Following this, there was no pain and the swelling also subsided considerably. I started with some cardio exercises and then gradually moved to high-intensity pectoral exercises. I could sleep sideways too. After three weeks, I removed the compression garment and fully focussed on exercising. 
It has been six weeks and I can see the results. I am following a diet that doesn't include phytogen rich foods and concentrating more on consuming fiber-rich foods. The puffiness around the nipples have subsided and there are no more women-like breasts. I had minimal pain and complication-free recovery. I am satisfied with the results and would like to extend my gratitude towards Pristyn Care doctors.
Read More: