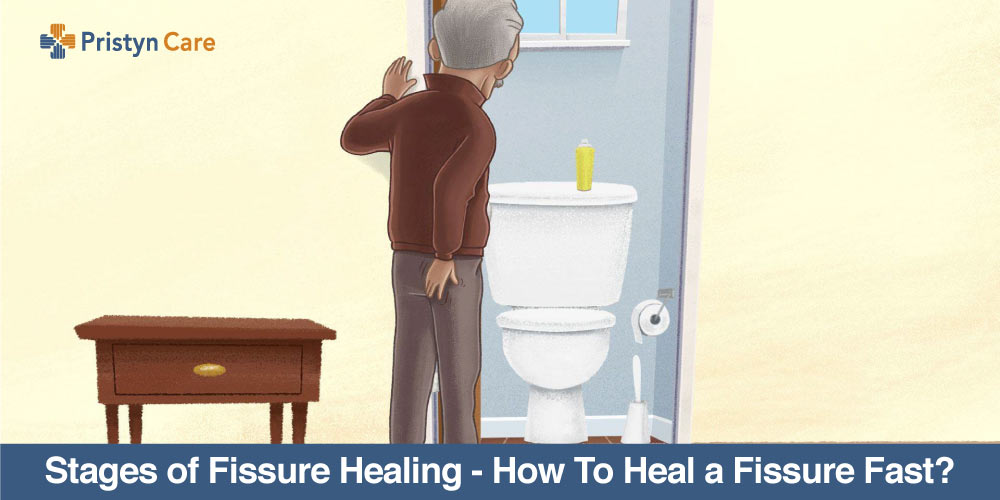 An anal fissure is a cut or tears in the lining of the anus. The crack in the skin causes severe pain and discomfort. When this cut starts to fill back, when the pain and discomfort go away, this is the sign of fissure healing. 
About 90% of the anal fissure heal with home remedy while 40% of the long-term anal fissure heal after surgical treatment. Essentially, if the anal fissure does not heal after more than 4-5 weeks with home remedies or any medication, you need to consult a doctor. 
You may have to go through the complete process that includes – knowing the cause of fissure, diagnosis, or tests to know the underlying causes if any, what are your symptoms of anal fissure, and what is the possible course of treatment for anal fissure in your case. Let us go through the stages of fissure healing in this blog to understand how to heal fissure fast. 
How much time does it take for a fissure to heal?
To heal a fissure fast, some people opt for surgery which helps them recover in a week's time. They can get back to their daily routine in a week. Whereas people who opt for home remedies or over-the-counter medicines for fissure, it may take 5-6 weeks to heal a fissure. 
How to heal anal fissures?
Stages of healing fissure depend on the severity starting from home remedies, over-the-counter medicines, and ointments, and finally surgery when nothing works. 
Home remedies to heal a fissure
Short-term anal fissures can be treated with home remedies. It is believed that 9 out of 10 acute fissures (short-term) can be cured with home remedies such as taking stool softeners, or using sitz baths, etc. Whereas, 4 out of 10 chronic fissures can be cured with home remedies. There are various measures that you can do at home to heal anal fissure fast. They include: 
To heal an anal fissure, first, you have to prevent constipation to get out of the vicious circle. To prevent constipation you can :
Drink plenty of water or liquid 
Include fruits, vegetables, beans, and whole grains in your diet each day. These foods are high in fiber
Exercise regularly for blood flow to the affected area
Talk to the doctor and take laxatives or supplements if necessary
Go to the washroom when you feel the urge to defecate
Sitz bath can be very relaxing to aid pain and itching. Sit in warm water for 15-20 minutes after every bowel movement.
Use over-the-counter medicines and ointments carefully and as prescribed by the doctor.
Follow washroom hygiene properly. 
Medicines and Ointments to heal a fissure
The following medicines can provide quick relief from fissure pain and help in anal fissure healing. 
Anesthetic Ointment – It is a prescription ointment that can be applied before going to the toilet. This is used for a short term as it may cause skin irritation.
Steroid cream – It helps in treating itching, swelling, and pain in the anal regions. Consult a doctor before using it because it has side-effects such as skin thinning. 
Pain killers – You can talk to the doctor and take a painkiller for pain relief. Avoid opioids as they cause constipation. 
Stool softeners or laxatives – Anal fissure can heal fast if the stools you pass are soft enough. Fiber-rich fruits and vegetables are the best stool softeners or else talk to the doctor for supplements. 
Calcium Channel Blocker (CCBs) – It is majorly associated with the healing of chronic fissures in a lot of cases. The ointment includes diltiazem and nifedipine that help in muscle relaxation. The side-effect of this medicine is that patients notice a drop in their blood pressure. 
Botox Injections – Botulinum toxin or botox, when injected into the anal sphincter, temporarily paralyzes muscles for up to three months. This may be done without anesthesia. Botox treatment may result in temporary, mild anal leakage of gas or feces.
These non-surgical measures will help provide relief from pain and bleeding and, potentially, heal acute fissures with virtually no side effects. 
But doctors recommend surgery to heal chronic fissures for which he/she will be explaining the benefits and side-effects of each of the treatments for anal fissure. 
Surgery to heal fissure fast
When a patient does not respond to home remedies or medication for anal fissure, surgery becomes necessary. If an anal fissure doesn't heal within 8-12 weeks, then doctors prescribe that the surgery is the only option.
Lateral internal sphincterotomy – This procedure aims to relax the anal sphincter. The surgeon makes a cut in the muscle to loosen the anal muscles. Thus the blood supply is improved resulting in quick healing. The recovery time varies from person to person in sphincterotomy. 
Laser Surgery – The laser surgery for anal fissure is done under local anesthesia. The procedure uses the diode laser which vaporizes the pathological tissue of anal fissure. The laser removal of the fissure is a very effective and efficient process. It is the most modern technology to treat anal fissure. Laser surgery is the perfect alternative for the other conventional methods to heal fissures fast. Advantages are: 
Less operation time
Daycare or outpatient procedure
Go back to a normal routine within a day or two
Great surgical precision
Faster recovery
Significantly less postoperative pain
Fewer recurrence rates
The anal sphincter is well preserved (no chances of incontinence/ fecal leak)
Complications in anal fissure healing
Complications during anal fissure healing may include:
Chronic anal fissure: If the crack does not heal over time then it can cause extensive scar tissue around the fissure.
Incontinence: This may be post-surgery consequences to treat chronic fissure.
Anal fistulas: If the anal fissure is left untreated or the treatment is not effective, it can complicate the condition and develop an anal fistula. 
Anal stenosis: In this condition, the anal canal narrows abnormally either due to spasm of the anal sphincter or contraction of the resultant scar tissue.
What to do if the anal fissure does not heal?
If the anal fissure does not heal or the symptoms recur, one should consult with an experienced proctologist and discuss the condition of the anal fissure in detail. Only a proctologist can analyze the condition, diagnose the symptoms, and recommend the best possible treatment which can heal an anal fissure.