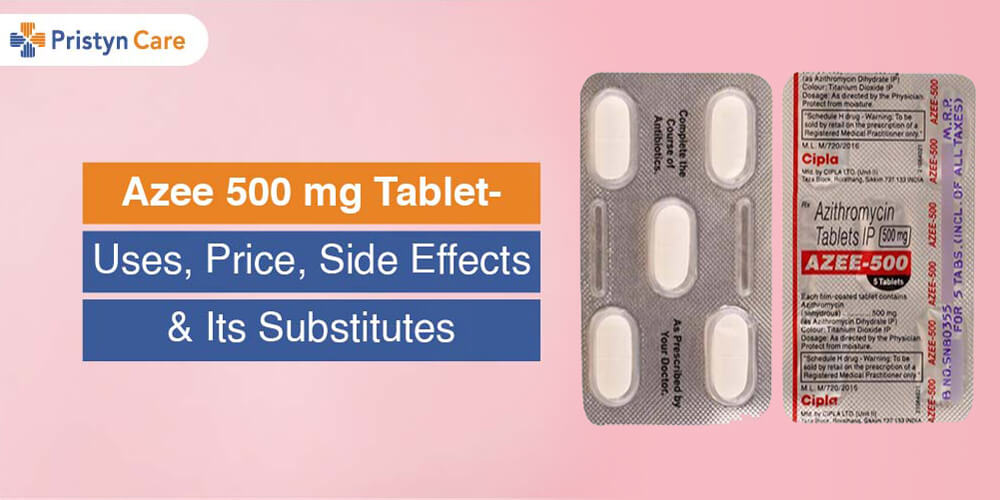 Azee 500 mg tablet is a medication that is useful in treating various infections that are caused by bacteria like middle ear infections. 
Azee 500 mg tablet is a drug which is bacteriostatic in nature. This means that this drug restricts bacterial growth and prevents the infection from spreading. This is done by preventing the synthesis of essential proteins that are required for the bacteria to thrive. 
Key Highlights of Azee 500 mg Tablet
The effect of the pill lasts for an average duration of 2 to 4 days.

The effects of Azee 500 mg tablet start within 2 to 3 hours of taking the medicine.

This is not addictive in nature. 
Uses of Azee 500 mg Tablet
Azee 500 mg tablet medicine is an antibiotic that can treat various bacterial infections. Doctors prescribe this medicine mainly for the following conditions-
It is the inflammation that occurs in the middle ear due to the result of cold, sore throat or respiratory infection. People with otitis media who take Azee 500 mg tablet can get relief from symptoms such as earache, headache, loss of balance, ringing in the ears, etc. 
Tonsillitis or Pharyngitis
For getting relief from symptoms of Tonsillitis and Pharyngitis such as the runny nose, cough, fever with chills, difficulty while swallowing, cough, etc. people can take Azee 500 mg tablet. 
Skin infections such as cellulitis, carbuncles, folliculitis that develop bacteria infection can be cured by taking azithromycin, the main component of Azee 500 mg Tablet. 
Urethritis and Cervicitis
Be it Gonococcal or Nongonococcal, inflammation of the urethra or cervix due to bacterial infections can be treated by consuming Azee 500 mg tablet. 
Some other diseases that can be treated with Azee 500 mg tablet are-
Pneumonia

Bronchitis

Pulmonary infections

Throat infections

Intestinal infections 

Sexually Transmitted Diseases such as gonorrhea and chlamydia

 Malaria (useful when taken with other drugs)
Price of Azee 500 mg Tablet in India
The average price of Azee 500 mg Tablet ranges from Rs. 93.36 to Rs. 116.70 in the Indian market. 
| | |
| --- | --- |
| Average price of Azee 500 mg strip of 5 tablets  | Rs. 105.03 |
| Price of Azee 500 mg strip of 5 ml injection | Rs. 195.38 |
Composition of Azee 500 mg Tablet
The main component of  Azee 500 mg Tablet is azithromycin. This tablet belongs to the macrolide class of antibiotics. This medicine produces serum that can effectively reach every tissue and cell. A single 1 gram of dose can continue its action for 7 days. There is such a manifold increase in tissue growth that it surpasses the amount of serum production.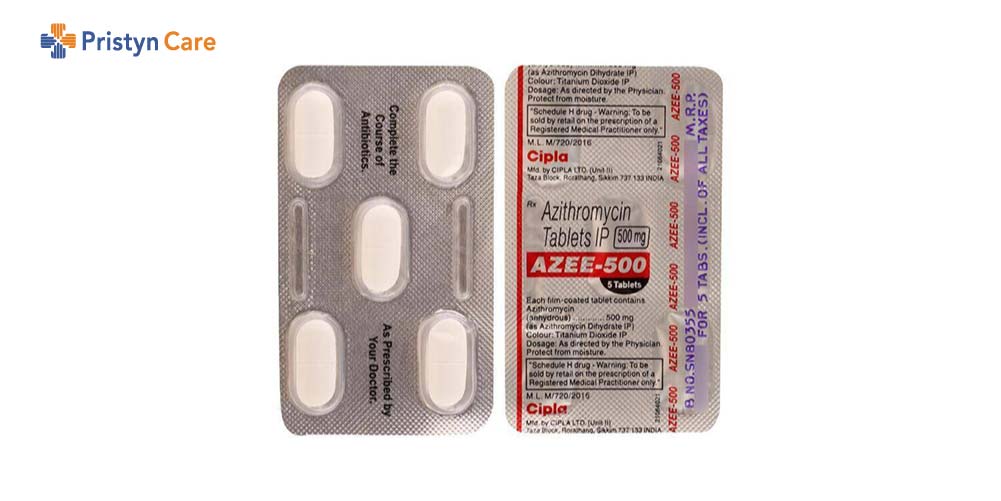 The medicine is available in lot of forms-
Syrup

Intravenous solution

Oral suspensions

Eye drops 
Side effects of Azee 500 mg Tablet
There are only minor side effects of consuming Azee 500 mg Tablet. Otherwise, it is a very safe medicine to take. Some mild effects that can people experience are-
Abdominal pain

Nausea and vomiting

Diarrhea

Acidic or sourness in the throat

Anger 

Dryness of the skin

Drowsiness 

Feeling of dizziness

Excessive gas in the stomach

Pain in the joints

Hypersensitivity

Rashes with itching

Yellowing of the skin

Discoloration of tooth

Convulsions

Altered sense of taste 
Dosage of Azee 500 mg Tablet
The medicine Azee 500 mg Tablet can be orally taken in the form of pills. This medicine is generally prescribed to be taken once a day. As per prescription, this drug can be taken with/without food. Either complete the whole course or stop it only after proper consultation with the doctor. 
The dosage of Azee 500 mg Tablet depends on various factors-
Type of infection

Severity

Patient's age
For ear infections such as otitis media, the dosage is generally 30 mg/kg of body weight. Children suffering from tonsillitis are given a dosage of 12 mg/kg of bodyweight. 
For sexually transmitted infections, the dose ranges from 1-2 gm of Azee. 
Note- Azee 500 mg Tablet is not prescribed for children below 6 years.
Overdose/Skipping a dose of Azee 500 mg Tablet
If you have missed a dose of Azee 500 mg Tablet, if there's enough time between the skipped dose and the next dose, then take it. Otherwise, if the next dose is near, skip the missed down and stick to your regular schedule.
Interaction of Azee 500 mg Tablet 
As the Azee 500 mg Tablet is allopathic medicine, it can easily react with other medicines that you are taking. The other medicines, when combined with Azee 500 mg tablet, can worsen the side effects of Azee 500 mg Tablet. 
Not only the side effects but any underlying health issue can also aggravate if this medicine is taken without the doctor's approval. 
Medicines that can interfere with Azee 500 mg Tablet and can cause moderate or serious side effects are-
Digoxin

Theophylline

Atorvastatin

Pimozide

Amiodarone 
Some medicines that absolutely should not be taken with Azee 500 mg Tablet are-
Pimozide

Amiodarone

Aluminum hydroxide or Magnesium hydroxide 
People who consume alcohol may experience amplified side effects of Azee 500 mg Tablet. 
Substitutes of Azee 500 mg Tablet 
When you are unable to get hold of Azee 500, there are some substitutes that can be taken. These can be taken in place of Azee 500 mg as they are made of the same composition and are of the same strength. 
Z-1 500 mg Tablet from Lupin Ltd

Azlupin 500 mg Tablet from Lupin Ltd

Rulide Az 500 mg Tablet from Sanofi India Ltd

Value Thral 500 mg Tablet from Panacea Biotec Ltd

Zirro 500 mg Tablet from Eisen Pharmaceutical Co. Pvt. Ltd

Zithium 500 mg Tablet from the Alkem Laboratories Ltd

Zeethrom 500 mg Tablet the Intas Pharmaceuticals Ltd

ATM 500 Tablet from the Indoco Remedies Ltd

Macrotar 500 mg Tablet from the Torrent Pharmaceuticals Ltd

Azipro 500 mg Tablet from the Cipla Ltd

Azibest 500 mg Tablet from Blue Cross Laboratories Ltd.

Azikem 500 mg Tablet from Alkem Laboratories Ltd

Ghazi 500 mg Tablet from Hegde and Hegde Pharmaceuticals LLP

Azitus 500 mg Tablet from Zuventus Healthcare Ltd

Zady 500 Tablet from Mankind Pharma Ltd

Zycin 500 mg Tablet from Cadlia Pharmaceuticals Ltd
Warnings of Azee 500 mg Tablet
It is a general precautionary measure that no medicine should be taken without proper consultation with the doctor. 
A person can buy Azee 500 mg Tablet with only a valid prescription at the pharmacist or medical center. 
Some of the things you should disclose to the doctor before taking this medicine are-
Whether you are allergic to drugs such as clarithromycin, erythromycin, and telithromycin

Whether you have any

issues in the kidneys

, muscles, liver or heart

If you have a low level of potassium or magnesium

Whether you suffer from nausea, diarrhea or excessive sweating after taking the medicine 

Whether you are pregnant or lactating 
Some precautions for special conditions before taking Azee 500 mg Tablet-
Pregnant women should not use this medicine unless it is absolutely necessary. The risks and benefits of the medicine should be properly discussed with the doctor. 
Unless absolutely necessary, this medicine is not recommended for lactating women. If breastfeeding mothers take this medicine, then the baby should be monitored for any side effects. 
A person who has had a history of myasthenia gravis should take this medicine with extreme caution. If people do experience any symptoms, then it should be consulted with the doctor without any further delay. 
People with a history of arrhythmias, heart diseases, and patients who take psychiatric drugs and anti-arrhythmic drugs can see worsening in their condition. In such cases, finding a suitable alternative is an option. 
Antibiotic therapy leads to bacterial growth that can lead to diarrhea. This can be due to overdosage hence, adjust the appropriate dosage and find a suitable alternative. 
Taking this medicine without any symptoms of bacterial infection is not at all recommended. If you take Azee 500 mg Tablet irrationally, it might lead to toxicity. 
Driving or operating heavy machinery
This medicine can cause extreme drowsiness or dizziness in patients. Immediately after taking Azee  500 mg Tablet or its substitutes, do not drive or operate any heavy machinery. 
Few More Tips To Consider Before Taking Azee 500 mg Tablet
Do not take any antacids before or after 2 hours of taking Azee 500 mg Tablet. 

Do not abruptly stop taking Azee 500 mg Tablet or the infection can recur.