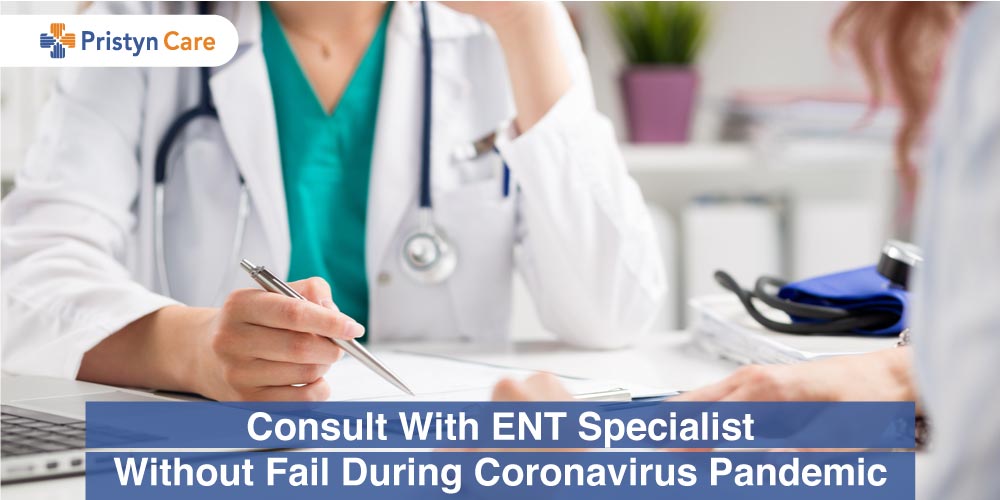 The common signs of an upper respiratory infection are runny nose and sore throat. Similar symptoms have been recorded for the ongoing pandemic all over the world. In such a case, visiting an ENT specialist is one of the most basic precautions that need to be taken keeping in mind the safety of self and others.
Why Seeing An ENT Doctor Becomes Necessary?
In a country like India, with a population of over 135 crore people, these symptoms if taken lightly and ignored can lead to widespread contamination and wreak havoc in the daily lives of millions. 
One also needs to keep in mind that the public medical facilities in India although cheap are not reliable and overcrowded owing to the lack of good hospitals and nursing homes in rural places. 
Visiting such a place during a crisis like this not only endangers the life of others but also deprives a patient of good medical care needed during this time. It's at times like these that the private health care system in the country has come forward and proved to be a silent helping hand and boon for the people who are looking for a more reliable and trustworthy solution to this problem. 
At this juncture, anyone with the symptoms such as a runny nose, sore throat, fever, shortness of breath and also the occasional symptoms of diarrhea, headache, etc should take a moment to contemplate their next step of action. 
Also Read: How to know if you have Pneumonia fever or Coronavirus Symptoms?
Consult with Pristyn Care ENT Doctors
Instead of visiting a general practitioner (who most likely will prescribe generic medicines for cold and cough), visit the nearest Pristyn Care ENT specialist who will be better equipped to diagnose, prescribe or refer the correct course of action to help you recover from the disease. 
Here's a list of ENT doctors of Pristyn Care whom you can consult with during such a global crisis.
| | | |
| --- | --- | --- |
| Doctor's Name | Qualifications | Experience |
| Dr. Himani Indeewar | MBBS, MS, DNB (ENT) | 10 Years of Experience |
| Dr. Madhu Sudhan V | MBBS, MS, DNB (ENT) | 7 Years of Experience |
| Dr. Ashutosh Patil | MBBS, MS, DNB (ENT) | 8 Years of Experience |
| Dr. Ruchi Rajput | MBBS, MS, (ENT) | 15 Years of Experience |
| Dr. Siddharth Vashishtha | MBBS, MS, (ENT) | 10 Years of Experience |
| Dr. P Santosh Kumar | MBBS, MS, (ENT) | 10  Years of Experience |
| Dr. Manu Bharat K | MBBS, MS, (ENT) | 10 Years of Experience |
| Dr. K Mounika | MBBS, MS, (ENT) | 7 Years of Experience |
| Dr. Poorva Kale | MBBS, MS, (ENT) | 6 Years of Experience |
| Dr. Mohd Khaja Moinuddin | MBBS, MS, (ENT) | 8 Years of Experience |
| Dr. Susan P Chako | MBBS, MS, DNB (ENT) | 11 Years of Experience |
| Dr. Richa Mina | MBBS, DLO(ENT) | 10 Years of Experience |
| Dr. A Arun | MBBS, DLO(ENT) | 11 Years of Experience |
Also Read: