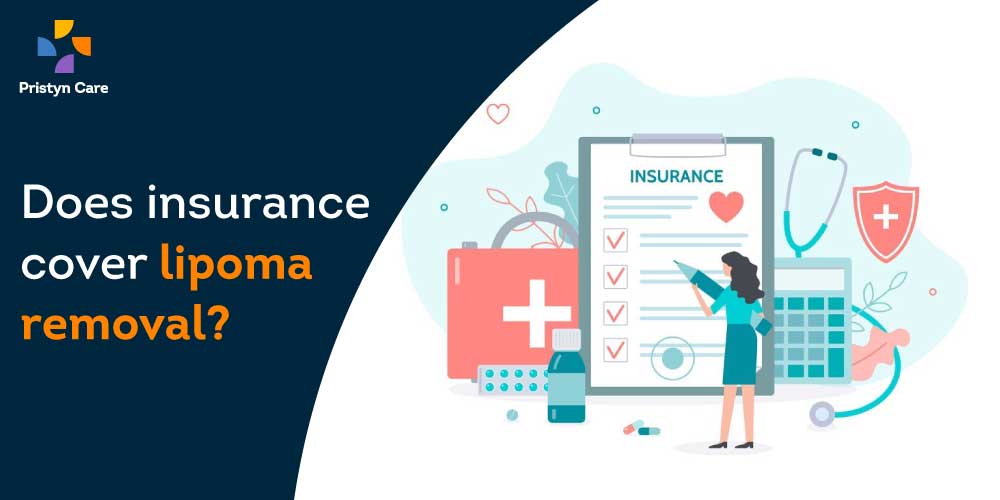 While seeking treatment for lipomas, you may feel conflicted about whether the treatment is covered under insurance or not. 
We all have heard that plastic surgeries are usually not covered under medical insurance as they are not medically necessary. However, some conditions are exceptions to this rule. Fortunately, lipoma treatment is one of them. 
Despite the fact that lipomas are typically harmless and most people get them removed due to cosmetic reasons, lipoma removal surgery is covered under health insurance policies. And all this is possible because lipoma is a symptomatic condition. 
Thus, you can be rest assured knowing that if you have a lipoma or multiple lipomas, you can get proper treatment for the condition at the best medical centers with your health insurance. 
Services That Are Covered Under Insurance for Lipoma Removal 
Just so you know, an insurance plan from one company will be different from the others. This is why simply assuming that the lipoma removal procedure will be covered under the insurance will be wrong. The coverage might even vary depending on the plan you have. Therefore, it is advised that you talk to your insurance provider and clear all your doubts before going to a hospital or clinic for lipoma treatment. 
Here is a breakdown of the services that will be covered under all standard health insurance policies:
Hospitalization Expenses-

This benefit involves the expenses that incur when the patient is admitted to the hospital for more than 24 hours, including room rent, doctor's fee, diagnostic tests, medicine cost, etc. 

Pre & Post Hospitalization Expenses

–  With this benefit, you can cover the expenses that occur before hospitalization as well as afterward, such as initial consultation, post-surgery follow-ups, etc. 

ICU Charges-

  In case you don't know this, the ICU (Intensive Care Unit) charges are also included if you have to undergo surgery for treatment of a disease like a lipoma. Fortunately, the insurance policy also covers the ICU charges. 

Ambulance Cost-

Though lipoma removal isn't done on an emergency basis, if you have to seek emergency medical care, then the cost of an ambulance will also be covered by the insurance policy. 

Cashless Treatment-

The biggest benefit of having insurance is that you don't have to worry about arranging money to pay the hospital expense. What's more beneficial is that if you are admitted into a network hospital of the insurance provider, you will get additional discounts for the entire treatment. 

Day Care Procedures-

This coverage allows the patient to cover the cost of treatments in which 24 hours hospitalization isn't necessary. 

Pre-Existing Diseases-

It is a benefit that most probably all policies won't offer. If you are planning to purchase a new policy, try to get ample coverage for the pre-existing conditions as well. As a standard rule, you will have to finish the waiting period to get a claim against the treatment for that particular disease. 

AYUSH Treatment-

This benefit allows the patient to cover the cost of treatment through insurance if they are getting treated by the AYUSH School of Medicines. It includes ayurvedic treatment, Unani, homeopathy, Siddha, & yogic treatment. 

Medical Check-ups-

Under this benefit, you will also get free preventive health check-ups at regular intervals. 
By choosing the best policy for health insurance, you will be able to get maximum benefits as well. 
Your lipoma treatment will be covered under insurance under all circumstances. So, whether you have a lipoma or multiple lipomas, you can get treatment at the best hospitals and clinics without worrying about the cost. 
How much do I have to pay for lipoma treatment with or without insurance?
On average, lipoma removal surgery cost ranges from Rs. 25,000 to Rs. 40,000 depending on various factors. These factors include the number of lipomas, size, and location, surgeon's fee, the technique used for the treatment, risks, medications, etc. 
With insurance, you won't have to worry about any expense that is incurred during lipoma treatment. And in case you don't have insurance, Pristyn Care will aid you in that situation. We offer No Cost EMI service that helps the patient to get treatment and pay for it later in easy installments. 
We also simplify the insurance claim process for the patients who do have a policy that covers the cost of lipoma excision. Our medical coordinators handle the paperwork and claim process by coordinating with the insurance providers personally. 
Pristyn Care is also trying its best to make daycare procedures like lipoma treatment more affordable for the patient by offering free services like deluxe room for the hospital stay, discounts on diagnostic tests, free cab service, post-surgery care, and free follow-ups as well. 
Different Insurance Policies You Can Get For Lipoma Treatment
There are an estimated 69,000 public and private sector medical centers in India, most of which are partnered with different insurance providers. So, when you purchase a health insurance policy from a reputed and reliable insurance provider, you will get additional benefits at the respective network hospitals of the insurance companies. 
Here are some plans that you can buy that will cover all kinds of treatment including lipomas to a full extent:
| | | | | |
| --- | --- | --- | --- | --- |
| Insurance Company  | Health Insurance Plan | Sum Insured (In Rs. ) | Incurred Claim Ratio  | Network Hospitals  |
| Aditya Birla Health Insurance  | Active Assure Diamond Plan  | 2 lakh to 2 crore  | 59% | 8200+ |
| Bajaj Allianz Health Insurance  | Health-Guard Plan  | 1.5 lakh to 50 lakh  | 85% | 6500+ |
| Bharti AXA Health Insurance  | Smart Health Insurance  | 3 lakh to 5 lakh  | 89% | 4300+ |
| Care Health Insurance (Formerly Religare) | Care Health Care Plan  | 4 lakh to 6 crore  | 55% | 7400+ |
| Max Bupa Health Insurance  | Companion Individual Health Plan | 3 lakh to 1 crore | 54% | 4115+ |
| ManipalCigna Health Insurance  | ProHealth Plan  | 2.5 lakh to 1 crore  | 62% | 6500+ |
| National Health Insurance  | National Parivar Mediclaim Plus | Up to 50 lakh  | 107.64% | 6000+ |
| New India Assurance Health Insurance  | New India Assurance Senior Citizen Medi claim Policy | 1 lakh to 15 lakh  | 103.74% | 3000+ |
| Oriental Health Insurance  | Individual Mediclaim Health Plan  | 1 lakh to 10 lakh  | 108.8% | 4300+ |
| Star Health Insurance  | Family Health Optima Insurance Plan  | 1 lakh to 25 lakh | 63% | 10,200+ |
| United India Health Insurance  | United India UNI Criticare Health Plan  | 1 lakh to 10 lakh | 110.95% | 7000+ |
The Bottom Line 
According to Wikipedia, more than 80% of Indians do not have any kind of health insurance plan. It means that more than 500 million people do not receive the benefits from health coverage. 
This is something that we need to change ourselves. The health insurance policies are designed as such that they will make advanced medical treatments, like lipoma excision surgery easily affordable for us. 
If you have a lipoma and need to get rid of it, visit the nearest Pristyn Care clinic and consult the best plastic surgeons in your city.