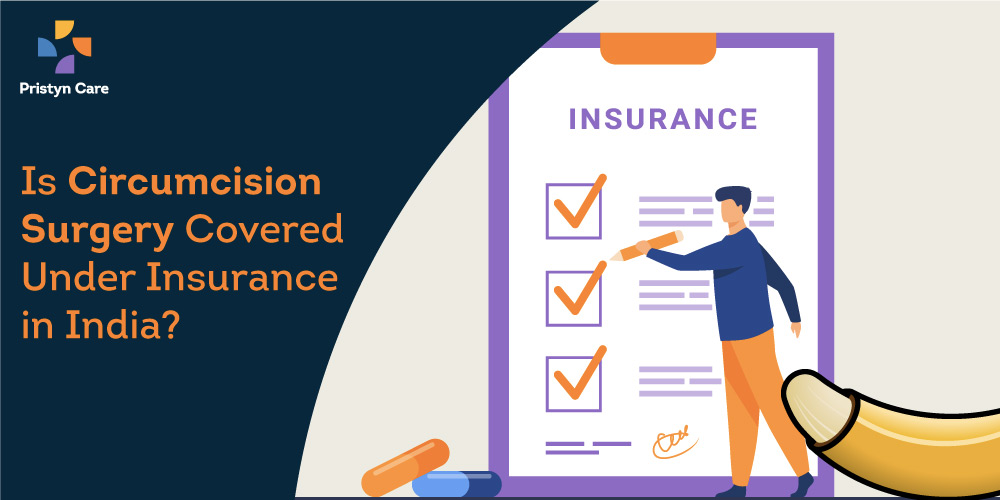 Circumcision is a surgical procedure that can be performed on newborn boys, teenagers, adults, and the elderly. And most of the insurance companies in India cover circumcision surgery when it is indicated for medical purposes. If circumcision is performed as a religious act or for aesthetic purposes, not all insurance companies will cover it under the insurance policy.
In one of the surveys conducted by the WHO, it is mentioned that "Almost 30% of adult males in the world are circumcised. About two-thirds of those males are Muslims. In India alone, approximately 13.5% of total males are circumcised."
If circumcision is recommended to cure foreskin and penile problems like phimosis, paraphimosis, balanoposthitis, and balanitis, it has to be documented by the surgeon or the doctor as a medically needful surgical procedure for the patient. If not, circumcision surgery may not be covered under insurance by some private insurance companies.
Before planning to take an insurance policy, check all the terms and conditions. And clarify all your doubts.
A few corporate insurance companies may cover circumcision surgery under cashless insurance. At the same time, other private insurance companies may consider circumcision as cosmetic or aesthetic surgery and may not cover it under insurance.
If you are a working employee, your company may provide you with health insurance to cover most of the medical surgeries. So, check with your company and know whether your circumcision surgery can be covered under the insurance provided to you or not.
To all couples, who are going to be new parents [pregnancy], it is suggested to discuss with their doctors about circumcision surgery like its benefits, risks, complications, and long-term effects. Because this might help them to make an informed decision about circumcision of their child. If you wish your son to be circumcised at an early age, it may cost you less when compared with the cost of circumcision later in life. Also, one of the research studies showed that delay of non-medical circumcision could increase the risk of infection and is costlier than medically performed circumcision.
For young males who are under fourteen [14] years of age, it is best to get circumcised by a qualified pediatrician. For those who are above 14 years old, a qualified urologist can perform circumcision surgery. Also, if you or your loved one [males: newborn baby boy, teenager, adult, elderly] needs to get circumcised in India, make sure you get it done from an accredited NABH [National Accreditation Board for Hospital and Health Care Providers] hospital. Because NABH is the highest national accreditation agency for health care providers in India.
In India, one of the best and safest hospitals from where you can undergo risk-free circumcision is Pristyn Care. At Pristyn Care, you may claim 100% insurance for your circumcision surgery. We have an insurance team that can help you in the process of claiming insurance. Before undergoing the circumcision surgery at our hospitals or clinics, our insurance team will check all your insurance papers and will let you know whether your insurance can cover the surgery or not. In most cases, it depends on what type of insurance you have and from where you opt for it.
To know more details about the insurance, you can contact our medical coordinator.
However, before wondering whether circumcision surgery is covered under insurance or not and the process of claiming the insurance, make sure you select the appropriate circumcision method to remove your foreskin.
Most pediatric surgeons and urologists recommend laser circumcision over open surgery. This is because of the benefits. To elaborate on the differences between laser and pen circumcision, we mentioned a table below.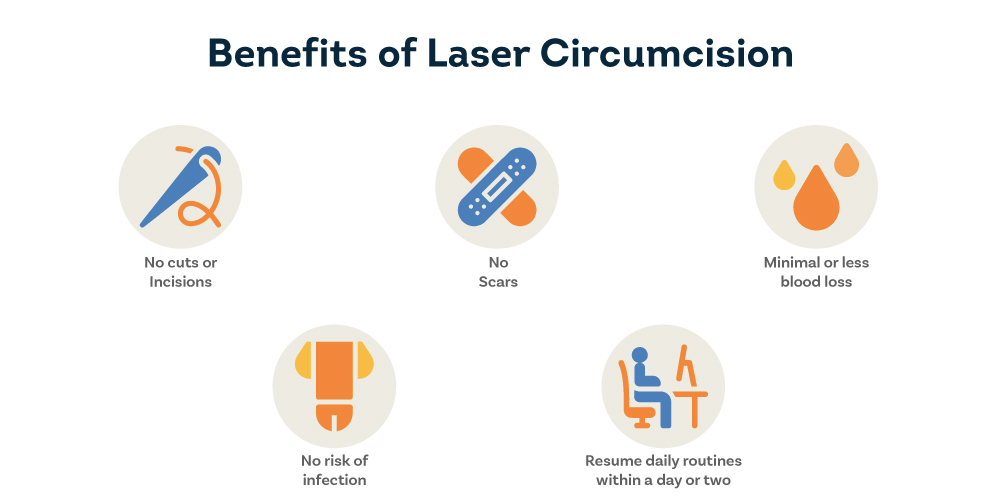 | | |
| --- | --- |
| Open circumcision | Laser circumcision |
| Involves cuts | Involves no cuts or incisions |
| Mild to moderate pain may be noticed | Painless procedure |
| Blood loss is more when compared with laser surgery | Minimal or less blood loss |
| It won't affect the fertility  | It won't affect the fertility  |
| The risk of infection is high | No risk of infection |
| Post-surgical complications can occur | No chance for post-surgical complications |
| High success rate | High success rate |
| The surgeon may take 30 to 45 minutes to complete the surgery | The surgeon may take 15 to 20 minutes to complete the procedure |
| The patient can go home after 2 to 3 days of the surgery or even more | The patient can go home on the same day of the surgery [day care procedure] |
| Can perform normal activities after a week | Can resume daily activities within two [2] days |
Get in touch with us to undergo affordable laser circumcision from top hospitals that are partnered with us in several cities all over India.
Final words:
Before undergoing circumcision surgery, check all your insurance papers and get in touch with your insurance company to know whether they cover non-medical and medical circumcision surgeries or not. If not, try to find an insurance company which can cover it. If yes, talk with the hospital coordinator and plan accordingly.
In India, most health care providers cover circumcision under cashless insurance. So for the best and medically advanced circumcision surgery, you can book an appointment with our urologists or pediatric surgeons.