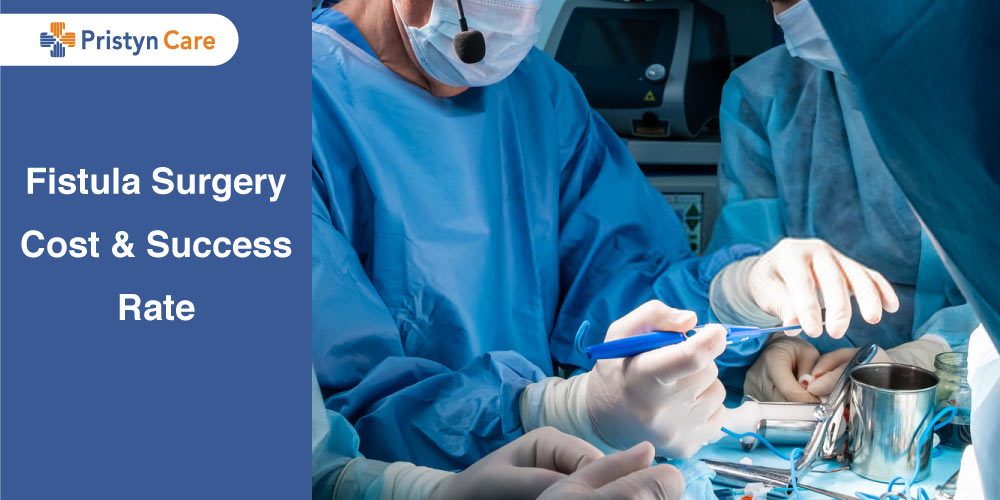 If you see symptoms of anal fistula, you should consult a doctor immediately as anal fistula does not heal on its own. Though lifestyle changes help prevent fistula, the most common and recommended treatment for anal fistula is surgery. 
Fistula surgery cost in India 
Fistula surgery cost in India may vary between Rs.45000 – Rs.60000 depending upon the city and clinic you opt for.
Thus, this cost is an important reason for abroad patients to come to India as they are getting good clinical care at the biggest hospitals in India. Fistula surgery cost in India is provided at an appealing cost along with facilities such as fully equipped and well-trained staff to look after the patients throughout the surgical journey. Medical tourism in India at an affordable price is offered to complete their experience along with anal fistula surgery.
Why Pristyn Care for fistula surgery?
Pristyn Care performs laser surgery to treat anal fistula. We have state-of-the-art modern daycare treatment involving best-in-class surgical equipment. The treatment is USFDA approved painless laser treatment. We provide fistula treatment with a seamless surgical experience to our patients. We offer the best laser treatment for anal fistula with the below-mentioned advantages: 
Pick up drop cab facility

Care buddy to assist throughout the surgical journey for tasks such as insurance clearance, admission and discharge formalities, etc.

No cost EMI option 

Complete insurance coverage

Clean single deluxe room 

Free follow-ups post-surgery
Why Anal Fistula recurrence is common? 
If there is no proper closure of internal opening, recurrence is sure to happen. Whatever may be the medicine, whether allopathic medicine for fistula, homeopathic medicine for fistula, or Ayurvedic treatment for Fistula, it simply provides relief from symptoms of the disease. The internal openings need to be closed so that the fistula can heal completely otherwise it might come back.
Success rate of fistula surgery
At Pristyn Care, the success rate of fistula surgery is 98% with almost 2% chances of recurrence. Our experts perform the most advanced laser surgery to cure anal fistula. The fistula surgery success rate depends on the type of procedure performed to treat the fistula. The recurrence rate in traditional methods of fistula surgery is upto 15%. 
If you think that you can treat anal fistula with home remedies, then they are not the alternate method of treatment for anal fistula. They may help treat some of the symptoms but the root cause can still exist. 
How to prevent recurrence of anal fistula?
The best way to prevent recurrence of anal fistula after surgery is to maintain consistent bowel pattern and avoid constipation or diarrhea. If Crohn's disease is the underlying cause of anal fistula, get the treatment. 
You can make certain lifestyle changes such as diet changes, healthy food, maintain proper hygiene, strengthen your immune system and practice healthy bowel habits. 
Laser surgery for fistula by experienced doctors
Pristyn Care has doctors with more than 12 years of experience providing the most advanced treatment. Our doctors provide tailored solutions to our patients depending upon their severity and conditions. The advantages of laser treatment for fistula at Pristyn Care: 
Most advanced USFDA laser treatment

Minimally invasive procedure

Daycare procedure

Quick and comfortable recovery

Post-surgery complications are minimum

Complete insurance coverage

No cost EMI payment option

Pick drop cab facility

Less chances of recurrence

Care buddy to assist throughout surgical journey

Free follow-ups post-surgery

Diet and exercise guide after surgery
Also read: 10 Precautions after Fistula surgery
Also read: Side-effects of open fistula surgery