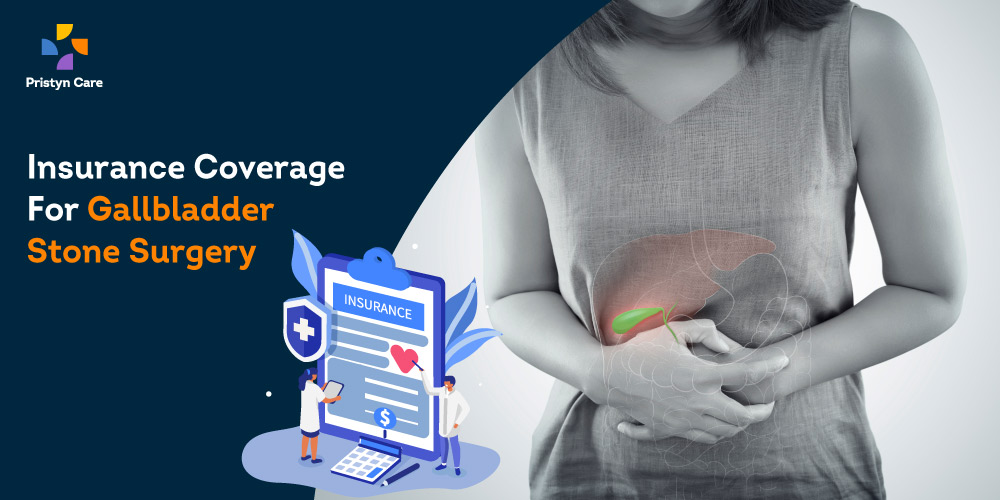 Gallbladder stone is quite a common medical phenomenon in India with a prevailing rate of 3-5 percent among adults. The incidence of gallbladder stones in India among children is 2 percent. Incidence of symptomatic gallbladder stones is 20 times higher in North India compared to South India. As a matter of fact, women are at a higher risk of getting gallstones compared to men.
A person suffering from gallbladder stones is ideally suggested medications or surgery for the removal of gallbladder stones. 
"Is gallstones surgery covered by insurance?", "Will my insurance cover the cost of gallbladder stone surgery?", "Which insurance policies cover the cost of gallstone surgery?" – These are some of the common queries that bother most patients with gallbladder stones before they determine the treatment line. This blog intends to help you understand everything about gallbladder stones, treatment for gallstones, the cost of gallbladders tone surgery in India, and insurance coverage for gallbladder stones surgery.
What are gallbladder stones?
Gallbladder stones or gallstones are stones that form in the gallbladder or the bile ducts. The gallbladder is a pear-shaped organ located on the right side of the abdomen. The gallbladder is responsible to hold the bile that is released into the small intestine. When the bile is stored in the gallbladder hardens and turns into stone-like material, it forms into gallstones.
The following factors put an individual at risk of gallstones:
Gender (a woman is at a greater risk of gallbladder stone)

Age (people over 40-45 years are at a greater risk of gallbladder stones)

Obesity or overweight

Underlying health conditions like diabetes/ Crohn's disease/ blood disorders

Overuse of drugs including oral contraceptives
Treatment of gallbladder stones
Gallbladder stones treatment can broadly be classified into two types:
Gallbladder removal surgery (Cholecystectomy) –

Removing the stones alone from the gallbladder does not ensure a permanent cure of the condition. Which is, most gallbladder stone surgeons or general surgeons suggest removing the gallbladder entirely, since gallstones are prone to recurring. Once the gallbladder is surgically removed, bile flows from the liver into the small intestine instead of getting stored in the gallbladder. Removal of the gallbladder does not affect the ability of an individual to digest food.

Medications –

In some cases, medication is suggested by the doctors to dissolve the gallstones. But, medications take a long time to show effective results and the stones are likely to form again when the medicines are stopped. Medicines are generally reserved for people who are not fit to undergo surgery for gallbladder stones removal.
Also Read:Cholecystectomy: A Laparoscopic Surgical Procedure Guide
Cost of gallbladder stones 
On average, the cost of cholecystectomy (gallbladder removal surgery) cost in India ranges from INR 40,000 to INR 1,20,000. Here is the list of cost of gallstones surgery in different Indian cities.
Also Read: Gallstone Surgery Cost In India & Success Rate
| | | |
| --- | --- | --- |
| City | Minimum cost of gallbladder stone removal surgery | Maximum cost of gallbladder stone removal surgery |
| Delhi | INR 40,000 | INR 1,20,000 |
| Bangalore | INR 40,000 | INR 1,20,000 |
| Mumbai | INR 40,000 | INR 1,20,000 |
| Chennai | INR 40,000 | INR 1,20,000 |
| Indore | INR 40,000 | INR 1,20,000 |
| Ludhiana | INR 40,000 | INR 1,20,000 |
| Pune | INR 40,000 | INR 1,20,000 |
Insurance coverage for gallbladder stones removal surgery
The cost of gallbladder removal surgery is covered by many healthcare insurance policies. Some of the insurance companies with policies that cover the cost of gallbladder stone removal cost in India are:
Care Health

Niva Bupa (Formerly known as Max Bupa)

Star Health 

Aditya Birla

Bharti AXA

Bajaj Allianz

Digit Health Care

Future Generali Health

Kotak Mahindra

Manipal Cigna

Reliance Health

SBI Arogya 

Tata AIG
Benefits of buying a health insurance plan for gallbladder stone removal treatment
Buying a health insurance plan for gallbladder stone removal treatment can ease the cost burden for the patient. Getting insurance coverage is the easiest way to afford quality medical treatment during any health emergency. Here are the top benefits of paying the cost of gallbladder surgery using insurance.
Quality medical treatment at an affordable cost – An insurance helps an individual to afford the best quality surgical treatment for gallstones from reputed healthcare institutions.
Fight medical inflation – Getting health insurance can help you pay your medical bills without any burden. The policy not only will cover your surgery cost but also the pre and post-hospitalization expenses.
What do health insurance plans cover?
The coverage of any insurance plan may differ from policy to policy. An individual health insurance plan does not cover the cost of all critical illnesses without an extra premium. Commonly, a health insurance plan or mediclaim in India is likely to cover the following features during your surgery.
The charges of operation theatre

Hospital room charges

ICU room charges

Cost of medicines

Expenses related to the surgical tools and devices
Final words
Before planning to take an insurance policy, check all the terms and conditions. And clarify all your doubts.
If you are a working employee, your company may provide you with health insurance to cover most of the medical surgeries. So, check with your company and know whether your gallbladder stone surgery can be covered under the insurance provided to you or not.
Before undergoing gallbladder stone surgery, check all your insurance papers and get in touch with your insurance company to know whether they cover non-medical and medical expenses during gallbladder stones removal surgeries or not. If not, try to find an insurance company that covers it. If yes, talk with the hospital coordinator and plan accordingly.