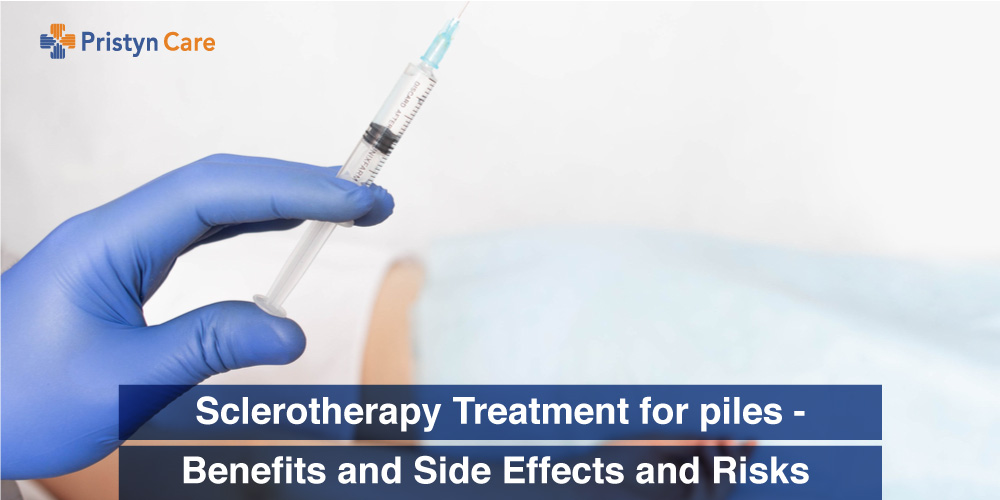 Sclerotherapy treatment for piles is a procedure to treat internal hemorrhoids. It is done as an outpatient process by injecting a chemical solution to the affected area in the anal region. This causes the piles to shrink over time. People opt for sclerotherapy treatment for piles when home remedies and over-the-counter medicines fail to improve the condition. But it is typically used for grade 1 or 2 hemorrhoids (initial stages).
What does the diagnosis of piles involve? 
A tube-like device called proctoscope is inserted in the anus to see the severity of piles. 
How to prepare for sclerotherapy for piles?
It is a quick short 10 minutes process that provides relief from pain and discomfort. When you visit a doctor for sclerotherapy treatment, they provide you complete information about the preparation and procedure. You may need enema before sclerotherapy which is a solution to empty your colon. 
What happens during the sclerotherapy procedure?
Usually, the doctor does not give anesthesia as it is an outpatient procedure. A chemical solution is known as sclerosant is filled into the injection. The doctor uses a needle and inserts the injection into the piles. Scar tissues form after the solution is injected. The piles tissues start to shrink without any bleeding. 
What to expect after sclerotherapy for piles?
After 2-3 days, you may notice slight pain or pressure and you might have to return to the doctor for more injection. The sclerotherapy process gradually hardens the tissues around the piles developing the scar tissue, also called sclerosis. After 4-5 weeks of sclerotherapy, piles should shrink.
Repeat treatment might be needed if necessary. The healthcare provider asks you to take rest and avoid strenuous activities. Normal work can be performed after a day or two. 
Benefits of sclerotherapy for piles
The benefit of the procedure include:
It is an outpatient procedure and does not require hospitalization. 

No anesthesia required.

Several piles or hemorrhoids can be treated at the same time.
Who is eligible for piles sclerotherapy treatment?
Only patients with grade 1 and grade 2 are eligible for sclerotherapy treatment for piles. External hemorrhoids can not be treated with this method. (Also read: Get rid of internal and external hemorrhoids in 48 hours)
Can sclerotherapy treatment treat piles permanently?
Sclerotherapy is an effective treatment for grade I and early-stage grade II piles. However, sclerotherapy is not usually a permanent method to treat piles. You may need another visit for the same treatment again. 
Risks and side – effects associated with sclerotherapy treatment
You may get infection, swelling or pain in or around the anal region after sclerotherapy. There is no such scientific evidence but males may develop infertility after sclerotherapy treatment of piles. It may also give an allergy to some people. Therefore, consult piles doctor if you are taking any medicine or allergic to anything before the procedure.  
Also read: Know Everything About Piles Laser Treatment
Research: 
One study has shown that a high fiber diet works just as well as sclerotherapy, but without complications. In another study, immediately after sclerotherapy injection treatment had been performed, a hemorrhoidectomy was carried out and the hemorrhoids removed were examined under the microscope. There were no significant short-term changes seen in the treated tissue where the sclerosant had been injected.
Take Away
Note that not all piles can be treated with sclerotherapy. Only smaller piles or internal hemorrhoids can be treated with sclerotherapy. Piles located outside the rectum need surgery laser surgery or hemorrhoidectomy for the treatment. Therefore, if you have gone through sclerotherapy and still looking for the right treatment for piles, you can write down to us and our medical experts will get back to you within no time. You can also book online consultation to know more about the treatment. 
Sources:
Senapati A, Nicholls RJ. A randomized trial to compare the results of injection sclerotherapy with a bulk laxative alone in the treatment of bleeding hemorrhoids. Int J Colorectal Dis 1988; 3: 14-126.
Bullock N. Impotence after sclerotherapy of hemorrhoids: case reports. BMJ 1997; 314: 419.
Also read: Bleeding Piles – Causes, Symptoms, Prevention, and Treatment
Also read: Advanced treatment for piles Cost