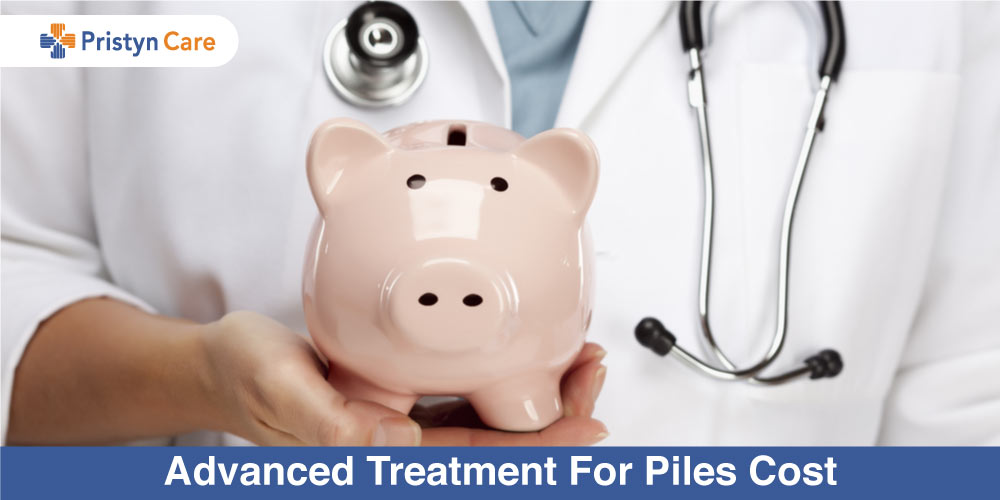 Piles surgery is performed almost everywhere in India. But to get advanced treatment for piles, it is important to choose the right team and set up. A well-equipped clinic or hospital with a team of experts performing the surgery play a vital role in successful piles surgery. Not just this, all these must be available at a reasonable price too. Here are certain factors that help decide the cost of piles surgery in India, how to choose the treatment for piles and necessary steps before and after piles surgery. 
What factors govern the cost of piles laser treatment?
There are several factors that decide the cost of piles treatment: 
Severity of piles in the patient

Availability of skilled medical team and expert surgeon

Technology used to perform surgery (open, banding, stapling or laser)

Hospitalization (number of days you stay in hospital)

Diagnosis and medicines before and after the surgery
If you have an insurance policy, Pristyn Care can help you seek from the TPA desk at the hospital to determine whether your policy covers the surgery or not.
Advanced treatment for piles cost in India
The cost of Laser Piles Treatment depends upon multiple factors as mentioned above and ranges from Rs. 35,000 to Rs. 60,000. 
Why People Choose laser treatment over Open surgical treatment? 
There are several advantages of laser treatment that makes it a preferred piles treatment. The reasons for choosing laser surgery over open surgery are: 
Short and quick procedure:

It takes approximately 30-40 minutes to perform laser surgery. 

Painless procedure:

Pain during the procedure is almost zero. 

Daycare procedure:

There is no need for hospitalization. The patient is discharged the same day. 

Safe treatment for piles:

Laser surgery is safer in comparison to conventional piles surgery. 

Minimally invasive procedure:

The blood vessels are sealed in this process, hence there is minimum bleeding during surgery. 

Quick recovery:

There are no cuts or wounds, so the recovery does not take much time. 

Complications are less:

Post-surgery complications are minimum and temporary. 

Leaves no scars:

As there are no stitches, there are no scars left post-surgery. 

High success rate

: The chances of recurrence are close to negligible with 99% success rate. 
Looking at these benefits of piles laser surgery, it is considered as a better treatment option. 
What to expect before, during and after laser piles surgery or procedures?
Before piles laser surgery
Before the piles operation, the patient might feel stressed which is natural. The patient is aware and well-informed of the procedure in advance. Prior information helps the patient to take care of the necessary things. The patient is asked to stop the medications one week before the surgery that can increase the risk of bleeding during the procedure. The patient clears all surgery-related queries beforehand such as preparation for surgery, post-surgery instructions and follow-ups. 
A day before the surgery
You must follow the instructions given to you by the surgeon. The bowel preparation is the most important part a day before the surgery which must be done under the guidance of the surgeon. You are given a solution to clear your bowels so that it becomes easy for the surgeon to perform the surgery. You may also get medicines that you have to take before surgery. Therefore, do as instructed by your healthcare provider. 
During piles laser surgery
Piles laser surgery is a daycare surgical procedure that is performed in 30-40 minutes. General anesthesia is given to the patient. It is a painless procedure where the surgeon uses laser probe with the required amount of frequency to shrink the hemorrhoids or piles. The experts ensure that there is no damage to the nearby healthy tissues and reach the submucosal area that shrinks the piles masses.
After piles laser surgery
After complete diagnosis post-surgery, the surgeon might ask you to pass urine to check if you are fit to go home. The healing and recovery can vary from person-to-person. Usually, it is a daycare procedure and the patient is discharged within a day., but he/she might have to stay overnight for proper healing. 
Why should you choose Pristyn Care for your Piles treatment?
There are multiple reasons to choose Pristyn Care for Piles treatment: 
We have expert piles surgeons with more than 10+ years of experience. They have performed laser surgeries with great precision and the success rate is 99%.

Pristyn Care assigns a Care Buddy who takes care of your surgical journey at Pristyn Care. Whether it is standing in the hospital queue, completing hospital paperwork and other formalities during the surgery. 

You can claim 100% insurance for piles surgery at Pristyn Care.

Also, you do not have to worry about the payment. It can be done cashless. If you think one go payment is burdensome, you can opt for no-cost EMI. 

On the day of the surgery, we provide you pickup drop cab facility. 

At Pristyn Care, you get free follow up after surgery.
To know more about the treatment cost of piles and any related queries, you can contact us or write to us. You can also book online consultation to talk to our piles experts. 
Also read: Know everything about piles laser surgery