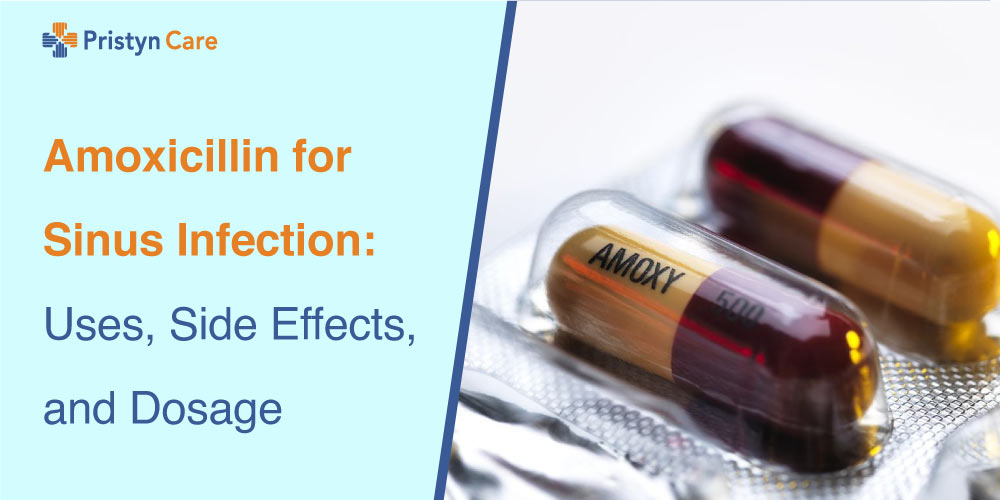 Amoxicillin for Sinusitis
Amoxicillin 500 mg tablet is a medication that is useful in treating various infections that are caused by bacteria like sinus infections. When the sinuses are unable to drain mucus completely, this can lead to excessive mucus build-up that can get infected. If it is a bacterial infection, then amoxicillin can help.
This can also be used with other antibiotics to treat stomach ulcers caused due to Helicobacter pylori infection. 
Some other diseases that can be treated with Amoxicillin 500 mg tablet are-
Bronchitis

Pneumonia

Chlamydia 

Arthritis

Carditis

Lyme disease

urinary tract infection

Dental abscesses 

Pharyngitis 

Skin infection
Price of Amoxicillin for Sinus
The average price of Amoxicillin for Sinus 500 mg Tablet is around Rs. 67.87 in the Indian market. 
| | |
| --- | --- |
| Average price of Amoxicillin 500 mg strip of 10 tablets  | Rs. 67.87 |
Taking Amoxicillin for Sinusitis
The medicine is available in a lot of forms-
Capsules

Tablets

Powder for oral suspension
You should take amoxicillin exactly as prescribed by the doctor. You should also follow all the directions given on the label word-to-word and read the instruction sheet thoroughly.
One should take the medicine at the same hour of the day daily. If you are taking oral suspension, then shake the bottle before use. You can mix it with water, milk, baby formula, fruit juice or ginger ale. 
In case you are taking tablets, do not crush, chew, or break the tablet before gulping it. Lastly, do not change the dose or schedule without consulting the doctor first. 
Side Effects of Amoxicillin for Sinusitis
There are only minor side effects of consuming Amoxicillin 500 mg Tablet. Otherwise, it is a very safe medicine to take. Some mild effects that people can experience are-
Tenderness of the stomach

Pain in the back, legs or stomach

Black stools

Clay-colored stools

Bleeding from the gums

Blistering/peeling or loosening of the skin

Blood in the urine

Bloody nose 

Chest pain

Chills

Cough (Also Read: Indian remedies for treating cough)

Dark urine

Diarrhea with blood

Difficulty breathing

Elevated heartbeat

Extreme discomfort

Fever

Swelling throughout the body

Headache (Read More: How to get relief from a sinus headache)

Hives

Periods heavier than normal

inflammation of the joints

Itching

Joint or muscle pain

Loss of appetite

Muscle aches and pains 

Nausea or vomiting

Nosebleeds 

Difficulty urinating

Pale skin

Swelling of the eyelids or around the eyes, face, lips or tongue

Rash 

Redness or irritation of the eyes

White spots on the mouth

Swollen lymph nodes

Bad breath

Tiredness or weakness

Sudden weight loss

Yellowing of the eyes

Behavior changes

Discoloration of the teeth

Unable to sleep

White patches on throat or mouth

Agitation 
Dosage of Amoxicillin for Sinusitis
The medicine Amoxicillin 500 mg Tablet can be orally taken in the form of pills. This medicine is generally prescribed to be taken once a day. As per prescription, this drug can be taken with/without food. Either complete the whole course or stop it only after proper consultation with the doctor. 
The dosage of Amoxicillin 500 mg Tablet depends on various factors-
Type of infection

Severity

Patient's age
For mild to moderate infection: Adults should take 250 mg orally every 8 hours or 500 mg every 12 hours.
For severe infection: Adults should take 500 mg orally every 8 hours or 875 mg every 12 hours.
Overdose/Skipping a dose of Amoxicillin 500 mg Tablet
If you have missed a dose of Amoxicillin 500 mg Tablet, if there's enough time between the skipped dose and the next dose, then take it. Otherwise, if the next dose is near, skip the missed dose and stick to your regular schedule. 
Interactions of Amoxicillin for Sinusitis
As the Amoxicillin 500 mg Tablet is allopathic medicine, it can easily react with other medicines that you are taking. The other medicines, when combined with Amoxicillin 500 mg tablet, can worsen the side effects of Amoxicillin 500 mg Tablet. 
Not only the side effects but any underlying health issue can also aggravate if this medicine is taken without the doctor's approval. 
Medicines that can interfere with Amoxicillin 500 mg Tablet and can cause moderate or serious side effects are-
Allopurinol

Amiloride

Anisindione

Azithromycin

Balsalazide

Cholera vaccine

Clarithromycin

Demeclocycline

Dicumarol

Dirithromycin

Doxycycline

Entecavir

Erythromycin

Estradiol

Ethinyl estradiol

Guar gum

Methotrexate

Minocycline

Mycophenolate mofetil

Mycophenolic acid

Pemetrexed

Probenecid

Sarecycline

Sodium iodide

Tetracycline

Typhoid vaccine

Warfarin 
5 diseases can interact with amoxicillin which are:
Colitis

Mononucleosis

Diabetes

Renal dysfunction

Hemodialysis 
Substitutes of Amoxicillin for Sinusitis
When you are unable to get hold of Amoxicillin 500 mg, there are some substitutes that can be taken. These can be taken in place of Amoxicillin 500 mg as they are made of the same composition and are of the same strength. 
Bactrim 

Cipro

Levaquin 

Keflex

Cleocin 

Augmentin 

Penicillin 
Know here: Best sinus medicines to take 
Precautions of Amoxicillin for Sinusitis
It is a general precautionary measure that no medicine should be taken without proper consultation with the doctor. 
A person can buy Amoxicillin 500 mg Tablet with only a valid prescription at the pharmacist or medical center. 
Some of the things you should disclose to the doctor before taking this medicine are-
Whether you are allergic to drugs such as clarithromycin, erythromycin, and telithromycin

Whether you have any issues in the kidneys, muscles, liver or heart

If you have a low level of potassium or magnesium

Whether you suffer from nausea, diarrhea or excessive sweating after taking the medicine 

Whether you are pregnant or lactating 
Some precautions for special conditions before taking Amoxicillin 500 mg Tablet-
Pregnant women should discuss the risks and benefits of the medicine before taking this antibiotic. 
Unless absolutely necessary, this medicine is not recommended for lactating women. If breastfeeding mothers take this medicine, then the baby should be monitored for any side effects. 
Antibiotic therapy leads to bacterial growth that can lead to diarrhea. This can be due to overdosage hence, adjust the appropriate dosage and find a suitable alternative. 
Taking this medicine without any symptoms of bacterial infection is not at all recommended. If you take Amoxicillin 500 mg Tablet irrationally, it might lead to toxicity. 
Driving or operating heavy machinery
This medicine can cause extreme drowsiness or dizziness in patients. Immediately after taking Amoxicillin  500 mg Tablet or its substitutes, do not drive or operate any heavy machinery. 
Read More-