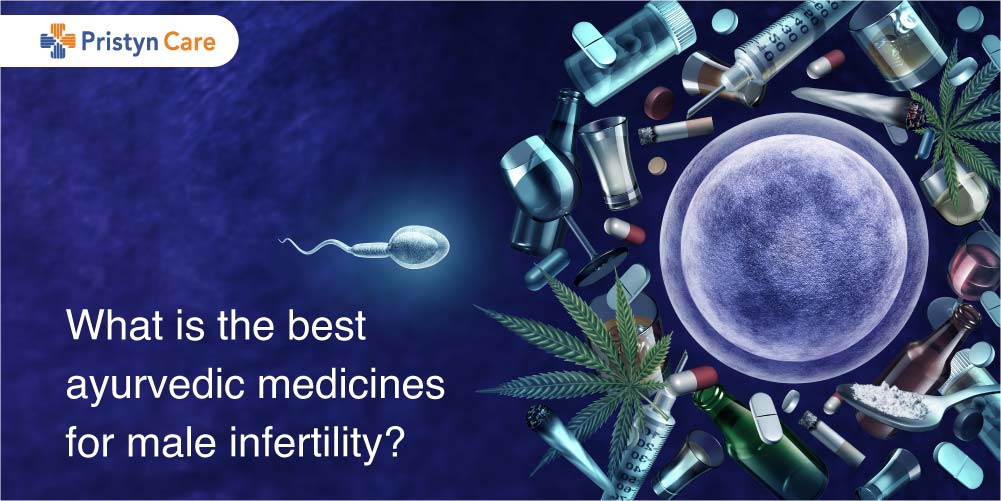 Ayurveda is well known to treat various health issues since ancient times. People can rely on Ayurveda for effective results. Ayurveda has solutions for numerous health problems for both males and females. One of the common problems that any male can face is infertility. Infertility is a stressing out problem that can adversely affect a man's life and cause emotional turbulence as well. But there is nothing to lose hope about it, as there are effective ayurvedic medicines that have wonderful effects in enabling a man to regain his fertility. Ayurvedic medicines for male infertility directly work on the underlying causes and hence bring great results. (Also Read: What Are the Types of Male Infertility? )
Let's first quickly get to know the major causes of infertility in men:
Genetic defects, obesity, diabetes, STI leading to abnormal functioning of the sperms

Unhealthy habits such as smoking, drinking and illicit use of drugs

Therapies for cancer treatment
After knowing these causes, you will better understand the effects of ayurvedic medicines given by your ayurvedic doctor.
Ashwagandha

Ashwagandha is an ayurvedic medicine that is used for various health issues, including male infertility. This ayurvedic remedy increases sex drive and also boosts the overall reproductive health. It is known to increase sperm count and improve sperm motility. This ayurvedic remedy for male infertility brings relief to stress and stimulates the blood circulation throughout the body.

Shatavari (Asparagus racemosus)

This medicine is counted among the most effective ayurvedic medicines for male infertility. Shatavari medicine balances the heat in the body and provides favorable conditions for sperm formation (spermatogenesis). Asparagus Racemosus is an ayurvedic medicine that relieves stress, irritability, and anger. These factors are also majorly related to male infertility. Hence, Shatavari is a very effective ayurvedic medicine to treat infertility in men. The doctors only advise not to have Shatavari if you have respiratory congestion. (Also Read: How To Treat Male Infertility Naturally? )

Kapikacchu (Mucunapruriens)

This ayurvedic medicine proves to be beneficial for male infertility. Kapikacchu enhances the process of sperm formation and improves sperm motility. It also improves the level of vitamins that are essential for maintaining fertility in males (Vit. A, C, and E).

Chandraprabha Vati 

It is a widely used ayurvedic medicine for various urology problems including male infertility. Chandraprabha Vati effectively cures the fertility issues of men such as loss of seminal fluid while sleeping, impotence, stress, anxiety, etc. This ayurvedic remedy also effectively treats kidney stones, urinary incontinence, urinary tract infection, etc. So, it is quite an effective multipurpose ayurvedic medicine. And, not just men, Chandraprabha Vati is helpful in treating certain fertility problems in women also.

Arogyavardhini Vati 

Arogyavardhini Vati is an ayurvedic medicine to treat male infertility. The ayurvedic doctors highly recommend it in the cases of necrozoospermia. It is a condition where semen contains only the dead sperms. Arogyavardhini Vati increases the longevity of the sperms and their mobility.

Apart from this, Arogyavardhini Vati is beneficial for health conditions such as high blood pressure and a high level of cholesterol. High blood pressure is one of the factors that result in the poor quality of the sperms. Hence, this medicine brings significant improvements in infertile males dealing with high blood pressure. (Also Read: Home Remedies for Male Infertility Treatment)

Safed Musli Roots (Asparagus)


Asparagus or the dried roots of Safed Musli have rejuvenating effects on the reproductive health of the males. This ayurvedic medicine is known for its aphrodisiac nature and hence is quite effective in combating fertility issues. Safed Musli roots help in curing premature ejaculation and improve the sperm count. A regular dosage of asparagus definitely getting rid of impotency.

Shilajit

Shilajit is a wonderful ayurvedic medicine that boosts sex drive and performance. This ayurvedic tonic immensely helps in getting rid of the fatigue and strengthens overall muscles. Shilajit promotes overall well being along with reproductive health. 
Take Away
These are some of the best ayurvedic medicines that work on different factors that contribute to treating infertility issues in males. But, you must keep it in mind to get a proper diagnosis and prescription from your Ayurveda doctor. Avoid going for self-medication just for the sake of avoiding medical consultation. It is wise to get in touch with a specialist doctor and follow only the prescribed medicines. And, make sure that your doctor knows all about your condition, so don't hesitate to share. The clearer you communicate your symptoms and problems, the more effective treatment for infertility you will receive from your doctor. 
Also Read: