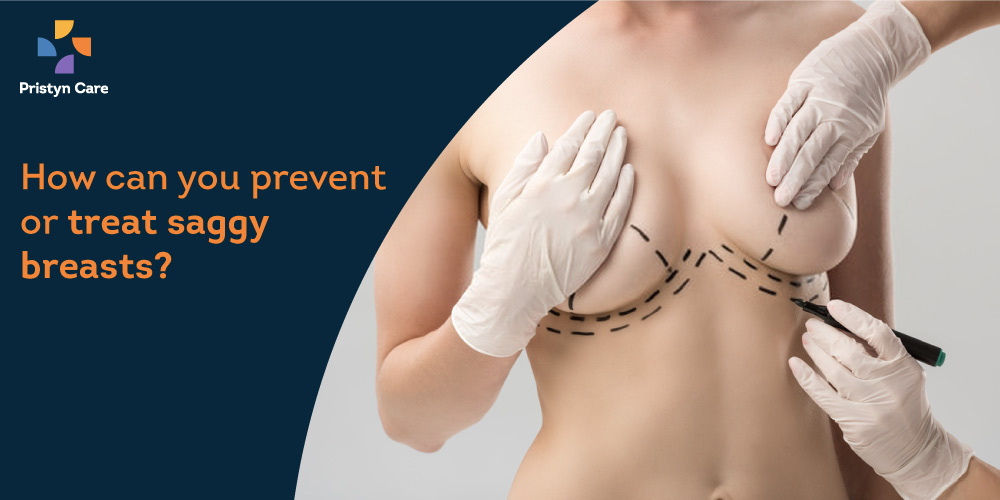 The shape of the breasts changes naturally over time. Sagging breasts are also referred to as ptosis. There are various factors that can lead to sagging breasts, such as aging, weight loss or not wearing a bra to support the breasts. There are the latest medical technologies available nowadays that can help you treat sagging breasts. Read below to understand the treatments available and prevention tips for saggy breasts. 
According to the Regnault classification, sagging breasts are classified into different types. Inferior mammary crease(IMC) is taken as a fixed base to differentiate the severity of the ptosis condition:
Type 0- Normal breasts
Type 1- Mild sagging breasts
Type 2- Moderate sagging breasts
Type 3- Severe sagging breasts
Type 4- Lower sagging breasts, also referred to as pseudoptosis 
Prevention Tips for Saggy Breasts
According to researches, one can not completely prevent breasts from sagging if they are already appearing droopy. However, if you start taking care of yourself early, there are certain things that may help you keep your breasts from sagging. Some of the tips you can follow are:
-Drink lots of fluids- Drinking plenty of water and other fluids can keep your body hydrated in order to preserve the elasticity of the skin.
-Maintain regular body weight- Always eat a healthy diet by enhancing it with protein, fiber, or vitamin-rich food items. Avoid eating fried or junk food to maintain healthy and regular body weight. 
-Quit smoking- If you are a regular smoker, you should quit smoking. Smoking can affect the elasticity of the skin, causing droopy breasts.
-Keep good posture– Always maintain a good posture while sitting and standing. Maintaining a good posture can help in supporting your breast and may give a natural lift to them.
-Regular exercise– Doing a regular exercise with minimal stretchings like push-ups, yoga asanas, or aqua aerobics can help prevent breasts from sagging.
Sagging Breasts Treatments
The size and shape of the breasts may differ from one person to another. Experienced plastic surgeons can perform advanced treatments for sagging breasts to reconstruct saggy breasts in order to improve the aesthetic appearance of the breast. The doctor will diagnose the severity of the sagging, depending on that, the plastic surgeon will determine the best-suited technique to fix the breast. Some of the treatments to fix sagging breast are:
Breast lift– This is an aesthetic procedure that helps in fixing saggy breasts. During this procedure, a plastic surgeon may remove the excess skin tissue from the sagging breasts in order to contour them while giving them a better shape. The breast lift treatment gives an improved look and tightens the skin to enhance the aesthetic appearance of breasts. 
Breast augmentation– The aesthetic surgeon can also recommend this procedure to reduce the ptosis. The goal of this breast augmentation procedure is to restore the shape and size of the breasts. The surgeon precisely perform the procedure in order to fix the sagging breasts symmetrically
Conclusion
Saggy breasts or ptosis are common and can occur at any age. Some common reasons that can lead to sagging breasts, like aging, menopause, weight loss, or smoking. It is always advisable to consult an experienced plastic surgeon for breast lift or breast augmentation treatment to fix sagging breasts. However, there are a few significant tips such as following a healthy lifestyle, eating a good and rich diet, doing regular exercises to maintain body weight, etc., to prevent breasts from sagging.
With the evolved cutting-edge medical technologies, there are advanced treatments that can repair saggy breasts. Get in touch with Pristyn Care's highly experienced aesthetic surgeons in your city to get a thorough diagnosis for ptosis. Our doctors provide advanced aesthetic procedures to help you regain control of your body. The plastic surgeon will contour the breasts in order to restore their shape and size. Book your appointment now to consult the best aesthetic surgeon in your city at Pristyn Care.