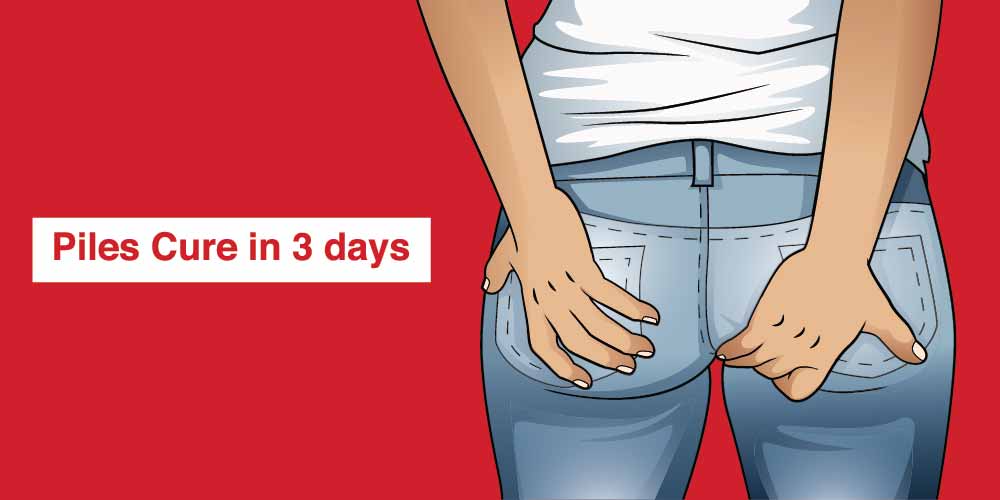 The most effective way to cure piles in just 3 days is surgery. 
A person suffering from piles can try several home remedies and medications, but these treatment options can only prevent the piles or hemorrhoids from growing worse, and not cure it permanently.
At the present scenario, laser surgery is considered to be the most effective and convenient way to cure piles in just 3 days. The laser surgery is a daycare procedure in which the affected area is simply treated with laser energy in a precise and focused manner and the problem is solved within a few minutes. The patient can go home in a healthy and conscious state within a few hours after the surgery. There is no risk of infection with laser surgery.
The laser treatment is completely pain-free and there are negligible  chances of recurrence of the disease with the laser treatment for piles. But with the laser surgical procedure, you can cure piles in 3 days, and also there will no risk in the future.
But, if your pile problem is at a very nascent stage and is diagnosed before becoming serious, it can be cured at home during the early stages. 
Home Remedies for Piles
There are some home remedies to cure piles without surgery. The remedies can effectively shrink down the painful internal hemorrhoids but it can also prove to be harmful if it goes wrong.
Prevent or relieve constipation. 

Increase your liquid and fiber intake. 

Some fruits good for piles are raspberries, pears, apples, amla and bananas. 

Also, include vegetables, such as artichokes, green peas, broccoli, and brussels sprouts.
If your hemorrhoids are not serious, these dietary changes may be your permanent cure for piles.  
Make sure that you consult the doctor before carrying out the home remedies. Below are mentioned some effective home remedies for piles cure in 3 days. 
People with painful hemorrhoids can get relief by sitting in moderately warm water several numbers of times in a day. This procedure is called Sitz Bath. 
A lot of people do not know what a sitz bath is. It is a hot water bath that cleans the rectal area. A Sitz bath is most effective when taken right after the bowel movements. It provides relief from pain and itching in the rectal region and increases the blood flow.
Coconut oil is an effective home remedy for piles due to its natural healing properties and health benefits. It has strong anti-inflammatory properties, which can help to reduce inflammation. Coconut oil has analgesic (or pain-relieving) properties that reduce discomfort caused by hemorrhoids.
Use ice packs for piles that help veins to strengthen and elasticize. It provides great relief from itching, pain and swelling in the rectal area. It is one of the best homemade cures for piles.
This would help in decreasing the size of piles and also the pain. Castor oil has many properties such as anti-oxidant, anti-fungal, anti-inflammatory and anti-bacterial to make it work for you.
Do not wear tight and restrictive clothes that strain your muscles. Opt for loose, cotton clothes and let your body breathe. 
Apart from these, there are also herbal remedies which can help in curbing the symptoms of piles.
Herbal Remedies for piles: Piles treatment without surgery
Apple Cider Vinegar is believed to bring instant relief to internal hemorrhoids and reduce itching and pain in and around the anus and anal opening. The quantity of apple cider vinegar to be used needs to be consulted with a doctor before as its excess can be harmful and further increase complications in the disease. This remedy needs to be used very as if used in excess amount, it can cause itching, burn the skin of the effective area.
Aloe Vera has anti-inflammatory properties that help to provide relief from inflammation by soothing the skin. Being a natural ingredient proven to soothe the skin, aloe vera is completely safe to be used for piles in the natural form.
Antiseptic and anti-inflammatory properties in tea tree oil can reduce the swelling and itching in the condition of internal hemorrhoids. This remedy is only helpful for the first stage when the piles have just developed.
Witch hazel is effective in providing relief from pain, itching, and bleeding during hemorrhoids and also helps in reducing and shrinking the size of hemorrhoids in the first stage. It is a natural anti-inflammatory and the tannins and oils in the witch hazel help reduce inflammation and slow the bleeding while passing stool. It can be used directly over hemorrhoids.
It is very easily available around us. Neem is not only a good homemade remedy for piles but also good for any sort of skin related problems such as acne. It has anti-bacterial properties which can prove to be very relieving.
Very few people know about this natural remedy for piles. It helps in relieving pain during piles. Apply it directly at the affected area and you may see noticeable results.(Also Read:Epsom Salt For Piles)  
How to Prevent piles and Reduce Symptoms of Piles?
Eat high-fiber foods. Eat more fruits, vegetables and whole grains. It softens the stool and increases its bulk, which will avoid the straining that can cause hemorrhoids. Add fiber to your diet slowly to avoid gas problems.
Drink plenty of fluids. Drink six to eight glasses of water every day to help keep stools soft.
Consider fiber supplements. According to a medical study, over-the-counter fiber supplements, such as psyllium (Metamucil) or methylcellulose (Citrucel), improve overall symptoms and bleeding from piles. While using supplements, make sure you drink enough water to prevent constipation.
Don't strain. Straining and holding your breath when trying to pass a stool creates pressure in the veins in the lower rectum.
Do not wait to pass a bowel movement. If you wait, the urge goes away, your stool could dry out and be harder to pass.
Exercise. It helps you prevent constipation and reduce pressure on veins, which can occur due to prolonged standing or sitting. Regular exercise can also help you lose excess weight that might be contributing to your hemorrhoid. 
Conclusion
If you are looking for a permanent cure for your piles in just 3 days, there is no other treatment option other than surgery. With the advanced laser surgery, it has become quite easy for patients to get rid of piles in as short as 3 days time.
However, you must always see a doctor if the symptoms of piles do not improve with home remedies mentioned above or if it continues to grow worse. Even before going for any homemade treatment for piles, it is advised that you consult a doctor. 
Also Read: Know everything about Piles Laser Treatment
Read More –  Piles Surgery Cost