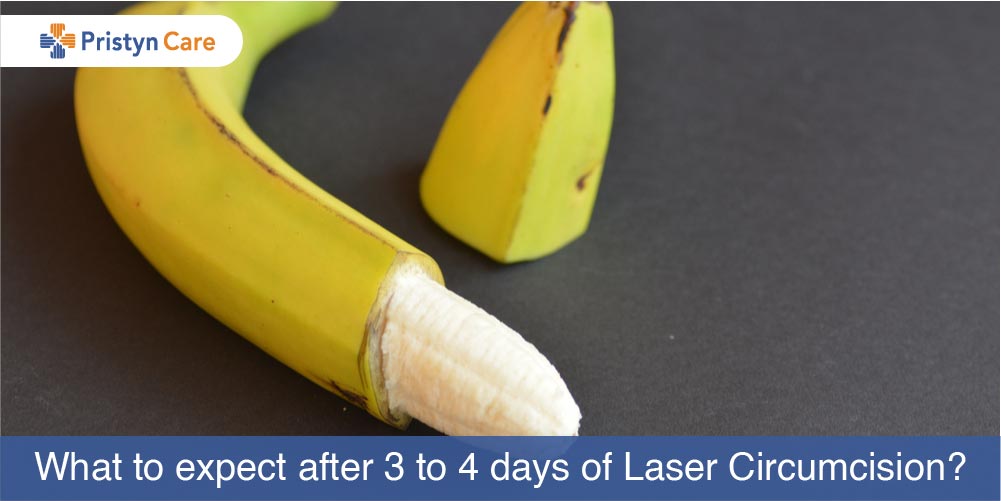 After Discharge from the hospital-
In case the patient is given local anesthesia before the circumcision procedure, he is discharged 3-6 hours after the procedure.
The patient, once he's fit to go home, can resume his daily routine from the very next day.
There is dressing after laser circumcision. The patient does not require to follow-up with routine dressings. So, there is no hassle of regular hospital visits for changing the dressing. 
3 to 4 days after Laser Circumcision
The patient would have no pain or discomfort after laser circumcision. The doctor generally prescribes antibiotics or other medications after the surgery for quick recovery and to prevent any discomfort. Make sure to take the prescribed medications on time and follow any instructions given by the surgeon. The patient should try to ( and completely fit to ) walk a little and keep the body moving. So, avoid staying in bed for long periods. The patient should take a bath and is advised to maintain proper hygiene to prevent any risks. 
In some cases, the patient may have mild swelling. The swelling goes away in 1-2 days not if it is accompanied by pain after 2 days.
The patient can have intercourse after 3-4 weeks of his procedure. Sutures used during this procedure are self-dissolvable in 12-15 days after the procedure. Avoid strenuous physical workouts and traveling for long hours for 7-10 days after the procedure. Laser circumcision has no effect on fertility or male sexual health. 
What will be the results of Laser Circumcision?
The results of the procedure broadly depend on the reason the patient had the procedure.
If the patient chose to have circumcision to stop or prevent infections or physical problems such as phimosis, the procedure is 100% successful. The patient would not face the problem again as there is no risk of recurrence after the laser procedure. 
Each patient's results are different. For most, the surgery does not have any impact on sexual function, urinating, or sensitivity.
Also Read: How The Procedure Of Circumcision Changed Over Time?
The takeaway
Laser circumcision is a simple procedure with no risks or complications. 
Consult your doctor in case you have unusual problems after circumcision such as-
Severe pain or swelling

Persistent bleeding

Foul-smelling drainage from the penis
Also Read: