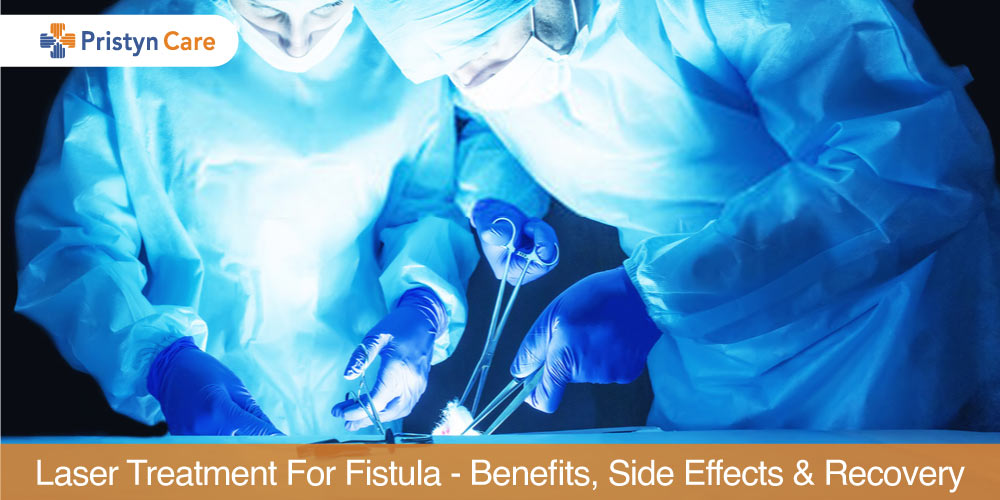 It is important to understand that surgery is the only way to remove anal fistula completely. Fistula treatment without surgery is usually not possible. Laser surgery for anal fistula is a USFDA approved treatment that treats fistula effectively. 
How is laser treatment for anal fistula performed?
Laser surgery for anal fistula in India is gaining popularity due to its benefits and effectiveness. During the laser procedure, a precise amount of laser energy is introduced in the fistula tract through the thin laser probe. After inserting the laser, fistula tissues are destroyed and the laser probe is pulled back closing the tract. 
The procedure takes only a few minutes by leaving the healthy tissues intact. The laser treatment for fistula recovery is noticeably short and comfortable.  
Is laser treatment good for fistula? Benefits of laser treatment for anal fistula
Here are the benefits of laser treatment for anal fistula 
Short procedure

Minimally invasive procedure

Faster healing than conventional surgeries

Faster recovery and back to normal routine

Painless procedure

Post-surgery complications are lesser

Chances of recurrence are negligible
Side effects of laser surgery for fistula
One of the side-effects of laser surgery can be constipation which is temporary. You can talk to your doctor regarding getting some laxatives to take care of constipation after surgery. Also, the surgery needs great precision and expertise. Therefore, at Pristyn Care, we have surgeons with more than 8 years of experience into laser surgery for anorectal problems. You can contact our experts online to know more about the benefits and the cost of laser treatment for fistula in India. 
You must share all the medical history and if you are taking any supplements or medicines before you proceed with the treatment. Follow the instructions given by healthcare providers. 
Recovery after laser treatment for anal fistula
Laser treatment for fistula recovery is very quick and comfortable. As it is a minimally invasive daycare procedure, the patient can go home the same day of the surgery. 
Patient can resume daily activities after 2-3 days of the surgery.

Do not perform any strenuous activities until the doctor suggests.

Although there are no diet restrictions, follow the diet chart given by the surgeon for a few days after the fistula laser surgery.

Contact the doctor immediately if you notice something unusual. 
When to see a doctor?
After the surgery, when the patient reaches home, they must follow the post-surgery instruction given by the healthcare provider. Whether it is diet or exercise, follow all the instructions given to you for quick recovery. 
After surgery, you must be aware of the following signs and seek medical advice if you notice any of the following: 
Increasing pain, inflammation or discharge

Nausea or vomiting

Constipation (no bowel motion for 3 days or more)

Difficulty passing urine

Fever

Redness, swelling or pain in the anal region

Swelling of the lymph nodes in the groin

Lack of bowel control
The chances of getting these symptoms are rare after laser fistula surgery. 
Also read: Precautions to be taken after Surgery