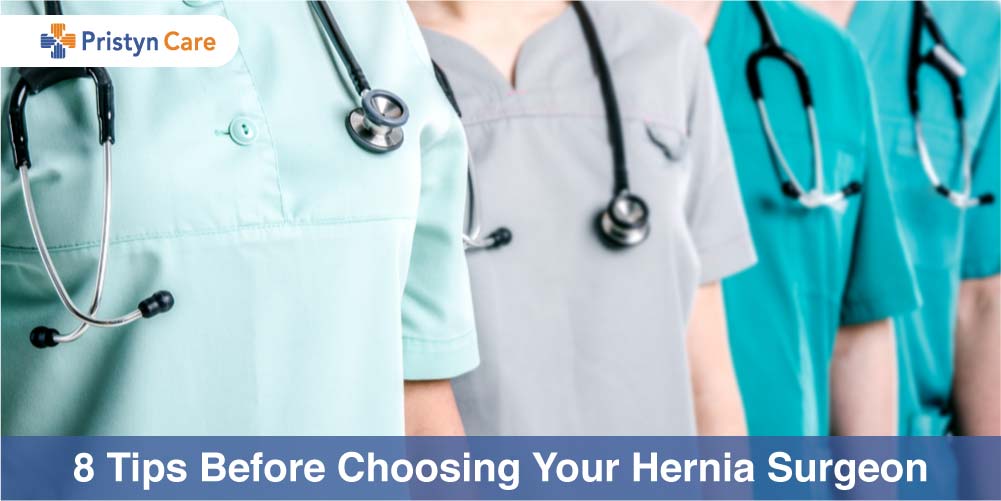 Finding a general surgeon who is competent enough to treat hernia with minimum risk of complications is not an easy task. Apart from competency, you want to feel confident and comfortable while talking to your doctor. 
A basic qualification of a general surgeon should include proper diagnosis by the doctor followed by explaining the severity of the condition and appropriate treatment options. 
Ask Around 
When you are in pain, you turn to your family and friends for help. So after the diagnosis of hernia, you ask your family and friends for time. But just trusting one person's word of mouth is not enough for deciding your doctor. 
Check The General Surgeon's Credentials and Surgical Certification of General Surgeon
Some physicians can gather various certifications and credentials which may not be substantially relevant and legitimate for curing a hernia. Look for the general surgeon's credentials from legitimate sources. 
The key to finding a good hernia surgeon lies in the quality and relevance of credentials he/she possesses. Beware of doctors who represent their qualifications. Make sure he/she possesses the right credentials and certifications required for performing a hernia. 
Also Read: Know about 3D Mesh Surgery For Hernia Treatment
Look for Ratings, Number of Procedures performed, Complication Rate
You cannot take a second chance when you are looking for a reliable hernia surgeon. There are various online health portals where you can find information about the number of the procedure, ratings of the doctor and testimonials of other patients. 
Publications of the Doctor regarding Hernia Repair
This might not seem important but looking into the doctor's number of publications gives an idea of his/her knowledge depth. You can check for the number of publications of the doctor by typing his/her name. Look if he/she has participated in any research conference on hernia repair or try to find an online version of his/her speech. 
Talk with Colleagues 
Talking with the colleagues of the physician can reassure his/her abilities, experience and skills related to hernia repair. To gather information, you can talk to the pharmacist located near the doctor's clinic. 
Type of Employment
Doctors can be either practicing independently or working at a hospital. While a section of people prefer independent practitioners as they are able to provide better care and services as compared to doctors practicing at a hospital. There is another section that chooses hospital doctors due to the various facilities available at the hospital. 
Ask Questions
After you have narrowed to two or three hernia doctors according to your preference, prepare a list of questions. Ask these questions to the hernia surgeon so that you are able to make a better decision. Here is a list of pointers that can help you frame some questions-
The method of preliminary testing.

The necessity and the advantages of the procedure. 

The alternatives to the suggested surgical procedure- the possibility of minimally invasive surgery.

The possible risk of undergoing the procedure.

The affiliated hospitals where the surgery can be carried out. 
Analyse Communication Style 
Communication is key when you are undergoing surgery, especially for a hernia. It is important that you are comfortable talking to your surgeon before the procedure so that he/she is able to clear out all your doubts. The first appointment with a doctor is very significant as this helps to understand his/her communication style. Read the body language,  see
-if he/she is interested in your problem or not
-if he/she is rushing into the diagnosis
-if he/she is explaining the problem or not
-if he/she forcing you for a particular kind of treatment option
-if he/she helping you out in the decision-making process 
Final Words
In conclusion, the surgeon who has enough experience of performing hernia repair, such that they incur zero complications is the right doctor for you. If you are still not sure about your choice of doctor, make an appointment with our Pristyn Care hernia doctor who can help you get relief in a jiffy.
Also Read: