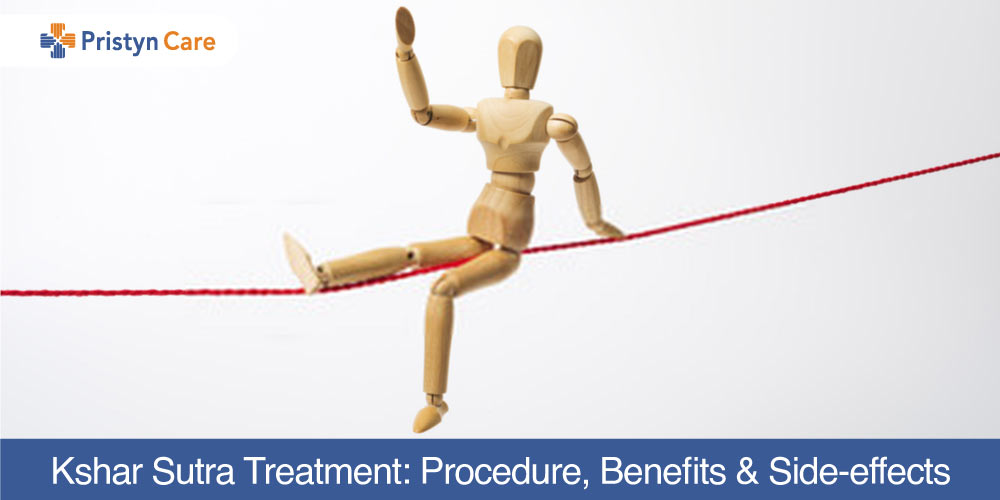 Ayurveda treatment is an ancient procedure. Most of the people are not satisfied with the effects of allopathy as the side effects and reactions are now easily visible. The benefits of Ayurveda on the other side are very effective. Side effects and cases of recurrence of disease after Ayurvedic therapy are there but a lot of people opt for it. It is a safe, secure, reliable and cost-effective branch of traditional medical science.
Ayurveda Kshar Sutra or Thread Therapy is used to treat piles, fistula and fissure. So, let's see the general procedure of how it is treated by kshar sutra treatment of Ayurveda. 
Kshar sutra treatment mechanism for treating piles, fistula and fissure: 
Firstly, the patients are selected on various criteria based on their medical history and problems:

Patients with 2

nd

, 3

rd

and 4

th

-degree piles are considered immediately (all age groups).

Patients with rectal prolapse, tuberculosis, pregnancy, carcinoma rectum, inflamed piles, 1

st

-degree piles and related conditions are ruled out for surgery.
Once the selection criteria are met, the patient has to undergo various

pre-operative requirements

which include the following:

The patient has to sign some documents and formalities before operation giving consent.

A night before the procedure, the pubic area is cleaned and shaved. Some ayurvedic solution is applied to rest all night. It is an antiseptic solution.

On the day of surgery, the patient is kept orally nil before 6 hours of surgery. 

A light diet is provided the night before surgery.

To ensure that the patient has clean bowels, the medical staff will provide him/her with soap enema on the night before the procedure and also 2 hours before the procedure.

Patients are given injections of tetanus toxoid which will be 0.5 ml. 

Several sensitivity tests are conducted like xylocaine test.

On the day of surgery:

The patient will be anesthetized with local, general or spinal anesthesia before surgery.

For piles, fistula and all kinds of anorectal problems, the kshar sutra is prepared in an alike manner. It is coated with several coatings of ayurvedic meds such as

Snuhi latex with various combinations, Apamarga kshara, Haridra Churna with required pH.

The patient is then positioned in lithotomy on the operation table.
Kshar Sutra Treatment for piles:
After assessing the position of pile masses, the surgeon holds the pile masses with pile holding forceps. After transfixing, they ligate the pile mass anteriorly and posteriorly with adequate knots. This is done with a needle mounted with kshar sutra as its base. The area is cleaned with warm water nicely. And the area is properly secured with "T" bandaging. (Also read: Kshar Sutra For Piles)
Kshar Sutra Treatment for fistula:


Here, the kshar sutra is tied covering the whole track for cutting and healing meeting all aseptic precautions. The patient is usually discharged on the following day. The medicated thread is then changed weekly until the wounds are perfectly healed. 
Kshar Sutra Treatment for fissure:


Not all fissure cases need kshar sutra treatment, only stubborn fissure needs it. It takes 2-6 weeks to recover post that. Other related guidance can be best provided by the treating doctor. 
To reduce pain and promote healing, antibiotics and various anti-inflammatory medicines are prescribed post-surgery.

The patient will have to follow various dietary and lifestyle changes post-surgery to avoid any chances of recurrence and to promote quick healing. 

The patient will be instructed to go for sitz bath regularly for some time to promote healing and relaxation from discomfort.

Patient might be prescribed with various stool softeners and specially medicated creams or ayurvedic solutions post-surgery.

Normal life activities can be resumed soon after the doctor allows. 
Benefits of kshar sutra procedure:
3500 years old ayurvedic therapy

Minor OT process. 

Time required to perform surgery is maximum of 25-30 minutes in almost all cases.

No loss of man-days as patient can resume to work-life or daily routine life with simple precautions.

Simple post-surgery instructions are to be followed by patients themselves. Therefore, no hassle or requiring help from others.
It is said that not all this come with pros only, so here are some cons that could be remotely associated with kshar sutra:
Various side effects of kshar sutra treatment:
It could be painful in some cases.

Still, there is no proper scientific authenticity.

Pain and complications post-surgery.

Recurrence is not known.

Chances of bleeding, pain and infection could be there.

May not be able to treat grade 4 hemorrhoids. 
Kshar sutra procedures for anorectal problems are still considered to be a safe option. But with the above side-effects or risks, people do consider painless and minimally invasive procedure for piles or fissure. Contact a general surgeon to know more about the minimally invasive laser technique and you can decide the best treatment option for your disease. 
Also read: Can Ayurveda Cure Fissure
Also read: Thread Therapy for Fissure