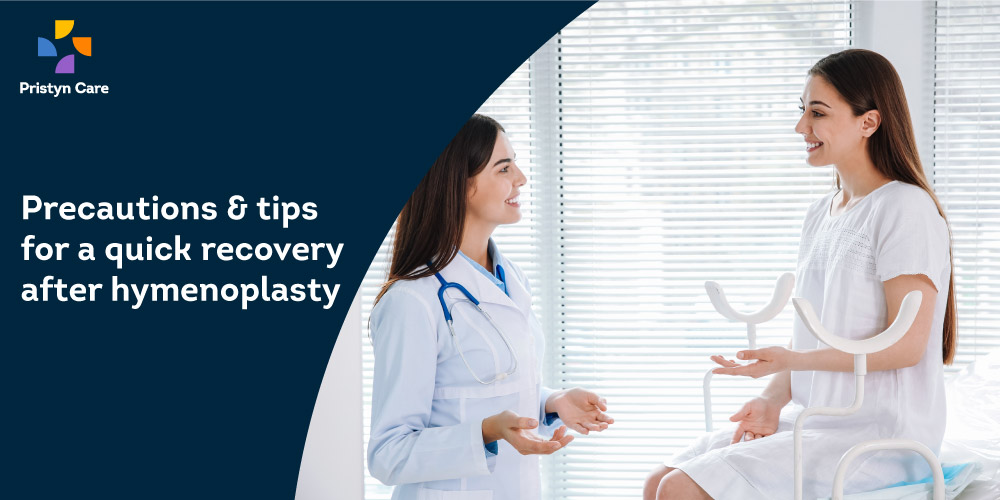 The hymen is a thin membrane, light pinkish in colour and partly covers the vaginal opening. The shape and appearance of the hymen varies between females but the hymen is typically a half-moon shape at the bottom of the vaginal opening. The hymen usually breaks or tears when the female has her first intercourse. The hymen may also break due to non-sexual activities like inserting a tampon, vigorous stretching exercise, or an accident. Minor bleeding commonly occurs when the hymen breaks. In some religions and cultures, an intact hymen is considered as a sign of a woman's virginity. 
A hymenoplasty surgery, also referred to as hymen construction surgery or hymenorrhaphy, is usually performed to regain virginity due to cultural or religious reasons before marriage. Hymenoplasty at Pristyn Care is performed by expert female gynaecologists who specialize in cosmetic and surgical gynaecology procedures such as hymenoplasty, vaginoplasty, laser vaginal tightening, etc. 
The goal of hymenoplasty is to restore the hymen which may bleed during the next intercoruse. To ensure the best results and success rate of hymenoplasty surgery, it is very important to undergo the surgery from a trained and expert gynecologist and take proper care and precautions during the recovery period. 
Also Read- Will My Partner Know If I Have Got Hymenoplasty Done? 

Self care tips and post-operative care instructions after hymenoplasty
During the hymenoplasty surgery, the gynecologist will use self dissolvable sutures to join the torn remnants of the hymen and surgically reconstruct the hymen. The hymenoplasty surgery can be expected to be completed in less than 1 hour. As hymenoplasty is a daycare procedure,  no hospital stay is necessary, and the female can return to work and regular life from the next day. Strenuous activity, lifting heavy objects, sex, or inserting anything inside the vagina (including tampons) should be avoided. During the first 48 – 72 hours after hymenoplasty, there may be some slight discomfort, but this is perfectly normal. The gynecologist would prescribe medications to relieve pain or discomfort and prevent infections during recovery after hymenoplasty. 
Complete healing after hymenoplasty surgery can take approximately 4 to 6 weeks. After complete recovery, there will be no post operative scars or visible signs of surgery.  Gynecologists often recommend the following tips and precautions to ensure proper recovery and also to get the best results after hymenoplasty surgery- 
Take all prescribed medications in time and complete the full course of your medicines, as prescribed by the gynecologist. 

Ask your gynecologist when you can take a shower after the surgery. Do not take a shower unless you get an approval from the gynecologist. Gently wipe your vaginal area once or twice a day, without putting any strain near it. Do not clean the inside of the vagina until complete recovery.

Refrain from doing any tiring activities for the first 1 or 2 days after the surgery, and take a rest. Proper care during the earlier days of recovery will enable the wound to heal faster.

Take a healthy and nutrient-rich diet for a swift recovery after hymenoplasty.  Avoid drinking alcohol, smoking or eating spicy, oily or pickled food for a few days.

Vaginal yeast infections may occur due to prolonged use of antibiotics (which is actually necessary after hymenoplasty surgery). In case you have symptoms of vaginal yeast infections or bacterial vaginosis such as a foul smelly vaginal discharge which looks like cottage cheese or itching, consult your gynecologist who may change your medications or suggest other alternatives for the infection. 

If you notice bleeding, reddish brown discharge or any other abnormal vaginal discharge, with or without other symptoms, call your gynecologist right away. If it is something to worry about, your gynecologist may suggest visiting for a follow up consultation. Report any complications or side effects to the gynecologist right away to ensure a swift and safe recovery.
Also Read: Why Should You Go For the Hymenoplasty?
Who needs a hymen reconstruction surgery?
Usually, females choose to undergo hymenoplasty surgery for cultural or religious reasons. In most cases, a female who has had an intercourse and wants to restore the hymen to bleed when she has intercourse opts for the hymen reconstruction surgery. Females who broke their hymen due to non-sexual activities or accidental cases may also choose to undergo hymenoplasty. The gynecologist would conduct a physical gynaecological exam to determine if the female is a good candidate to undergo hymenoplasty and if hymen can be restored or not. The ideal candidates for hymenoplasty surgery are-
Females who have torn their hymen during sex or other activities

Females who are above the age of 18 years 

Females who are healthy and fit and do not suffer from any serious illnesses 
To know more about hymenoplasty surgery, benefits of hymenoplasty, its procedure or to know if you are eligible to undergo the procedure, book an appointment with our expert gynecologists.