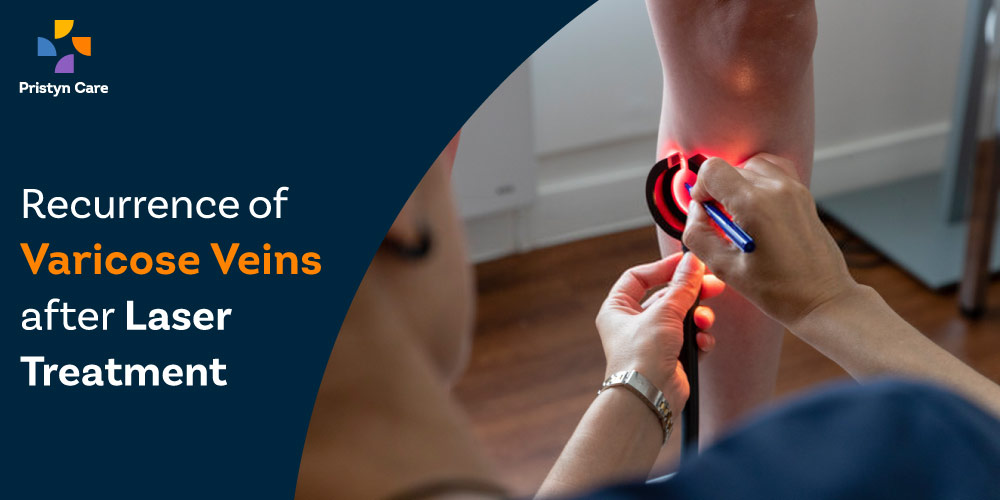 Recurrent varicose veins are known to be a common problem among patients with chronic venous disease. The recurrence rate of varicose veins after surgical treatment is reported to be between 20% and 80%. Although most patients experience excellent results from the laser treatment, there might be some possibility of the varicose veins returning back. 
What are the chances of Varicose Veins recurring after Laser Treatment?
Statistically, the chances of varicose veins reappearing after laser treatment are around 5% at the end of 5 yrs. Since varicose veins is a progressive disease involving valve degeneration, other superficial veins can become varicose veins over a period of time, although the recurring condition is generally not of the same magnitude as that of its first appearance. If minor varicosities are appearing, they can be easily dealt with sclerotherapy or microphlebectomy by an experienced doctor.
What is Endovenous Laser Therapy Ablation (EVLT)?
Also known as endovenous laser treatment or EVLA, this is a minimally invasive ultrasound-guided procedure that involves the use of ultrasound images and laser fiber in order to kill the delicate lining of the veins. After a few days following the procedure, the body absorbs the dead tissues, closing off the abnormal veins with minimal or no discomfort. 
This is one of the most commonly preferred procedures as it provides excellent results in getting rid of varicose veins and it is completely painless, scarless, and involves fewer complications as compared to any other procedures of treatment. 
What are the Advantages of Undergoing Laser Treatment to Treat Varicose Veins?
Laser treatment is usually not referred to as a surgical method of treatment and is considered as a procedure that involves a small optic fiber through which laser light is delivered in order to heat and collapse the unhealthy vein. Compared to any other surgical procedure, laser treatment for varicose veins has the following advantages:
Involves minimal risk of infection and post-surgery complications. 

Completely scarless and painless procedure.

A minimal amount of blood loss during the surgery.

The duration of the treatment takes about 45 minutes to 1 hour.

Recovery time post-surgery is much faster than any other procedure of treatment.

Treatment is done on an outpatient basis and barely requires hospitalization.
Laser treatment is one of the most advanced and effective methods of treatment that can be used to treat varicose veins and all other similar venous diseases. Hence, it shall remain one of the most commonly preferred methods of treating varicose veins in Bengaluru as well as any other city in India.
Read More: Advantages And Benefits of Laser Treatment Of Varicose Veins
What are the Causes of Recurrence of Varicose Veins?
Generally, patients get excellent results from treating varicose veins with a laser procedure. However, varicose veins do return and up to 60% of all patients may experience a recurrence of varicose veins even after going through any given method of treatment. Causes of recurrence of varicose veins include the following:
Sometimes, a single treatment may not be enough to resolve all conditions of venous reflux diseases and many different veins might experience venous reflux, which can lead to the appearance of new varicose veins.

Some patients may have a strong genetic predisposition for varicose veins. In rare cases, the condition might represent an initial phase of venous insufficiency, which may be a chronic or progressive medical condition.

Factors like obesity and pregnancy can increase the chances of developing varicose veins even after successful initial treatment. 

The experience and expertise of the surgeon play an important role in treating varicose veins. In certain cases, the affected veins might go untreated, which can lead to recurrence after receiving treatment.

Post-operative precautions during the recovery period play a vital role in eliminating the risks of recurrence. Returning back to a sedentary lifestyle can always increase the chances of developing conditions of venous insufficiency. 

In order to avoid the risks of recurrence, it is essential to follow the doctor's instructions and attend the follow-up consultation sessions on time.

Apart from all of the above-mentioned factors, choosing the right medical provider also plays an equally important role in seeking an effective treatment and can help in cutting down the possibility of recurrence to a higher extent. 
However, out of all the surgical and non-surgical methods of treating varicose veins, Endovenous Laser Ablation Therapy (EVLT), or laser treatment is the safest, quickest, and the most commonly preferred method for treating varicose veins as it ensures a faster recovery and cuts off the possibilities of any risks and complications to the lowest extent.
Also Read: Top 10 ways to prevent varicose veins
What are the Benefits of Choosing Pristyn Care for Laser Treatment of Varicose Veins?
Pristyn Care offers laser treatment for varicose veins in Bangalore as well as all the major cities in India. Being associated with the top hospitals in Bengaluru, we house some of the most reliable vascular surgeons who have mastered the art of performing laser surgeries for varicose veins with years of experience. The success rate of undergoing surgery at Pristyn Care is as high as 100% with a number of additional benefits that include:
Safe, painless, and effective laser treatment that eliminates the need for hospitalization.

Free pickup and drop-off cab facility on the day of operation.

A dedicated 'care buddy' to take care of all the paperwork and formality at the hospital.

Zero cost EMI. 

Free-of-cost follow-up within the first seven days of the surgery.
The Bottom Line
If you have previously undergone a surgical procedure to get rid of your varicose veins but yet again you are experiencing the same signs and symptoms like before, you should consult a vascular surgeon to make sure that your condition does not escalate into a severe medical complication. It is never too late to seek medical help and go with the right line of treatment that ensures proper recovery.