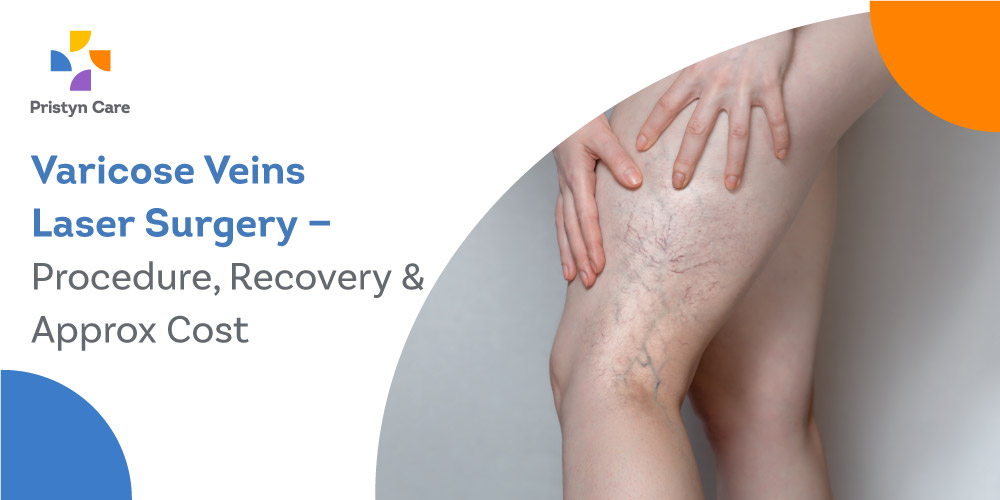 Varicose veins are twisted, lumpy, hard, and bulging veins that appear dark blue or purple. Varicose veins can affect any part of the body but they are mostly seen in the legs. This is a common problem that occurs due to damaged or dysfunctional valves. Veins have one-way valves that keep the blood moving forward towards the heart. But when the valves are damaged or stop functioning properly, the blood backs up and starts accumulating in the veins rather than moving forward. This makes the veins large, twisted, and swollen which eventually leads to the formation of varicose veins.
Read More: Stages Of Varicose Veins
A number of factors contribute to the formation of the varicose veins which include aging, obesity, inactive lifestyle, genetic factors, hormonal imbalance, pregnancy, sitting or standing for long hours, wearing high heels, etc. Also, women are prone to develop this disease in comparison to men. Due to varicose veins, you may feel mild to severe pain, itching, burning sensation, heaviness, discomfort, discoloration of the skin in the affected area as well as excruciating pain while sitting or standing for a long period of time. If you experience any of the above-mentioned symptoms, you should consult an experienced vascular surgeon as soon as possible.
Varicose Veins Laser Surgery
A number of treatment options are there for varicose veins which include sclerotherapy, micro sclerotherapy, laser therapy, endovenous ablation therapy, endoscopic vein surgery, ambulatory phlebectomy, vein stripping and ligation, medications, home remedies, natural remedies, yoga, physiotherapy among many others. But they can be effective for mild cases of varicose veins or are complex procedures. The varicose veins may recur even after using all the above-mentions treatment options. But there are no such problems with laser surgery. Laser surgery is a modern and advanced way of treating varicose veins. With the help of laser surgery, any types of varicose veins can be cured very easily in a matter of no time. Laser surgery is considered the best and most advanced treatment of varicose veins by vascular surgeons as well as patients. That's the reason, patients with varicose veins prefer laser treatment over other methods of treatment.
Read More: Advantages And Benefits Of Laser Treatment Of Varicose Veins
Varicose veins laser surgery is a minimally invasive procedure that doesn't involve cuts or stitches. During this advanced surgical procedure, the vascular surgeon uses a high-intensity laser beam to treat the problem precisely and accurately. Laser surgery of varicose veins is a 100% secure and successful procedure where the chances of pain, bleeding, infections, the formation of blood clots, and other complications or side effects are almost zero. This is a daycare surgical procedure where you do not even need hospitalization after completion of the surgery. Laser surgery of varicose veins is a painless procedure where you will not even feel any discomfort during or after the entire procedure. It is one of the easiest, safest, and effective surgical treatments to get rid of varicose veins for once and all.
Procedure Of Varicose Veins Laser Surgery
Before starting laser surgery, the surgeon performs a physical examination of the patient during which the surgeon examines the affected veins. After that, the doctor may recommend certain tests that may include a doppler test and an ultrasound scan. During the doppler test, the surgeon uses sound waves to examine the blood flow through the blood vessels. However, an ultrasound scan helps in a detailed examination of the deep veins, particularly if the patient has a history of deep vein thrombosis (DVT). After performing all these tests, the surgeon gets an almost accurate idea about the types and severity of varicose veins and then the surgical procedure is started. During laser surgery of varicose veins, the surgeon uses laser energy to shut off the affected veins and reroutes the blood flow through other healthy and unaffected veins. Therefore, the varicose veins collapse and go away eventually in the absence of blood flow. This way, a vascular surgeon cures varicose veins for once and all with the help of laser energy.
Read More: What Happens If Varicose Veins Are Not Treated?
Recovery After Varicose Veins Laser Surgery
The entire surgical treatment of varicose veins takes around 30 minutes to complete. The patient is discharged from the hospital just a few hours after the surgical procedure. You can resume your daily routine just after two days of the varicose veins laser surgery. However, the surgeon advises avoiding heavy physical activities for the few days of the surgery. Above all, the recovery after laser surgery of varicose veins is absolutely quick, painless, and comfortable. You do not even need to think twice about the effectiveness of varicose veins laser surgery. If you are planning to undergo laser surgery for varicose veins, then you have nothing to be worried about as it is an absolutely precise, safe, and successful treatment procedure.
Read More: Can Varicose Veins Burden My Pregnancy?
Approx Cost Of Varicose Veins Laser Surgery
The cost of surgery is the primary concern for the people seeking varicose veins laser treatment. The cost of varicose veins laser surgery varies due to several factors which include the following:-
Doctor's consultation fees

Charges for diagnostic tests

Hospitalization post-surgery

Types and severity of the disease

Pre and post-surgery medications

Experience and reliability of vascular surgeon

Travel charges during the entire treatment procedure and follow-ups

Location of clinics or hospitals and their track records in performing laser surgeries for varicose veins
However, the cost of varicose veins laser surgery ranges from Rs. 55,000-75,000 depending upon the factors mentioned above. You must also understand that these factors may increase the cost of varicose veins laser surgery more than the expectation that you have. Therefore, it is important for you to choose a healthcare service provider who is well-known and reliable for their medical-related services and can also offer you a daycare surgical treatment for your problems.
Read More: Varicose Veins Medicine | Know Its Benefits And Side -Effects
If you experience the symptoms of varicose veins or are suffering from the same and seeking the best treatment at a low cost, you should contact Pristyn Care associated clinics or hospitals in or near your city. Pristyn Care offers laser treatment for varicose veins in major cities across India. Our vascular surgeons are highly reliable and experienced who have mastered the art of performing laser surgeries for varicose veins. They perform laser surgery for varicose veins with utmost precision and perfection where the success rate of the surgery is as high as 100%. The medical technologies that are used at our clinics or hospitals to treat varicose veins are The United States Food and Drug Administration (USFDA) approved. Therefore, you do not need to worry about anything as you would be in the safest hands. There are a number of benefits to choosing Pristyn Care for the laser treatment of varicose veins. This includes the following.
A daycare procedure

All insurances are covered

Involves no pain or bleeding

Free follow-ups post-surgery

100% insurance claim facility

Offer confidential consultation

Doesn't involve cuts or stitches

Precise and effective treatment

No upfront payment is required

Recovery is quick and comfortable

30% discount on all diagnostic tests

Takes around 30 minutes to complete

Offers single deluxe room in the hospital

No chances of infection, wounds, or scars

Zero chance of complications or side effects

Free recovery and diet plan post-procedure

You don't need to run behind insurance authorities

Performed by highly experienced and skilled surgeons

Paperwork is done by the Pristyn Team on your behalf

Finance options such as cashless and zero cost EMI is available

Free pick and drop service on the day of the laser surgery

Advanced laser surgery that eliminates the need for hospitalization

Flexible payment system where we accept major credit and debit cards

We offer a painless and bloodless surgical procedure that doesn't require you to buy pain medications
Read More: Things You Should Know About Varicose Veins
Varicose veins can make your life painful, irritating, and miserable. Therefore, it is essentially important to get rid of it for once and all. Timely and proper treatment of varicose veins can save you from several serious complications that you may never want to encounter. Ignoring the symptoms of varicose veins or delaying the treatment can lead to serious complications that may include soreness and non-healing ulcers, the formation of the blood clots in the veins, rupturing of the varicose veins, and bleeding, etc. If you are suffering from varicose veins and seeking the best and permanent treatment, contact us right away.
Read More