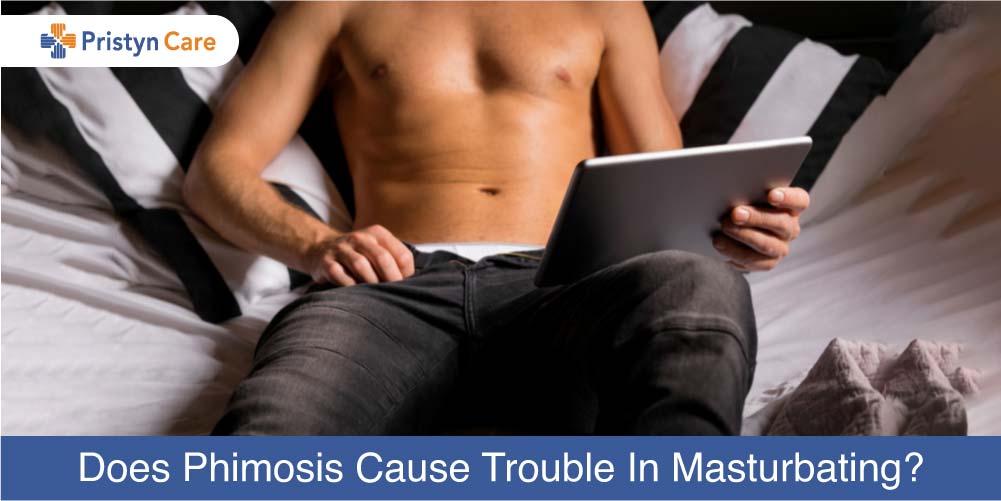 Phimosis is a troublesome condition in which the foreskin of the penis gets too tight and doesn't retract. It is a very discomforting situation for a male. In phimosis, it becomes quite painful to retract the foreskin over the glans penis. Glans is the tip/head of the penis which has an opening through which the semen and the urine pass out. A male, in a general situation, should be able to pull the foreskin easily back from the glans penis for its normal functioning and hygiene purpose.
Masturbating with tight foreskin (Phimosis)
As the foreskin is too restricted to move, it definitely causes trouble in masturbating. Sometimes, when the case of phimosis is mild, lubricants make it easier to masturbate. There are ointments or creams that help in dealing with phimosis so that a male can retract his foreskin easily. 
The level of discomfort and pain while masturbating depends on the seriousness of phimosis. Some males are unable to retract their foreskin at all, while others face problems in pulling it back from the glans only. Not just masturbation, phimosis also causes pain during sexual intercourse also. 
But, you do not need to worry much over it and rather lookout for the best solution for phimosis. There are a variety of treatments that can cure phimosis. All you need to do is just maintain a proactive approach towards your health. 
Let's first take a quick look at the simple tips that can help you in masturbating with Phimosis. 
You should gently try to stretch the foreskin of the penis. Make sure that you do not end up overstretching the foreskin. Overstretching of the foreskin can lead to scarring which can make phimosis more painful. (Also Read: Phimosis Stretching Exercises – With Images )

Take the help of extra lubricants when you gently stretch the foreskin. Using lubricants provides major relief to the inflammation and soothes out the symptoms of phimosis.

Natural oils are effective for phimosis. Gently massage the foreskin with natural oils such as coconut oil, castor oil, or herbal oil. These oils provide significant relief in smoothening the retraction of the foreskin. Make sure that the massage is gentle enough to not overstretch the foreskin. (Also Read: How To Treat Phimosis Naturally? )

You can even apply aloe vera gel in fresh on your penis. This helps in relieving itching and burning sensation due to phimosis.

Maintain proper hygiene of your intimate area so that no infection develops because of the tight foreskin. Catching an infection can aggravate the troubles that you might face in masturbating with phimosis.
Need for medical treatment for Phimosis

Following the above-mentioned tips will reduce the pain and discomfort that you face because of Phimosis. But, you should not avoid seeing a doctor for the treatment of Phimosis.
Phimosis does not only create problems in masturbating but is also a medical condition that can get worse with time. You should immediately get in touch with a specialist doctor as soon as the symptoms of phimosis show up. Leaving phimosis untreated can lead to more health complications.
Phimosis increases the chances of the following complications:
Paraphimosis is a medical condition where the foreskin of the penis gets stuck at the back of the penis. It is an emergency condition that is very painful. So, if you suffer from phimosis and try to masturbate, you might suffer from paraphimosis. Paraphimosis can block the blood supply to the penis. And leaving it untreated may cause the death of the tissues of the penis.
Phimosis increases the risk of penile cancer.



UTIs- Harmful infection-causing bacteria tend to grow under the foreskin. So, if a person with phimosis does not maintain hygiene, he can easily catch a urinary infection.

Phimosis also adds up to the risk of transmission of Sexually Transmitted Infections.
So, to avoid these complications, make sure that you receive the timely treatment. Now, the question is, which is the best treatment for Phimosis? Well, the answer is, laser circumcision.
Laser Circumcision for Phimosis
Laser circumcision is the most advanced treatment for Phimosis. This advanced laser-assisted treatment is minimally invasive in nature. It means that laser circumcision involves no major cuts or incisions. The entire procedure of laser treatment hardly takes 20 minutes and is painless for the patient. Also, it is a daycare procedure that allows the patient to go back home on the same day. 
Laser circumcision offers speedy and smooth recovery to the patient. The person can easily resume his daily life routine in just 3-4 days. And, the regular follow-ups with the doctor make sure that nothing goes wrong. 
Although there are other treatments available for Phimosis, laser circumcision has the highest success rate as much as 100%. The chances of complications in laser circumcision are nil in comparison to the traditional surgery for phimosis. Also, the traditional procedure of circumcision is quite complex and requires a long recovery period. So, it is, of course, a wise decision to choose laser circumcision for phimosis treatment. Now that you know that you don't have to fret much about the treatment of Phimosis, delay no more. Choose laser circumcision over pain and discomfort of Phimosis. (Also Read: Laser Circumcision- Procedure and Advantages )
Masturbation After Circumcision
You will be happy to know that circumcision enhances sexual pleasure. When you masturbate after circumcision, you will feel heightened sexual pleasure. And not just you, your partner will have a better experience of sexual intercourse. Also, it makes you last longer during the sex. So, there is nothing to worry about undergoing laser circumcision for Phimosis. 
Also Read:
How circumcision reduce the risk of contracting HIV?