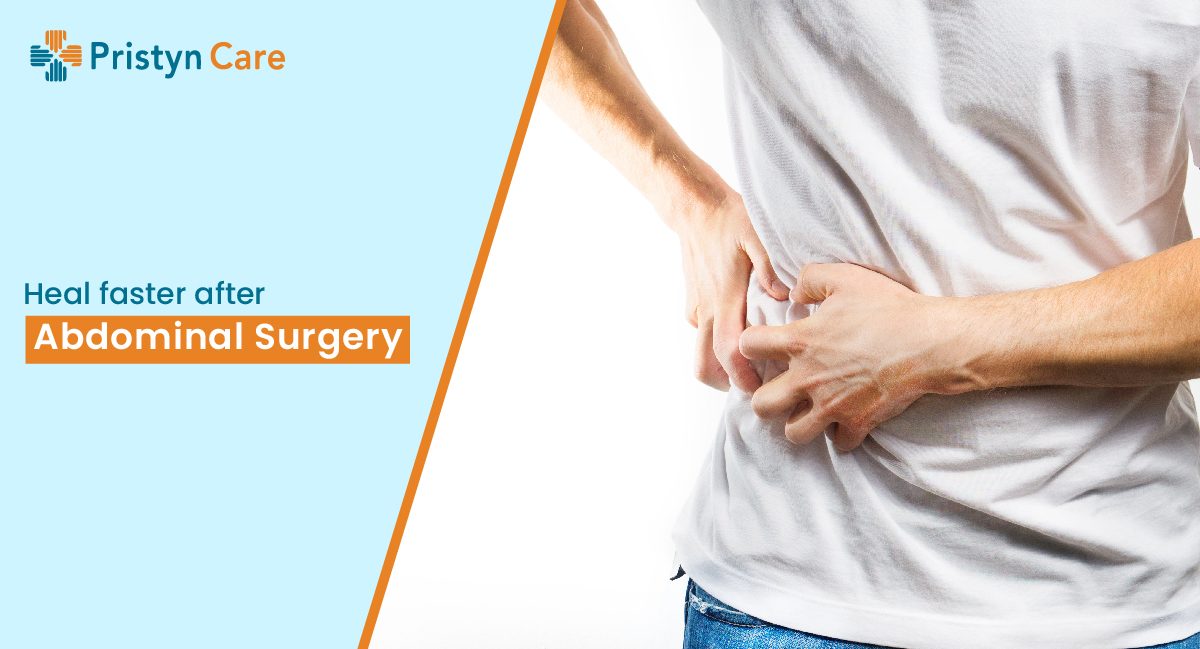 Every year, a huge population undergoes abdominal surgery. If you are amongst them, you certainly want to get back on your feet as soon as possible. But there are a few things that either patients or hospitals do that slow down the recovery. It may lead to uncomfortable situations and even severe complications sometimes. 
A few exciting trends
When you need abdominal surgery due to problems such as hernia, removal of gallstones or hysterectomy, there is laparoscopic minimally invasive surgery to treat such problems. This advanced procedure employs enhanced recovery after surgery such as preoperative eating, pain management, and exercises. 
Today, most of the cases are treated with Laparoscopic surgeries. In some cases, only open surgeries can be performed where the recovery time is comparatively longer and the abdominal wall takes time to repair. 
Therefore, if you start planning your post-surgery healing, there are high chances that you will have a smooth abdominal recovery. There is a lot you can do to fast track your recovery.
After you read it all, you will know what you need to do to heal faster after abdominal surgery.
Follow the surgeon's post-surgery instructions
It is very obvious that after the abdominal surgery, the surgeon provides you a set of instructions that involve food, incision care and dates for your follow-ups. If you get laparoscopic treatment for the abdominal problem, the doctor may advise you to get up and move around soon after the surgery. You must aim for the same. 
On the contrary, if the doctor advises you to take rest for a few days, then this is what you should do until you get a follow-up. Patients get tempted when they realize they are getting well. In this urge, the patient pushes himself hard and ends up in trouble. 
Before going for surgery, make sure your home is accident-free
Clear your pathways so that you don't fall-over as you recover from your surgery. If you have a staircase in your home, make an arrangement that you can avoid stairs for a few days until you recover. Ensure you have enough night lights, especially around the bathroom and kitchen. 
Take medication as the doctor suggests
There is a reason that the doctor prescribes certain medicines. After abdominal surgery, the patient usually complains of digestive disorders and even pain and discomfort may interfere with your sleep and bowel movements. Laxatives and painkillers may be suggested by your doctor. 
Your body needs proper fuel
Plan your meals as per the instructions as the body needs proper nutrients during recovery. Usually, you are given a diet chart to follow for a week to ensure fortification. Drink a lot of water and increase liquid intakes. As you start feeling better, gradually start your solid diet such as fresh fruits, vegetables, lean meat and rest as your doctor suggests. 
Make sure you have someone to drop you home after surgery
After the abdominal surgery, you may not be recommended to drive so you must have someone to drop you home. Your reaction time is slower and you may not be strong enough to handle the driving requirements. If you get laparoscopic treatment from Pristyn Care, you don't have to worry about pick and drop. They provide you cab facility too.
If you are a smoker, quit smoking
It is a good time to quit smoking as not quitting will certainly prolong your recovery time. There are other health advantages of abstaining from smoking – lowers the risk of cancer and makes your immune system strong. 
Do not lift heavy objects
Abdominal muscles protect your back during activities and lifting. After the surgery, these muscles may get weaker and need recovery time. So, avoid lifting heavy weights and do not indulge in strenuous activities for a week or two as suggested by your doctor. 
Take care of the incisions
Look after your incision to stave off infection and keep the area clean. Follow the instruction related to wound cleaning given by the surgeon. Take care while taking shower and exposing it to the sun as it may get dark. Check :
If your incision is red or itchy?

Any wound drainage (open surgery)?

Are staples intact?
Do not wait for the problem to aggravate, consult your surgeon for any problem.
Also read: Benefits of Laparoscopic Surgery
The doctor is the right person to decide if you have recovered from the abdominal surgery. Go for regular follow-ups. In case if a woman undergoes a hysterectomy, she may need hormone replacement therapy which maintains a balance in her body. 
Conclusion
The recovery after abdominal surgery depends on various factors such as age, immune system, the diseases and or conditions you suffer from and the treatment you take to get rid of the problem. Therefore, you must follow the instructions in order to speed up your recovery by eating healthy and avoiding physical effort.