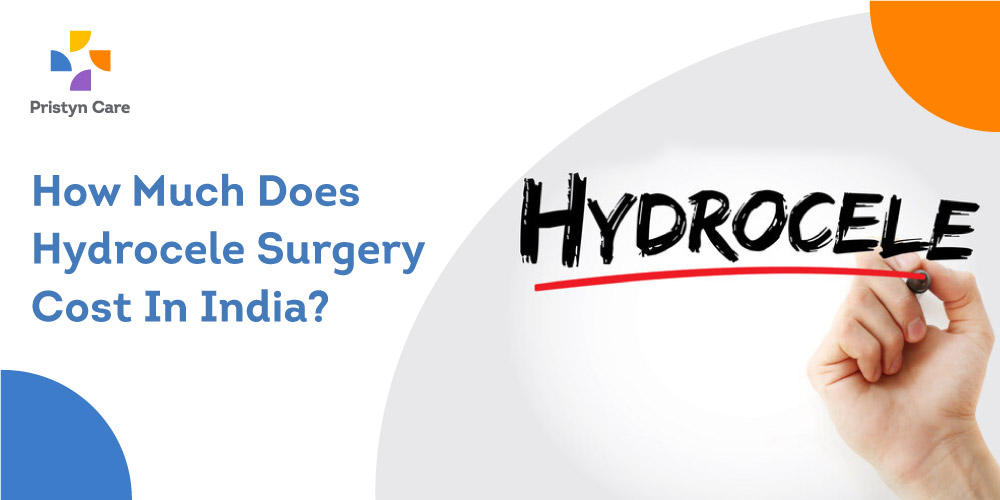 A hydrocele is a medical condition in which fluid gets accumulated in the sac around the testicles, causing it to swell. Usually, hydrocele appears as a soft swelling in the scrotal membranes. And it is a serious health issue that can make a male individual feel uncomfortable and inconvenient. It is more common in male infants than in adults. A few medical journals and research articles suggest that approximately 10% of newborn boys have a hydrocele, and this often goes away on its own within a year without the need for any medical or surgical treatment.
But based on the root cause, type, and severity of hydrocele, most Urologists recommend undergoing hydrocele surgery as a permanent cure. At Pristyn Care, all our Urologists are well-experienced and suggest undergoing laser hydrocele as it is more beneficial than other hydrocele treatment methods. Also, further in this article, we have discussed the benefits of laser hydrocele surgery along with its cost in India.
Know more about: Types Of Hydrocele & Difference Between Unilateral Hydrocele And Bilateral Hydrocele
Hydrocele occurring in infants is known as congenital hydrocele and hydrocele that occurs in men is known as non-congenital hydrocele. Congenital hydroceles occur due to the abnormal development of the scrotal region during gestation. A hydrocele is not very common in adult men and affects about 1% of them. Non-congenital hydroceles occur due to injuries, scarring, and trauma to the scrotum. If you experience the symptoms of hydrocele such as pain, redness, and soreness around your scrotal region, you should consult an experienced Urologist as soon as possible.
Cost of Hydrocele Surgery in India:
A number of non-surgical treatment options are there that can provide relief or treat hydrocele. However, the surgical procedure of hydrocelectomy [Hydrocele surgery] becomes essential when hydrocele does not heal on time or if it becomes serious. Hydroceletomy is a surgical procedure by which hydrocele can be cured permanently. The estimated cost of hydrocele surgery in India is 20,000 to 85,000 rupees.
But the final cost may vary depending upon the type and severity of hydrocele, age and health condition of the patient, experience and reliability of the surgeon, and the type and location of the hospital including its track record in performing hydrocele surgery.
Read about: Surgeries For Hydrocele
In India, most clinics and multispeciality hospitals provide hydrocele surgery at different price tags. For your better understanding, we have tabulated the cost of hydrocele surgery in India across different cities.
The minimum cost of hydrocele surgery in India can start from 20,000 rupees.

The average price of hydrocele surgery in India can be 40,000 rupees.

The maximum amount to be paid for hydrocele surgery in India can go up to 92,000 rupees.
| | | | |
| --- | --- | --- | --- |
| City | Minimum cost of hydrocele surgery [in rupees] | Maximum cost of hydrocele surgery [in rupees] | Average cost of hydrocele surgery [in rupees] |
| Bangalore | 25,000 | 78,000 | 47,000 |
| Hyderabad | 24,000 | 72,000 | 44,000 |
| Pune | 22,000 | 65,000 | 39,000 |
| Gurgaon [Gurugram] | 20,000 | 79,000 | 42,000 |
| Mumbai | 25,000 | 92,000 | 50,000 |
| Delhi | 25,000 | 85,000 | 49,000 |
| Chennai | 21,000 | 60,000 | 39,000 |
[Note:- The above table of costs is entirely for reference purposes only. To know the exact cost and to get actual quotations regarding the surgery, contact the clinic or hospital from which you are willing to undergo hydrocele surgery.]
If you are suffering from hydrocele and seeking a permanent solution to it with a minimal budget, you should contact us in or near your city. We offer painless and permanent treatment of hydrocele that costs around only 30,000 to 40,000 rupees. At our clinics, hydrocele is treated with laser surgery. Laser surgery is a modern and advanced way of treating hydrocele. Our Urologists have sound knowledge of hydrocele and mastery over laser surgery, and our clinics are fully equipped with modern and advanced medical technologies.
Benefits of undergoing Laser Hydrocele Surgery at Pristyn Care in India
There are various benefits of getting laser treatment of hydrocele at our clinics across India. This includes the following.
No cuts

No pain

No stitches

No blood loss

Single deluxe room

No upfront payment

No wounds or scars

30 minutes procedure

100% insurance claim

Most effective treatment

Confidential consultations

All insurances are covered

30% off on diagnostic tests

Free follow-ups post-surgery

Hospitalization is not needed

Faster and pain-free recovery

COVID safe clinics and hospitals

Same-day surgery and discharge

No risk of hydrocele recurrence

No risk, side effects, or complications

No running after insurance authorities

Paperwork is done by the Pristyn team on your behalf
Know more about Laser Hydrocele Treatment, Advantages & Recovery
Conclusion:
If you experience symptoms of hydrocele or are suffering from the same, contact Pristyn Care right away to get rid of your disease for once and all in a matter of no time. Our reliable Urologists can cure your disease very easily with minimum cost with the help of their years of experience and mastery in advanced laser surgery.
Also Read: