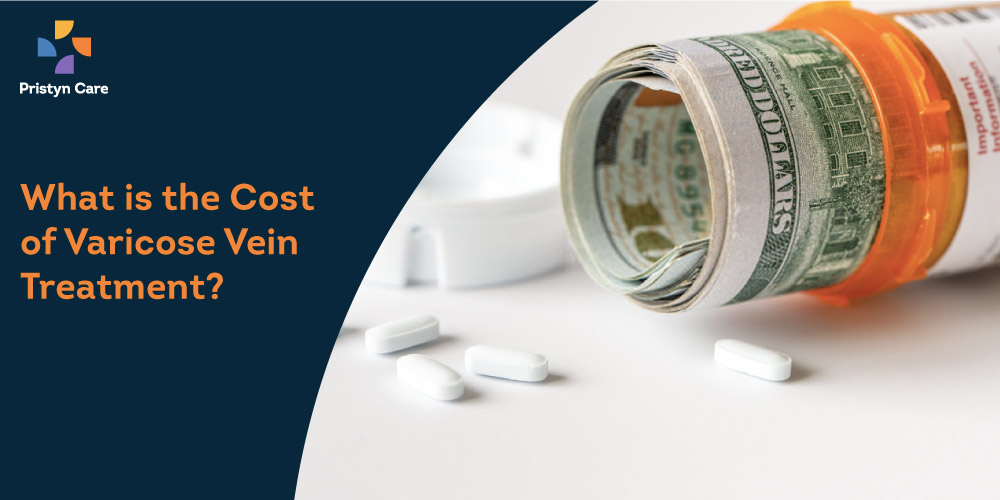 More than 30% of adults and 7% of youth in India suffer from varicose veins annually. And most of these people ignore the condition thinking that the treatment will be expensive. However, in reality, you can get advanced varicose vein treatment at a reasonable cost even at the top hospitals and clinics of your city. On average, the cost of varicose veins treatment ranges between Rs. 50,000 to Rs. 70,000 approximately per leg. 
Yes, you read that right! 
If you have varicose veins in both legs, the cost of overall treatment will go over 1,50,000 approximately. That's why it is always better to do something about the condition as soon as possible. The more you delay the treatment, the harder it will be to treat the condition which will further impact the cost. 
Today, with this blog, we will cover the different aspects/factors that affect the cost of varicose vein treatment and find out how much the treatment will cost in different cities. 
Factors That Impact Cost of Varicose Vein Treatment 
There are multiple factors that influence the cost of varicose vein surgery. So, while you are seeking treatment, you should have proper knowledge of these factors and how they may impact the final cost. These factors include:
The Doctor's Fee-

If you consult and get treatment from a highly experienced vascular surgeon, there is no doubt that his/her consultation and operating fee will be higher than an inexperienced or less experienced surgeon. Thus, the treatment cost will go up. 

Diagnostic Tests-

To determine the severity of the condition, the doctor will suggest some diagnostic tests. Each of the tests will cost less for one leg and more for both legs. And a series of tests may be recommended to identify the damaged and malfunctioning veins. 

Choice of Hospital-

In case you choose a super-specialty hospital or clinic for varicose vein treatment, it will apparently cost you higher than getting treatment at a multi-specialty medical center. 

Hospitalization Charges-

While getting treatment for varicose veins, you may get hospitalized for 24 hours or more depending on the type of treatment suggested by the doctor. During that period, you will have to pay for hospital admission, discharge, and bed. The price will also fluctuate depending on whether you chose a private, sharing, or general ward. 

Type of Treatment Recommended-

After proper diagnosis, the doctor will narrow down the treatment option and suggest the most plausible treatment method. 

Severity, Risks & Complications-

If the condition has advanced to a chronic stage where blood clots have started to form inside the veins, it means there will be more risks in performing surgery to treat varicose veins. This also increases the chances of post-surgery complications. To mitigate all these risks and perform the surgery safely, the surgeon will have to pay more attention during the procedure. All this will increase the surgery cost. 

Pre & Post-Surgery Medications-

The medications given by the doctor before and after surgery will also contribute to increasing the cost of overall treatment for varicose veins. 

Post-Surgery Care & Support

– If you need post-surgery care and support like compression stockings or other devices, it will also increase the cost of treatment. 
When you visit a doctor for the first consultation, they never provide you with an estimate of the treatment. Firstly, the doctor will suggest some tests and see the results. Then an appropriate treatment method is suggested according to your overall health and severity of the condition. Only then the doctor will provide you an estimate of how much the overall treatment of varicose vein will cost you. 
Cost of Different Treatments Methods in Different Cities 
We are listing the estimated cost of various treatment methods for varicose veins here. Remember that it is merely an estimate and the exact cost of the treatment will vary based on the above factors as well. 
| | | | | | |
| --- | --- | --- | --- | --- | --- |
| City  | Sclerotherapy  | Unilateral Varicose Vein Treatment  | Bilateral Varicose Vein Treatment  | Ligation & Stripping  | Endovenous Laser Ablation Therapy (EVLT) |
| Delhi | Rs. 31,500- Rs. 94,000  | Rs. 63,000- Rs. 84,000 | Rs. 94,000- Rs. 1,36,000 | Rs. 95,000- Rs. 1.50,000 | Rs. 47,000- Rs. 2,00,000 |
| Bangalore  | Rs. 30,000- Rs.90,000 | Rs. 60,000- Rs. 80,000 | Rs. 90,000- Rs. 1,30,000 | Rs. 1,00,000-  Rs. 1,55,000 | Rs. 45,000- Rs. 1,90,000 |
| Hyderabad  | Rs. 30,000- Rs.90,000 | Rs. 60,000- Rs. 80,000 | Rs. 90,000- Rs. 1,30,000 | Rs. 1,00,000-  Rs. 1,55,000 | Rs. 45,000- Rs. 1,90,000 |
| Chennai  | Rs. 28,000- Rs. 85,000 | Rs. 57,000- Rs. 75,000 | Rs. 85,000- Rs. 1,20,000 | Rs. 99,000- Rs. 1,45,000 | Rs. 42,700- Rs. 1,80,000 |
| Pune | Rs. 30,000- Rs.90,000 | Rs. 60,000- Rs. 80,000 | Rs. 90,000- Rs. 1,30,000 | Rs. 1,00,000-  Rs. 1,55,000 | Rs. 45,000- Rs. 1,90,000 |
| Mumbai | Rs. 33,000- Rs. 99,000 | Rs. 66,000- Rs. 88,000 | Rs. 99,000- Rs. 1,43,000 | Rs. 1,05,000- Rs. 1,60,000 | Rs. 49,000- Rs. 2,00,000 |
Read More: Know Everything About Varicose Veins Surgery
Is Varicose Vein Treatment Covered Under Insurance? 
Yes. Fortunately, varicose veins come under the category of diseases whose treatment is medically necessary. Therefore, a patient can cover the cost of varicose vein treatment with a health insurance policy. 
Every insurance provider in India offers ample coverage for the treatment. You can either file a claim or get reimbursement from the insurers. Normally, you would face many challenges while using insurance to pay for the treatment. But Pristyn Care makes it easier to use insurance policies with our 30-minute insurance approval service. We have a dedicated insurance department that handles all the paperwork and claim process to ensure that patients don't have to stress about negotiating with their insurance provider to get the claim money. 
Get Cost-Effective Treatment for Varicose Vein at Pristyn Care 
Unlike other healthcare providers, Pristyn Care is dedicated to providing optimal health services at a cost-effective price. And we also take care of all the treatment-related formalities to make everything hassle-free for the patients. We offer discounts on diagnostic tests, provide a free cab service on the day of surgery, and also offer No-Cost EMI service to ensure that the patients can afford varicose vein surgery under all circumstances. 
You can contact us and book an appointment with the best vascular surgeons who will provide you with an estimate of the treatment after an accurate diagnosis.