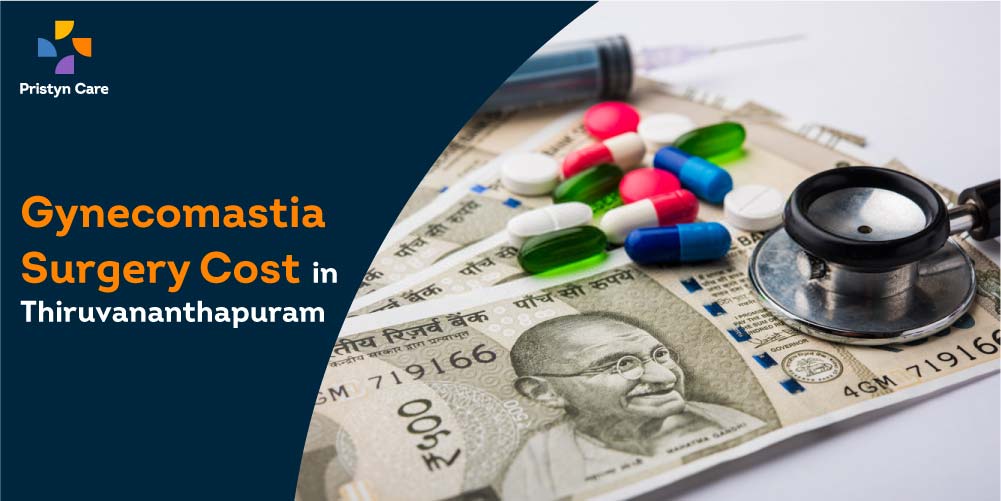 Gynecomastia surgery cost in Thiruvananthapuram ranges from Rs. 38,000 to Rs. 65,000 approx. However, the cost may increase with the grade of gynecomastia. 
Also known as breast enlargement in males, gynecomastia has four grades that are categorized as per the severity of the condition. The higher the grade, the more gynecomastia surgery will cost you. With this blog, you will get to know all about gynecomastia surgery costs in Thiruvananthapuram and other major cities across India. 
Factors That Influence Gynecomastia Surgery Cost in Thiruvananthapuram 
Gynecomastia surgery cost usually depends on multiple factors. And whether you wish to undergo gynecomastia surgery in Thiruvananthapuram or any other city, these factors remain the same. The healthcare providers will consider all these factors to determine the final cost of treatment. These factors are explained below:
Type of Gynecomastia
There are two types of gynecomastia, true gynecomastia, and pseudogynecomastia. In true gynecomastia, only breast glandular tissues are present whereas, in pseudogynecomastia, only adipose or fat tissues are present. In most people, both types of tissues are present together due to which the surgeon will have to use a combination of techniques to treat gynecomastia. The standalone technique will cost less whereas the combination of techniques will cost more. 
Type of Technique Used for Treatment 
There are two techniques available for the treatment of gynecomastia, i.e., liposuction and gland excision. Liposuction is used to remove fat tissues and gland excision is used to remove breast glandular tissues. Commonly, both techniques are combined to treat gynecomastia which may increase the cost. Furthermore, the type of liposuction used for treatment will also impact the overall expenses. 
Severity of the Condition 
The gynecomastia surgery cost will also vary depending on the grade. If you are getting treatment at grade 1 or 2, it will cost less than getting treatment at grade 3 or 4. 
Doctor's Fee
The doctor will charge a consultation fee and an operating fee separately. While the consultation fee may cost around Rs. 500 – 1000 only, the operating fee will be higher. The fee will also be more if the doctor is highly experienced. 
Hospital-Related Expenses
Your choice of hospital will determine how much expense you will have to bear for hospitalization. The admission, discharge, and bed charges vary from one hospital to another. Therefore, prefer getting treatment at a multi-specialty because if you choose a super specialty medical center, the surgery will cost more than you expect. 
Medications & Support
Before surgery, the doctor will prescribe some medications to prepare your body for the surgical procedure. And after surgery, pain medications, antibiotics, and other medicines will be prescribed for a quick and smooth recovery. These medications also contribute to the overall expenses. 
Post-Surgery Follow-ups 
Even after the surgery, you will have to come back for follow-ups to ensure that your body is recovering properly. The post-surgery consultation with the doctor will also cost you. 
When you get in touch with a doctor, he/she will diagnose your condition and give you an estimate of gynecomastia surgery in Thiruvananthapuram. The doctor will also provide an insight into what the surgery entails and how you should prepare for it. 
Is Gynecomastia Surgery Cost in Thiruvananthapuram Covered Under Insurance?
When the breast tissues start to enlarge, most men feel worried about the appearance of the body. In the early stages, gynecomastia is usually asymptomatic and doesn't cause any kind of problem which is why it is regarded as a cosmetic concern. Thus, in the early stages (most probably grade 1 or 2), gynecomastia surgery costs may not get covered by insurance. 
But as the condition advances, gynecomastia starts causing back pain, posture problems, and may even cause spinal deformities. Thus, treating the condition becomes a necessity. Therefore, in this scenario, the insurance providers will help to cover the cost of gynecomastia surgery. You can learn more about the insurance terms and conditions by contacting the insurance company. Or you can let Pristyn Care handle the formalities and we will help you get insurance approval in 30-minutes. 
Seek Advanced Gynecomastia Treatment in Thiruvananthapuram 
Most men find it difficult to live with gynecomastia. If you have been diagnosed with this condition and wish to get rid of enlarged breasts, Pristyn Care is the ideal destination. We provide advanced treatment for gynecomastia at a reasonable price. Under our care, gynecomastia surgery cost in Thiruvananthapuram ranges from Rs. 38,000 to Rs. 65,000 approx.
Moreover, we provide insurance coverage and additional services that make the patient's treatment journey simple and comfortable. The services we provide are:
Discounts on diagnostic tests 

Free deluxe room for the hospital stay 

Free cab service on the day of surgery 

No-Cost EMI service 

Insurance paperwork and claim assistance 

Free post-surgery follow-ups and care
From the beginning of the treatment journey, we will appoint a medical coordinator for round-the-clock assistance. Our representatives will handle the treatment-related formalities so that you can focus on your health. To learn more about our services, you can give us a call.
*Disclaimer: The Cost mentioned in this blog is what Pristyn Care charges as per the City and Treatment and this cost may vary as well depending on the other factors which increase and decrease the cost. The market cost of the treatment may vary depending upon the healthcare service provider and the functional city.