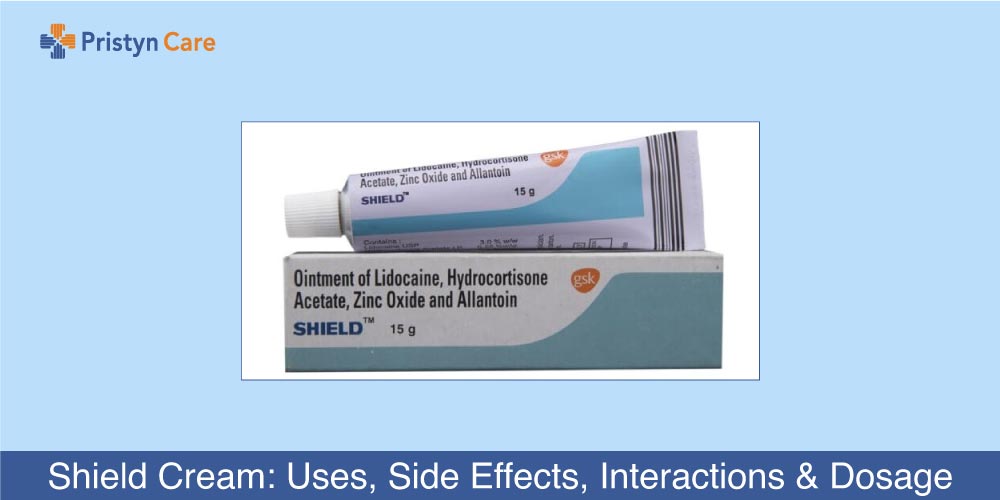 Shield cream is the ointment that relieves pain and discomfort due to piles. It is also used to cure fissure, anal pruritus, pre- and post-operative treatment in proctologic surgery and anorectal examinations.
Composition of Shield Ointment
Shield rectal cream or Shield piles cream is composed of: 
Allantoin:

It promotes skin healing and prevents dry, rough, itchy bottom, or skin. 

Lidocaine

: An anesthetic prevents nerves from transmitting painful impulses to the brain and decreasing inflammation around the affected area.

Hydrocortisone acetate:

Has anti-inflammatory properties that work by reducing redness, swelling, itching, and irritation around the anal region. 

Zinc Oxide:

It is an astringent that acts like a wall to protect the skin and provide a protective coating over damaged tissue. 
Uses of Shield Cream
Shield ointment is used for treatment, control, prevention and improvement 
Piles or hemorrhoids

Pain

Cuts

Microbial infection on the living surface

Eczema

Aches

Rectal pain

Bruises

Inflammation

Pruritus

Ache

Diaper rashes

Sunburn

Erythema

Wounds



Price of Shield Cream in India
The price of Shield rectal cream in India is approx. INR 73/-  for 15gm topical ointment.
Dosage and how to apply Shield Cream?
Clean your hands before applying Shield cream for piles or to any affected area. Also clean the affected area properly to avoid infection. Take this cream on a clean cotton swab or you can use your finger to apply it. Apply in the amount as prescribed by your doctor or as mentioned on the package depending on the condition. Wash your hands thoroughly after applying. You can use it 2-3 times a day. 
If you miss the dose, apply it whenever you remember. Avoid if it is already time for your next dose. The improvement is usually noticed after 2-3 weeks. If you do not notice any change or the condition gets worse, contact the doctor immediately. 
To know about the interactions of Shield cream with other medicines, you must consult your doctor. 
Precautions
The application of Shield cream for piles depends on the severity of piles. Tell your doctor if your condition persists or worsens. 
Do not continue if there is irritation

Take the prescribed dose, not more than that.

It is for external applications. Consult with your doctor before using this medicine on open wounds, dryness, itching, or sun-burn. 

Wash your hands before and after applying Shield Ointment. Clean and dry the skin area to be treated.

Do not wash the affected area immediately after applying Shield Ointment. Also, avoid the use of other products on the treated area unless directed by your doctor.

applying an excessive amount may cause infection and piling. So, use a thin layer or lesser quantity of medicine.
Warning
Keep this medicine out of reach of the children. 

Store Shield cream at room temperature. Keep it in a cool dry place and do not expose it to the sun.

Pregnant and lactating women must ask their doctors before applying Shield Cream. 
Shield Cream: Uses, Price, and Composition Table
Uses

used for treatment of piles, fissure, anal pruritus, pre- and post-operative treatment in proctologic surgery and anorectal examinations

Price

Topical Ointment 15gm INR 73.00 approximately

Composition

Allantoin-0.5%,

Hydrocortisone 0

.25%,

Lidocaine 3

%,

Zinc Oxide

5%

Side-effects

allergic reactions, contact sensitivity, irritation, rectal bleeding
Take Away
If you think that Shield cream for piles is not helping you even after applying it regularly, talk to the doctor. You can visit our website for online consultation and talk to the medical expert or visit us at our clinic for anal problems and treatment. Pristyn Care provides the best treatment for anorectal problems.
Also read: Lifestyle tips to cure Anorectal Problem
Also read: Ointment for piles