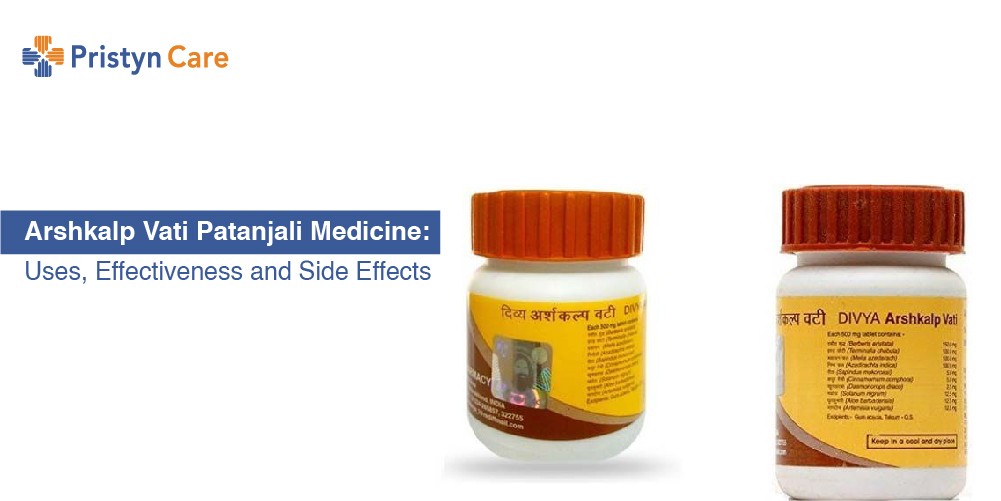 Patanjali Arshkalp Vati Patanjali Medicine comes in the form of small tablets that are made up of Ghrit Kumari, Haritaki, Kaharva Pishti, Kakamachi, Karpura, Khuna Kharaba, Naga Dauna, Nimba, Pure Rasaunt and Soap Nut as the active ingredients and therefore used as a medicine to cure piles. 
The ingredients of piles medicine by Patanjali are:
| | |
| --- | --- |
| Ingredients | Quantity (per tablet) |
| Haritaki (Harar) – Terminalia Chebula | 100 mg |
| Bakayan – Melia Azedarach | 100 mg |
| Reetha (soap nut) – Sapindus Mukorossi | 5 mg |
| Desi Karpur – Cinnamomum Camphora | 5 mg |
| Khuna Kharaba (Dragon's Blood) – Daemonorops Draco | 2.5 mg |
| Kakamachi (Makoh or black nightshade plant) – Solanum Nigrum | 12.5 mg |
| Ghrita Kumari – Aloe Barbadensis | 12.5 mg |
| Naga Dauna – Artemisia Vulgaris | 12.5 mg |
Uses
Divya Arshkalp Vati medicine helps in curing the piles problem by preventing constipation. The medicine consists of natural herbs which stimulate the normal functioning of the digestive system such as regular bowel movements and easy passage of stools. Therefore, it prevents the need to strain. 
Arshkalp Vati medicine contains the herbs which can potentially increase the strength of the muscles of the digestive tract, giving relief from pain and straining of passing hard stools. Arshkalp Vati medicine also helps to increase the peristaltic movements of the small and large intestine and the anorectal regions, allowing easy bowel movements.
You can cure the pain caused due to piles with the use of Arshkalp medicine. It also works by treating existing constipation, which only worsens the piles condition. Arshkalp Vati enhances digestive functions, which can cure constipation thereby preventing piles.
Therefore, this medicine can effectively provide long-term relief from the problem of piles by treating the root cause of the disease. It can also help to prevent the complications that can occur due to recurrent piles. (Also Read: Can Piles Kill You? )
Effectiveness
The herbs present in these medicines have an anti-inflammatory action that prevents the worsening of piles. Moreover, these also help in the recovery of piles by repairing the damaged tissues. Arshkalp Vati medicine is also beneficial for piles patients that develop due to factors apart from constipation such as long sitting hours, eating spicy food, or heredity. 
People working in big corporates who have to sit for long hours have higher possibilities of developing piles. People who sit for long hours put pressure on the anal veins.  Hence, they have a higher tendency of the anal veins to get engorged. Divya Arshkalp Vati medicine can efficiently help in getting relief from the symptoms of piles.
Side Effects
Many patients claim to have gotten relief from the Patanjali Piles medicine. However, some patients have seen extreme intolerance and adverse effects (such as vomiting, diarrhea, and stomach pain) to one of the herbs that the medicine is composed of. 
It is not advised to give it to children. Do not keep the medicine within the reach of children. Pregnant and lactating women are advised to consult their doctor before taking the medicine.
The medicine can cause side effects and also lead to irregular periods or even miscarriage during pregnancy because of the strong herbs that the medicine is composed of. A high dosage of medicine can lead to severe pain and lead to stomach upset. Take medical advice in case of an adverse effect.
Consult a Doctor 
As mentioned above, the medicine has benefits as well as side-effects. It is always the best to take advice from a doctor before taking any medicine. The most effective solution for piles is the pain-free laser procedure. There is no risk of recurrence of the disease with this procedure.  
Also Read: