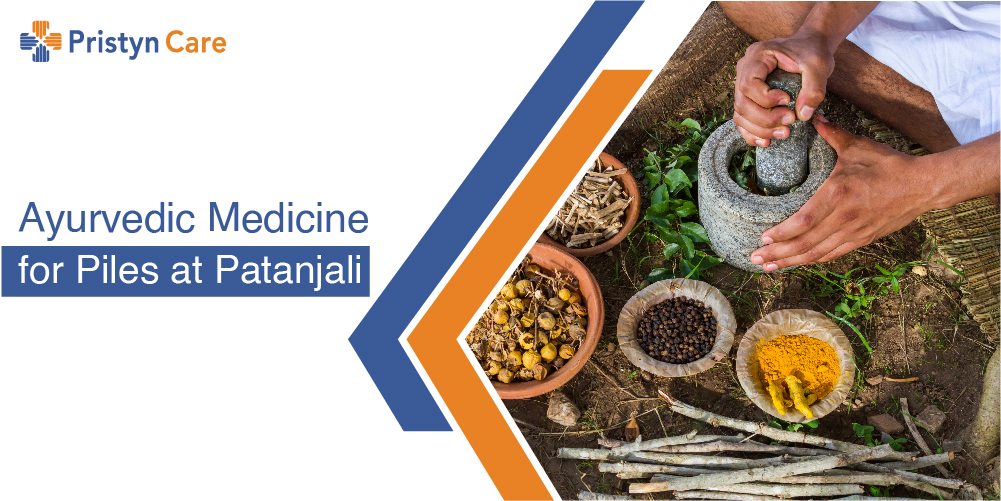 Among various common conditions that occur in the anorectal region, piles is one of the worst problems one can suffer from.
Piles is nothing but the inflammation and swelling of the veins in the anal region that inflicts a lot of pain if aggravated.
The treatment of piles largely depends on the stage you are suffering from. In addition to the severity, it also depends on whether it is inside or hanging outside the anal canal. Piles medicine by Patanjali reduces the symptoms and provides relief from pain.
A patient of piles feels itchiness, redness, or soreness around the anal area.
In addition to all these symptoms, extreme pain is felt while passing the stool.
At times, a bluish lump filled with coagulated blood can be seen hanging out of the anus. This is known as a thrombosed hemorrhoid.
It hampers the natural function of defecation, causes prolapse which is painful and even produces discharge from the anal region. The causes of piles are manifold.
The most common causes of piles are:
Chronic constipation, 

Obesity,

Suppressing urges to go to the bathroom,

Maintaining a sedentary lifestyle, 

Excessive straining, 

Pregnancy 
Also, consuming non-vegetarian food, alcohol, cold, heavy, uncooked or spicy foods, etc. or over-indulging in anal intercourse are some of the other reasons that can increase the risk of piles. 
Natural Piles Treatments with Ayurveda
Hemorrhoids are either internal or external, can be found in and around the anus and rectum. Major symptoms of piles include:
Severe itching around the anus

Pain, and swelling around the anal region

A visible lump hanging out of the anus

Painful bowel movements

Bleeding from the anal canal while passing the stool
Arsh (Piles) is caused by the consumption of a low fiber diet and following a physically inactive (sedentary) lifestyle.
According to Ayurveda, these factors lead to the impairment of all three doshas, Vata (air), pitta (fire), and Kapha (water). Moreover, the collection of wastage in the body, as well as swelling of veins in the anal region, can lead to piles. Digestion problem is majorly due to Pitta Dosha. 
The treatment for piles depends on its grade that is classified into four stages. The initial stages are called Grade 1 & Grade 2. On the other hand, Grade 3 and Grade 4 are considered advanced stages, thus, they require aggressive treatments.
Ayurvedic treatment for piles at different stages are listed below:
Grade 1 & Grade 2:


Grade 1 & Grade 2 piles are managed with customized Patanjali medicines for Piles. Additionally, you make diet and lifestyle modifications which can improve digestion and regularise bowel movements. To get desired results from the treatment, adhere to a complete guide in initial stage piles.

Grade 3 & Grade 4


Grade 3 & Grade 4 are considered as the advanced form of the piles which usually bleeds and prolapses. Piles treatment includes a combination of advanced detoxification method with custom made piles medicines in Patanjali that strengthens the excretory channel. Based on an individual's specific diagnosis, if necessary, the doctor will recommend Kshar Sutra Therapy.
Kshar Sutra Therapy is a safe, secure and cost-effective treatment for piles and requires minimal surgical invasion, no hospitalization and minimizes the chances of recurrence. This treatment may not be effective for every piles patient. Therefore, doctor consultation is a must. 
Piles Treatment with Patanjali Medicine
Here are some piles medicine in Patanjali by Baba Ramdev that works effectively to cure the condition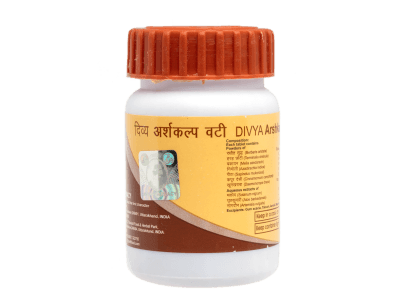 Apart from yoga, Baba Ramdev has also formulated Arshkalp Vati in Patanjali as Ramdev medicine for piles and fistula.
It is a combination of herbal extracts and has the capacity to heal inflammations, reduce pain and discomfort from piles.
The tablet also has laxative properties that induce peristaltic movements, thereby, making bowel movements pain-free. It also helps with digestion, reduces gas formation, and constipation.
Let us read more about the medicine of piles in Patanjali. Divya Arshkalp Vati for piles is Baba Ramdev's medicine, especially for all those patients. They give 60 tablets in a single pack that you have to take twice a day. 
One more fact that you must know that a lot of diseases, either deadly or benign, are easily preventable with yoga and power yoga.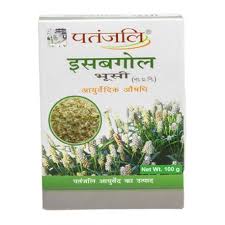 Also known as Psyllium, a lot of people consume it as a laxative due to its high-fiber content. To get relief from the pain and discomfort, people suffering from piles, colon cancer and anal fissure can consume this product.
It keeps the bowel movements regular and also helps get relief from chronic constipation. It normalizes and keeps the stools soft which makes it easy to pass.
Take 5-10 grams of this powder with a glass of water or milk. Do not gulp it down directly. If you are suffering from abdominal pain, drug-inducive constipation or intestinal obstruction then do not consume this. 
Divya Patanjali products by Baba Ramdev are treatment options for various medical conditions, including piles.
Another treatment option you can try is practicing yoga asanas suggested by Baba Ramdev for piles. Yoga is gaining popularity all around the globe due to its capability of curing countless ailments.
But the thing to ponder upon is that yoga doesn't provide instant relief from piles or other serious conditions. The regular practice of yoga judiciously can help to prevent a lot of ailments in the long-term. But keep other treatment options open as it may take time. 
What is the composition of Medicine for Piles at Patanjali?
Ayurvedic medicine for Piles at Patanjali works as a proprietary ayurvedic medicine and contains a mixture of natural herbs to cure piles. The specific ingredients of the medicine are as follows:
Ingredients Quantity (per tablet)
Ingredient

Quantity (per tablet)

Haritaki (Harar) – Terminalia Chebula

100 mg

Bakayan – Melia Azedarach

100 mg

Reetha (soap nut) – Sapindus Mukorossi

5 mg

Desi Karpur – Cinnamomum Camphora

5 mg

Khuna

Kharaba (Dragon's Blood) – Daemonorops Draco

2.5 mg

Kakamachi (Makoh or black nightshade plant) – Solanum Nigrum

12.5 mg

Ghrita Kumari – Aloe Barbadensis

12.5 mg

Naga Dauna – Artemisia Vulgaris

12.5 mg
Benefits of Piles Medicine Patanjali
The most supreme feature of Patanjali piles medicine is that it is advantageous for both men and women.
Divya Arshkalp Vati is a natural cure that helps to relieve the symptoms of piles as well as lower the chances of undergoing surgery. The usage of Patanjali piles medicine is much more cost-effective than surgical procedures to cure piles.
Apart from piles, Patanjali piles medicine is deft in managing the anorectal conditions such as a fistula and fissure. The similarity between all the conditions is that it leads to extreme discomfort. Here is the list of ailments and conditions you can get relief from if you use Patanjali products-
Indigestion:
You can use them when you feel an uneasiness in the stomach followed by constipation, sometimes with a feeling of bloating is indigestion.
Detoxification:
Increased toxicity in the digestive tract can also lead to the development of piles.
Intestinal Worms:
Natural herbs such as Neem acts as key ingredients to help in removing intestinal worms from the digestive system.
Anti Inflammatory:
Kakamachi is a natural herb that has anti-inflammatory properties that help to get relief from pain and inflammation.
Side effects of Patanjali Piles Medicine
It is important to note that several reports on Patanjali piles medicine indicate that it can be useful to get relief from the symptoms of piles but these have not been very successful in curing piles permanently.
According to some sources, adulteration was reported in Patanjali products, a few years ago, which led to side effects.
Research studies show that although there are several positive results of piles medicine, there are few people who are intolerant to specific herbs that can cause adverse effects after consuming it. The effects vary from person to person but the most prominent ones are-
Vomiting

Diarrhea

Stomach ache
Also, these medicines are not for children(Piles in Children). So, keeping them away from the reach of children is absolutely necessary. The intake of high dosage can also result in severe pain and may even upset the stomach which needs immediate medical supervision.
Is there any permanent cure for piles?
Even though Ayurveda can treat various medical conditions and diseases, piles can be difficult to cure. The reason being that this has a tendency to develop again and hamper your daily life repeatedly.
If you are not satisfied with the results of Ayurvedic treatment then, clearly it is time to opt for other treatment options. Now you can opt for the new and most advanced laser-based treatment offered at various clinics.
These are painless procedures that take only a few minutes to cure the problems. In addition to all these benefits, laser-based procedures offer quicker recovery. Therefore, Avail Most Advanced Piles Laser Treatment.
Disclaimer: These medicines interact differently in each person, we cannot guarantee that this information includes all possible interactions. This information is not a substitute for medical advice. Always speak with your healthcare provider before you consume them.