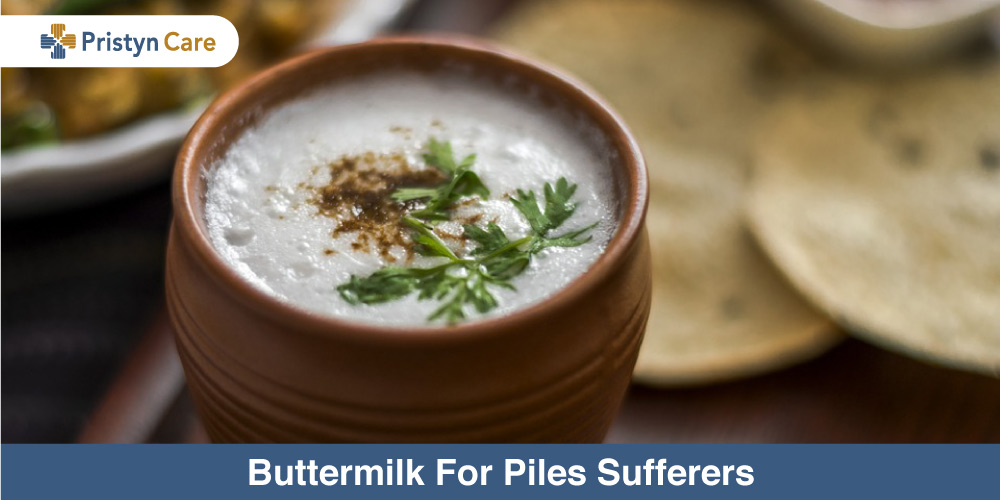 Buttermilk helps piles sufferers in a very natural manner. Buttermilk should not be observed as high-fat milk that is high in calories and extremely difficult to digest. 
On the contrary, buttermilk or Chaas is an extremely healthy drink when consumed with thin consistency. The fat content in buttermilk is equivalent to zero. It is a rich probiotic drink with many nutrients such as calcium, phosphorus, Vitamin B12 and riboflavin. 
Thin consistency buttermilk has several health benefits. It is not only easily digestible but if taken on a regular basis, it can benefit your overall health. 
Having buttermilk daily can regulate your bowel movements and help you get rid of piles and constipation problems. Remember, avoid having buttermilk during the night. This wonder drink has many properties that will not only cure constipation but will help in your overall well being and in maintaining good health.
How does buttermilk work?
Cumin powder in buttermilk is a default combination when it is prepared. Buttermilk is easy to digest, has astringent properties and a sour taste. It improves digestion and alleviates the feeling of puffiness. It is a natural treatment against swelling, irritation and digestive disorders, gastrointestinal ailments, spleen maladies, anemia and lack of appetite.
Combination of ajwain or carom seed and buttermilk for piles
Carom seeds have medicinal value. It is helpful in curing piles due to its property of instant relief from acidity and indigestion which is the key reason for piles problems. Buttermilk also has the property of enhancing digestion and stopping constipation.
Method:
Firstly you should roast the carom seeds on a frying pan and make the powder for further use. Now add one fourth tablespoon carom seeds powder in one glass of buttermilk. Now, stir well and add a pinch of rock salt (Sendha Namak). You can also add some ginger to it. It will help relieve pain and inflammation due to piles. Then, mix it well and use it after eating your lunch everyday. 
Note: Consult your doctor, if you are lactose intolerant.
Combination of buttermilk with bittergourd or karela leaves
Bittergourd leaves in buttermilk increase peristalsis i.e movement for easy defecation and complete evacuation of the bowels. This combination prevents the formation of hard and lumpy stools.
Combination of buttermilk and Haritaki powder for piles
Haritaki is an Ayurveda remedy for piles. The combination of buttermilk and Haritaki powder can do wonders for someone with gas and bloating problems. 
Method:
To prepare this mixture, all you have to do is add a pinch of rock salt and one and a tablespoon of Haritaki powder to buttermilk. Mix it well and drink it twice a day. Avoid taking it during the night. It might taste slightly bitter and has astringent properties. 
Combination of coconut husk and buttermilk for piles sufferers
This mixture provides immediate relief from piles related issues like pain and bleeding. Coconut husk has a great amount of lignin and cellulose, that is the reason it has a high calorific value. It has anti-inflammatory and antinociceptive medicinal properties. It is very helpful in reducing pain and bleeding during piles problems.
Method:
You can consume 1-2 gm powdered form of brown husk of coconut with buttermilk. You can also use a burned brown husk for better results.
Combination of buttermilk and bottle gourd to cure piles
The bottle gourd and buttermilk combination is very effective in curing piles and its related issues. The water and fiber content of bottle gourd (Lauki) helps in cleaning your digestive tract while buttermilk improves digestion and alleviates the feeling of puffiness in the body. This combination is helpful in curing piles in an effective way.
Method

:
Take one bowl boiled peeled and chopped bottle gourd with a glass of buttermilk. Add a pinch of rock salt and have it twice in a day (avoid during night). It helps to reduce piles related-symptoms. 
Take Away
When all the home remedies fail to serve the purpose of treating piles, talk to a doctor. Do not delay or hesitate to share your problem. It may get complicated and bring other health-related problems for you. We have piles specialists who will readily assist you. You can consult online or call and book an appointment at the nearest piles clinic around you. 
Also Read: How To Cure Piles Permanently At Home
Also Read: Apple Cider Vinegar for Piles