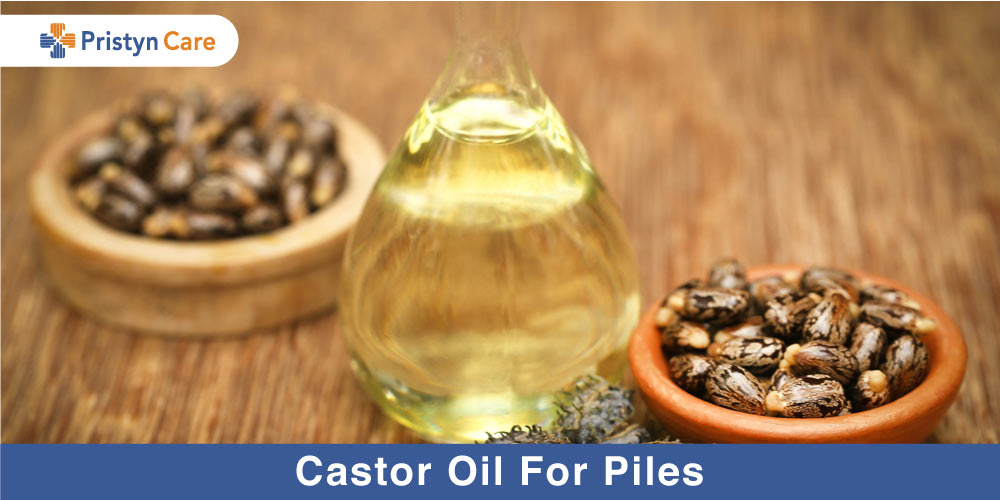 Table of content
Why should we use castor oil for piles?

How to use castor oil for piles?

Benefits of castor oil for piles

Use tree tea oil with castor oil in piles

Other health benefits of castor oil

Side effects of castor oil
Castor oil for piles can be very effective. It can work wonders for patients suffering from piles. Castor oil is a home remedy that can cure the disease by applying it on the affected area. Indian population has been using castor oil for ages now for its medicinal properties in Unani and Ayurvedic forms of medicine. 
In this blog, we will see several benefits of castor oil for piles and whether it has any side-effects. 
Why should we use castor oil for piles?
Castor oil for piles is an easily accessible home remedy in Indian kitchens. It is a vegetable oil manufactured from castor beans. Most commonly castor oil is used by the cosmetic and medical industries. It is said to be very effective for the skin. 
Castor oil is a natural product. When a piles patient applies castor oil, he/she needs to take good rest. This helps in regenerating body tissues in the process. 
In addition, castor oil acts as a laxative to treat constipation when consumed orally that further prevents piles. Castor oil can eliminate the bacteria and cleanse the body further reducing the risk of ailment in the body. 
How to use castor oil for piles?
You can consume castor oil orally and prevent constipation which further prevents swelling or inflammation of piles or hemorrhoids. Always consume the dosage as mentioned on the package or as per the doctor's prescription. 
Moreover, it may induce pelvic congestion so pregnant women must not consume it. 
Before applying castor oil topically, essentially you must conduct a patch test to ensure that you are not allergic to it. 
When using castor oil with other oils, especially tea tree oil, use a cotton swab to apply it directly to the infected area. It effectively reduces inflammation and swelling further curing piles. But remember, do not consume it orally when mixed with tree tea oil. 
Apply castor oil regularly for effective results!
Benefits of castor oil in piles
The benefits of castor oil are: 
It is antioxidant-rich

Anti-inflammatory

Anti-bacterial

Anti-fungal
Use Castor oil with Tea tree oil
Tea tree oil possesses antiseptic properties that reduce soreness, itching and pain. When tea tree oil is mixed with castor oil, the mixture can ease the pain during piles. 
When there is bleeding and irritation due to piles problem, tea tree oil can prevent infections as it has antimicrobial and antibacterial properties. Tea tree oil comes in a diluted form which can be applied directly to the infected area. But it is advised to mix tea tree oil with carrier oils such as castor oil which can further dilute it thus reducing the skin infections and inflammation.
You can mix tea tree oil with a few tablespoons of castor oil. After mixing, use a cotton swab to apply it directly to your swollen hemorrhoids or piles.
Other advantages of castor oil
There are various other benefits and uses of castor oil
Quick healing

Hair growth

Laxative

Treat acne

Body massage

Treat yeast infection 

Sexual health of men

Sexual health of women

Prevent aging
Side-effects of Castor Oil
Now we know the advantages of castor oil and how it is used to cure piles. But people may not know that there are side-effects of using castor oil too. Castor oil reaches the small intestine when castor oil is consumed directly. It breaks down into ricinoleic acid that irritates the intestinal lining.
Furthermore, castor oil seeds are heavily sprayed with pesticides that reduce the quality of the seeds.
Diarrhea

: Castor oil contains a substance known as ricin that may be responsible for diarrhea. A scientific study suggests that ricin is one of the toxic substances. 

Rashes in the skin

: Although there are very rare chances, castor oil may sometimes worsen the itchiness or trigger skin rashes.

Cramps

: As we read above that castor oil is a laxative that provides relief from constipation occasionally; sometimes overdose of castor oil may result in muscle weakness resulting in cramps.

Harmful for kids

: Do not give castor oil to kids below 12 years as it can be harmful to them. 

Weakness

: Some people experience breathing problems, dizziness or weakness after consuming castor oil. 
Take Away
After listing all the side-effects and benefits of castor oil for piles, consult a doctor and be safe while using it. Above all, it is advisable to talk to a doctor before consuming castor oil in any form. For any queries or piles related questions, you can visit our website and get online consultation.
Also Read: How to Cure Piles Permanently at Home
Also Read: Exercise for Piles