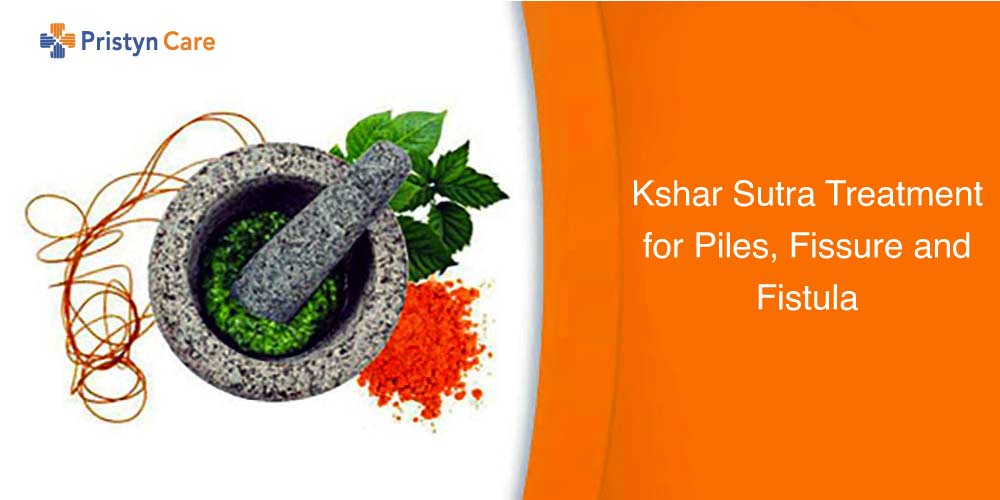 Kshar Sutra Treatment or Therapy is an ancient Ayurvedic technique that is effective for treating anorectal disorders. It is commonly used for treating diseases such as pile, fissure, anal fistula. Kshar Sutra Treatment is less invasive than any other modern treatment. It is also safe and cost-effective for patients. 
Kshar Sutra is categorized as a para surgical treatment. These are the special methods of managing the surgical as well as nonsurgical conditions using Anushastra (those instruments which can act as surgical instruments but not as superior as them). 
What is Kshar Sutra? 
Kshar Sutra is a medical thread made of linen with a cover of herbal ingredients that include – Snuhi Ksheera, Apamarga Kshar and Haldi Churna. 
How Kshar Sutra (Thread) is prepared? 
A linen medical thread of size 20 is taken.

Then it is spread on the hangers of a special kshar sutra cabinet with UV lamp.

Now, they use clean and sterilized gauze pieces soaked in Snuhi Ksheera to smear Snuhi latex on linen thread evenly.

The hangers are placed with smeared linen thread in the Kshar Sutra cabinet for drying.

After the linen thread is completely dry, again smear the thread with Snuhi Ksheera. Repeat this process 11 times on the same thread.

After 11 coating with Snuhi Ksheera, from the 12 coating, repeat the process on the same thread with Snuhi latex. Then pass the wet thread through the finely powdered Apamarga Kshar heap and ensure Aapamarga Kshar is attached to the thread uniformly. If Apamarga Kshar adheres to the thread in excess, then shake the thread hanger gently and allow the excess particles of Apamarga Kshar to fall down. Now, again place hangers with smeared thread in the Kshar Sutra cabinet for drying. Repeat this process for a total 7 times.
The process goes on till 21 coatings are done on the threat.
After 7 coats with Apamarga Kshar, the total is now 18 coatings. Start coating with Haldi Churna. Take the same thread for 19th coating with Snuhi latex and now pass the wet thread through the finely powdered Haldi (Turmeric) Churna heap and ensure Haldi adheres to the thread uniformly. If the excess adheres, then shake the thread hanger gently allowing falling down the excess particles. Leave it for drying in the cabinet. When a thread is completely dry, then repeat this step 2 times more to complete 3 coating with Haldi. Now, total 21 coatings are done on thread and thread is called Kshar Sutra and ready for use.

After completion of the above steps, dry Kshar Sutra should be cut in a uniform length of 30 to 32 cm and packed in sterilized packaging.
Note: Kshar Sutra cabinet is fitted with an ultraviolet lamp, which should be switched on daily for 30 minutes to sterilize the atmosphere within the cabinet.
How is Kshar Sutra Treatment done?
Before knowing how the treatment is done, it is important to know whether everyone is eligible to undergo this treatment. The answer is "No". Pregnant women, people with rectal cancer, hepatitis and leprosy are not eligible for Kshar Sutra treatment. 
Kshar Sutra Treatment for Piles
The base of piles mass is ligated with Kshara Sutra using a surgical technique. Yashtimadhu oil dipped pack is placed inside the rectum to reduce or soothe the irritation occurring due to Kshar Sutra. Caustic thread strangulates the blood vessel, which leads to ischemic necrosis of ligated pile mass. It ultimately sheds the dead tissue within 6 to 7 days and heals the wound within 10 to 15 days.
Also Read: Piles Cure in 3 days
Kshar Sutra Treatment for Anal Fissure
Kshar Sutra treatment is done under local anesthesia. It includes putting the thread at a suitable place in the anus, so as the spasm of anal muscles are released. At times, Kshar Sutra is used to take out the complete anal fissure. It may not be for all the patients suffering from fissure because the actual cause is spasm of anal muscles.
Also Read: Stages of Healing Fissure
Kshar Sutra Treatment for Anal Fistula
Kshara Sutra is passed through the fistulous tract using the minor surgical technique, which gradually cuts and heals the track of anal fistula. It naturally cures the track and removes unhealthy tissue. It promotes drainage of discharge or pus from the tract, which helps to clear the infection. Ultimately, it cures the anal fistula.
It may take 3 to 4 weeks for proper healing. Kshar Sutra is replaced with a new one after every week.

Also Read in Hindi: भगन्दर क्या है, कारण, लक्षण, प्रकार और घरेलू उपाय
What are the benefits of Kshar Sutra Surgery?
There are no surgical complications such as delayed healing, stricture and incontinence.

Reduced risk of narrowing the anal canal after the treatment.

After the treatment, you can resume normal life in 4-5 days.

Post-treatment care at home gives comfortable and speedy recovery.
Post-surgery instructions for Kshar Sutra surgery patients
You can maximize the advantages of the treatment and prevent the risk of recurrence. After treating anorectal disorders – piles, fissure and fistula with Kshar Sutra surgery, the patient must follow the given instructions: 
Avoid deep oily and spicy food

Take normal balanced diet 

Drink enough water to keep bowel regularity

Consume more fiber-rich diet.

Avoid prolonged sitting or standing

Keep proper toilet hygiene 

Avoid straining during defecation

Talk to doctor about laxatives in case of constipation 

Exercise regularly as prescribed by the doctor
After the treatment, Ayurveda experts may advise you to take Pancha Valkal Kwath sitz bath at least thrice for at least 3 weeks. Triphala Guggulu, Haritaki Churna during bedtime and Jatyadi oil may also be prescribed in case of any pain. 
Where Kshar Sutra does not work? 
If the wound s away from anal region, the Ayurveda experts do not recommend Kshar Sutra treatment. Some of the treatment are: 
Inflammatory Bowel Disease (IBD)

Crohn's disease

Urethral stricture

Urethral sinus

Appendicitis

Pelvic malignancies
What is an alternate to the Kshar Sutra Treatment? 
Above all, these anorectal problems are not life-threatening but they may hinder the quality of life. Therefore, if you have a pain in the anal region, rectal bleeding, or other anorectal problems, call your doctor for a consultation. If you are not eligible for Kshar Sutra treatment or if you want an alternative treatment method for piles, fissure or fistula, talk to the doctor as there are other treatment options such as laser surgery which is also a minimally invasive technique to get rid of anorectal disorders. 
Also Read: Ayurveda vs. Shalya Tantra
Also Read: Piles Treatment in Ayurveda