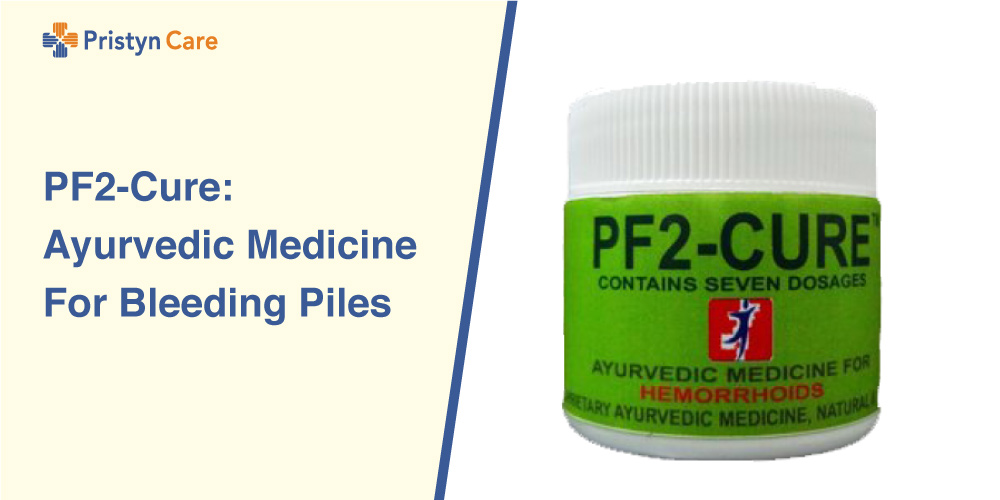 PF2-Cure is an anti-inflammatory medicine used to treat piles, fissures and fistula. This Ayurvedic medicine reduces pain and swelling in the diseases. It penetrates into the cell membranes to provide immediate relief from bleeding piles or hemorrhoids. It acts directly on inflammation and gives instant relief in symptoms such as bleeding, pain, itching, boils, lumps, burning sensation and pus discharge. Treatment is especially helpful in treating anorectal problems such as piles, fissures and fistula. 
Price of PF2 Cure in India
Price of PF2 Cure in India is INR 1100.00 for 7 pills. You can buy PF2 Cure Capsule Online also. 
Composition of PF2 Cure
Each 450 mg capsule of PF2-Cure capsule contains pure, certified, high potency extracts & herbal mixture of: 
Nigella sativa (Kalonji)

Aloe barbadensis (Ghritkumari)

Foeniculum vulgare (Saunf)

Ocimum sanctum (Tulsi)

Asparagus racemosus (Shatavari)

Emblica officinalis (Amla)

Berberis aristata (Daruharidra)

Terminalia bellirica (Bahera) 

Terminallia chebula (Harr)

Cassia fistula (Amaltas)

Cinnamomum cassia (Daalchini)

Azadirachta indica (Neem) 

Silver (Rajat Bhasm) 
Advantages of PF2 Cure 
The primary advantage of this Ayurvedic medicine for bleeding piles is relief from pain and burning sensation. Here are the other benefits of PF2 Cure: 
Improves digestion and bowel movements

Shrinks and sheds off external piles

Gives relief from anal fissure pain and burning

Heals fissures wound

Gives relief in pus and discharges of anal fistula

Dries and closes fistula wounds 

Safe, natural and effective 

Safe for pregnant women during piles and fissures.

Long-term results, however, it may vary from person to person and also on the severity of the disease. 
Do's and Don'ts When You Take PF2 Cure Capsule 
Avoid eating anything for an hour after taking a PF2 Cure Capsule.

Talk to the expert about food interactions with this Ayurvedic medicine.

Avoid deep fried dishes and spicy food till the time you take this medicine. 

No alcohol during the course of PF2 Cure treatment.

Strictly avoid non-veg food including eggs.

Increase your fiber and fluid intake such as water, buttermilk and curd, salads, green vegetables.

Take easily digestible but complete food.

Avoid sitting for a long time, especially, for people working in offices. Prolonged sitting may worsen the condition So, take a walk for a few minutes.

Toilet hygiene must be maintained along with regular "sitz bath".
There are no such side-effects of PF2 Cure. But, still consult the expert before taking PF2 Cure for Ayurvedic medicine for bleeding piles, fistula or fissure. 
Things to Remember About PF2 Cure
Patients with older case history may or may not require an extended course of PF2 capsule.

People with only external piles without any discomfort or with dead pile masses may or may not require an extended course of PF2 capsule.

Patients with fistula cases may or may not require an extended course of PF2 capsule.

Those who have multiple or longer tract fistula usually require an extended course of PF2 capsule.

Diabetics and old age individuals may respond late, but get the same or equal results like others.

PF2 capsule is a safe over-the-counter Ayurvedic treatment, but it is advised to always consult your doctor for your ailment, if diagnosed with piles, fissures and fistula.
Take Away
Usually, PF2-Cure Capsule is good to treat piles while in grade 1 and 2. For severe piles cases, you must consult a doctor. If this Ayurvedic medicine is not helping you treat piles or hemorrhoids, fissure or fistula, you can consult a proctologist at Pristyn Care. You can also consult them online to know about the right treatment.
Also Read: Difference between Piles, Fissure and Fistula
Also Read: Rectal infections and their results