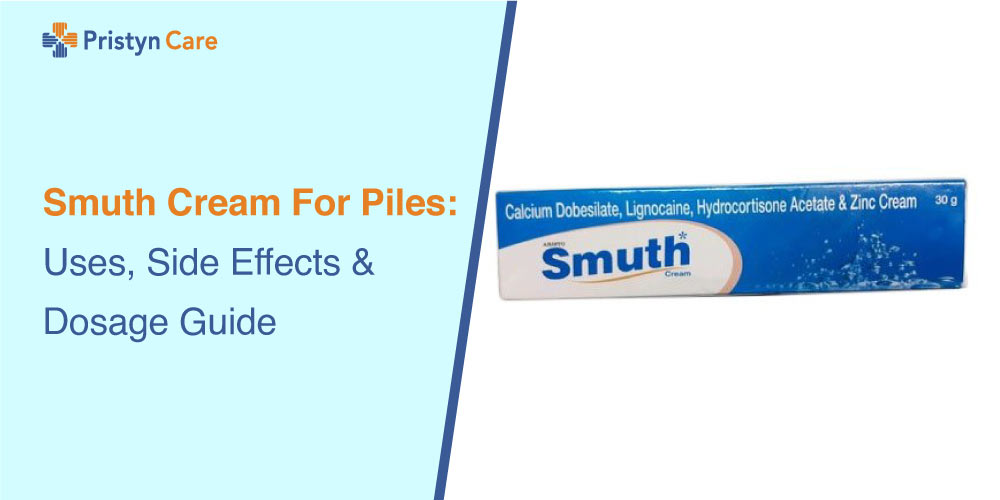 Smuth cream is a topical ointment that is prescribed when you are suffering from piles or hemorrhoids. Smuth cream for piles provides quick relief from the symptoms. Sometimes, it is used as an anesthetic. Smuth cream is composed of: 
Calcium Dobesilate: It works on the walls of the small blood vessels and reduces their leakage and fragility.

Hydrocortisone: It reduces redness, itching, and swelling due to piles. 

Lignocaine: It works by blocking pain signals from the nerves to the brain, further decreasing the sensation of pain.

Zinc: It has astringent and antiseptic action.
What are the uses of Smuth cream? 
Smuth cream is useful in treating conditions such as piles and inflammation. Also used for: 
Enlarged Blood Vessels

Eczema

Insect Bite Reactions

Psoriasis
How to use Smuth Cream?
Smuth cream is for external use only. Use it as advised by your doctor or you can check the directions mentioned on the packet before use. Wash your hands before applying. Clean and dry the affected area and then apply the cream. You can use gloves and cotton swab or you can use your finger to apply the ointment on the affected area, whatever seems convenient. 
Dosage
Contact the doctor on using Smuth cream for piles. Although skipping a dose is not dangerous, you can apply Smuth cream when you remember. Overuse of Smuth cream will not make the symptoms go away faster. Therefore, use the cream as prescribed or instructed. 
Note: Store Smuth cream at room temperature. Keep it away from children and pets. 
Price of Smuth Cream in India
Smuth 30 gm cream topical ointment cost is approximately  INR 97/- in India.  
Side-effects of Smuth cream
Redness of Skin

Reactions or burning sensation

Irritation and itching

Skin rashes

Acne
Things to know about Smuth Cream
It is not an addictive medicine.

The effect of smuth cream may be seen between 2 days to 3 weeks depending on the severity of piles or infection.

Pregnant and breastfeeding women must consult their gynecologist if it is safe to use. 

Do not immediately stop using this cream. Do as per doctor's instruction.

If you notice anything unusual, then talk to the doctor. 

Inform the doctor if you take any supplements or medicines before taking any treatment for piles and there may be interaction of Smuth cream with other medicines.  
Smuth Cream for Piles: 
| | |
| --- | --- |
| Uses | Treats inflammations and symptoms of piles |
| Price | Tube 30gm cream topical ointment cost is approximately  INR 97/- in India |
| Composition | Lidocaine/Lignocaine 3%+ Calcium Dobesilate 0.25% + Hydrocortisone 0.25%  + Zinc 5% |
| Side-effects | Redness of Skin, reactions or burning sensation, Irritation and itching, Skin rashes, Acne |
Take Away
If you think that Smuth cream is not helping you treat itching or irritation caused due to piles even after applying it regularly, you must consult a doctor. You can visit our website for online consultation and talk to the medical expert or visit us at our clinic for piles related problems and treatment. Pristyn Care provides best treatment for piles, fissure and fistula.   
Also read: Aloe Vera for Piles
Also read: Sitz Bath for Piles