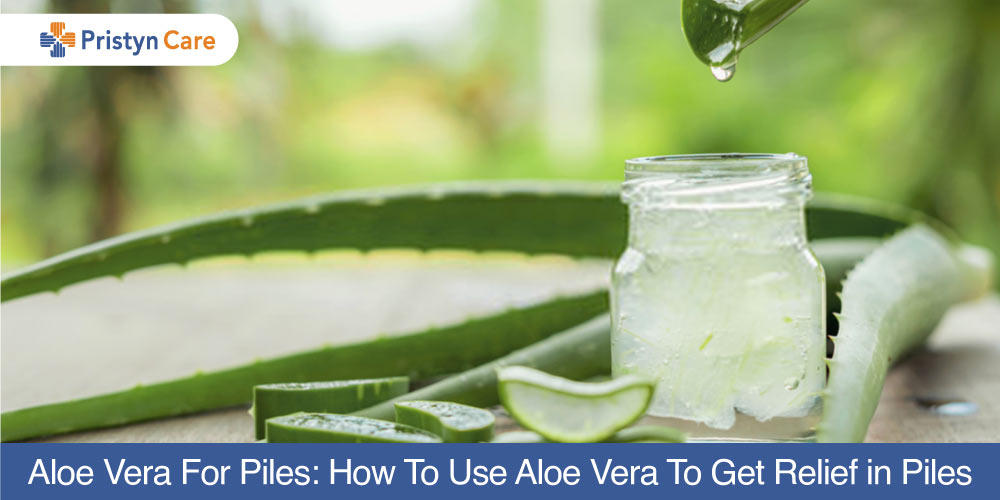 Aloe vera is a natural remedy to treat piles. It has been used since ancient times to get relief from piles. Although aloe vera for piles is a temporary home remedy, it is easily available and aids symptoms of piles quickly. 
Piles or hemorrhoids are the swollen veins present in the anal and rectum area. The symptoms of piles include pain, discomfort, itching, swelling and inflammation around the anal region. Aloe vera is one of the best DIY treatments for piles. 
Why aloe vera for piles? 
Aloe vera is known for its soothing effect. It has anti-inflammatory properties and is a popular remedy for skin infection, burns and irritation. It can be taken in different forms can help get relief in piles.
Aloe vera gel for piles:


Aloe vera gel contains 1% glycoproteins that reduce pain and inflammation and polysaccharides that heals the skin with 99% water. Both these ingredients fight against infection in the anal region. When aloe vera gel is applied locally, it gives a soothing, healing and antiseptic effect on the affected area. Thus, it reduces pain and inflammation.


How to use aloe vera gel?

Wash your hand before and after applying aloe vera gel on the affected area. If you are applying it from the leaf then extract the gel from it and put it in a clean container. You can add 2-3 drops of lavender oil (optional, ask your doctor). You can wear clean surgical gloves. Apply the gel on the affected area and massage it gently with your fingers. Leave it for 15-20 minutes and wash it. Pat dry the area with a clean soft cotton cloth. Do not rub or scrub it.
Aloe vera gel is applied externally on piles 2-3 times a day. You can either use it directly from the leaves or you can buy aloe vera gel ointment from the pharmacy shop. Ask the doctor or pharmacist about the best brand aloe vera gel.

Aloe vera juice for piles: 

Aloe vera juice is good for the digestive system. It has an anti-inflammatory action and laxative properties that work against hemorrhoids by eliminating the waste from the body with ease. This helps in regulating the intestine functions. Aloe vera juice also acts as a blood purifier.


How to use Aloe vera juice?


Is aloe vera juice good for piles? Yes, drinking aloe vera juice can be very helpful. To prepare aloe vera juice, you have to take a tablespoon of aloe vera gel, green apple and 100ml water. Blend the mixture, boil it and let it cool. Do not refrigerate aloe vera juice as you should drink it every morning at room temperature.
It is said that if you know it is grade 1 hemorrhoid, aloe vera juice can do wonders. Aloe vera juice helps to strengthen, reduce inflammation and promote the regeneration of naturally occurring bacteria in the intestinal. This prevents constipation, which can make the piles worse.

(Also read: Liquid Diet for Hemorrhoid Sufferers)

Aloe vera suppository for piles:


To make aloe vera suppository for piles, you need to extract pulp from aloe vera leaf. Thus, peel the leaf and extract the gel in a container. Mix some water till it becomes homogeneous. Put it in an airtight container and free it. Once it freezes, take it out of the freezer and allow it to melt. Make sure when you apply this melted aloe vera suppository, you sit for long periods of time so that it penetrates into piles.  (Also read: Ointment for piles)
Note: You can use both aloe vera gel and aloe vera juice at the same time to get relief in piles. 
Can I eat aloe vera to cure piles? 
There is no harm in eating aloe vera as it prevents constipation and provides relief from piles. Aloe vera can be consumed orally but not everyone is eligible for it. Talk to the doctor before you consume it or ask the pharmacist so that you do not consume topical aloe vera gel in place of edible aloe vera. Also, ask if it is safe to eat.  (Also read: Food in Piles)
Aloe vera for piles in pregnant women 
You can use fresh aloe vera gel for piles during pregnancy. But avoid aloe vera juice, fragrant aloe vera gels and creams which are available in the market. Talk to your doctor if you notice piles during pregnancy. Depending on your condition your gynecologist or a general physician will decide your course of treatment for piles.  (Also read: Piles in Pregnancy)
Take Away
There are several home remedies to treat piles. If natural treatment is not helping you get relief from piles, consult a doctor or write to us. Our piles experts will help you understand the problem and provide you the solution to get rid of piles or any other anorectal disorder if any.  You can go for the online consultation to avoid the hassle.
Also read: How to prevent piles from ever popping up again?
Also read: Coconut oil for hemorrhoids