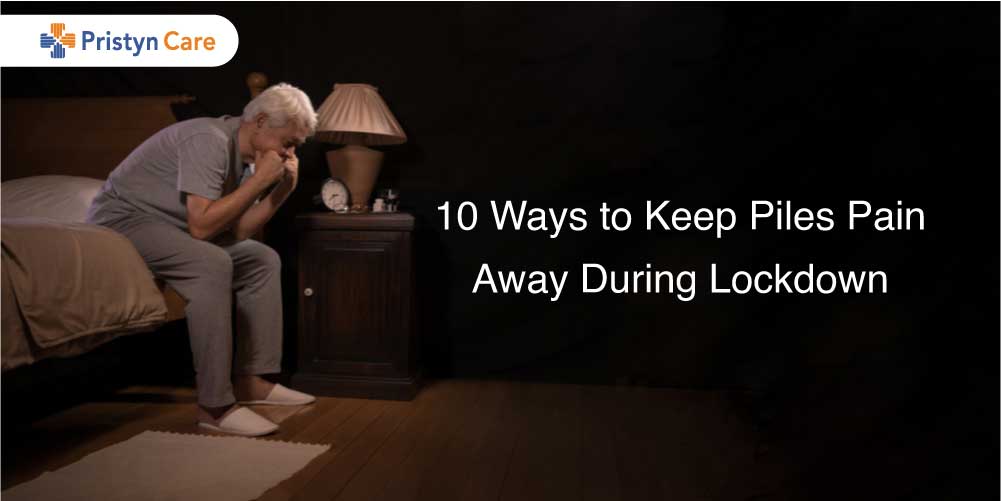 We understand what it feels like to suffer from hemorrhoids and especially if you are unable to go outside to get the treatment. Also, we understand that the current lockdown can make things harder for you.
The coronavirus insights and warnings are everywhere. Everyone is in panic; people are confused, cautious, scared and locked down. In such crucial times, we ought to stay at home to stay safe as this is the only possible solution that could save us from ill effects of this pandemic. 
But we all know that health problems come uninvited. Although we are all provided with medical facilities and accessibility in most of the cases, nobody wants to pay a visit to the hospital. Piles being a matter of elective surgery, it can be best answered and looked after once the lockdown ceases to exist. 
So, we will talk about 10 ways to keep piles pain at bay till the lockdown prevails
There are many ways and home remedies for piles that will provide you with a good relief from the pain and itchiness and most of the discomfort you go through while you suffer from piles. Some of these are mentioned below:
A regular warm bath or Sitz bath:


This will provide a lot of relief in pain that you feel when you suffer from piles. This helps in soothing the irritation and itchiness of piles. You can take a warm water bath for 20 minutes after every bowel movement. Also, use a sitz bath which is a small plastic tub that fits in your toilet seat providing warmth to the area around your anus and relaxing muscles and veins that ultimately help in easing up the pain. You can also take a full-body bath in your bathtub. This idea revolves around the sphincter mechanism and spasm which helps in symptom relief.

Consumption of high fiber foods:


You can add fiber to your diet to avoid constipation. High fiber food will help you pass the stool with ease by increasing its bulk which in turn will prevent the problems of gas and acute constipation as straining while sitting on a toilet seat will worsen the symptoms and cause intolerable pain at times.

Oral Pain Relievers:


Oral pain relievers like acetaminophen (Tylenol etc.), aspirin or ibuprofen will help you relieve temporarily from discomfort till you see a proper medical practitioner after lockdown for further extended treatment of your hemorrhoids. You can not visit a doctor, but you can always call them and ask for medicines. 

Topical treatments:


You can always go for over the counter cream or suppository from a medical shop as medical shops are opened during lockdown conditions. These will help you in numbing the affected area when regularly applied. Such creams contain hydrocortisone. Some pads containing witch hazel can also be used to ease the pain as they have numbing agents in them. You have to apply these outside the anus, not inside. You should not use these more than a week. See your doctor for further guidance and instructions when the situation of lockdown mellows down.

Pure aloe Vera gel:


We all keep hearing about the wonderful results of aloe vera. You can easily find aloe vera as an ingredient in some other products, especially creams, etc. But it works best for piles when you use it in the raw form directly from the plant. You can apply this directly to your bottom area only if you don't have any allergy problems with it. You can test it by applying aloe vera gel from the plant in your garden or any neighborhood onto your forearm and can wait for 12-24 hours to see if there are any rashes or allergies. Aloe vera is known for treating piles and many skin conditions due to its anti-inflammatory properties and cooling effect.

Epsom salt warm bath:


This is one of the best symptom relief methods which could be performed easily. You can add one cup of Epsom salt for every 6 inches of water if you are going to take a bathtub method. You can use ¼ cup Epsom salt per four cups of warm water if you are going for a sitz bath or a compress. Comfortably sit in the bathtub or use a sitz bath until all of the salt is dissolved. Sit and relax for 15-20 minutes. You can also apply a washcloth removing excess water to the affected area for 10-15 minutes. You can repeat this process for a few times a day as it will help you quite a lot with the symptoms.

Cold compresses:


These can be really helpful with pain relief and swelling, especially in the case of large painful hemorrhoids this could be a very important method. Never apply anything frozen directly to the affected area. You can use ice packs by wrapping the ice in a cloth or paper towel and compressing that to the anus and affected area for 15 minutes at a time. This will relieve you from swelling and pain.

Comfortable clothing:


Wearing loose cotton clothes, especially cotton underwear will help you keep your anus area clean and dry. Always go for cotton, light and breathable clothes to avoid further infections and discomfort. The more dry and airy the area is, the more quickly it tends to heal.

Stool softeners: 

We all know that  95% of the time, the major cause of piles is constipation. You can try various stool softeners or bulking agents which will help you soften your stool and help you pass it smoothly without straining. These stool softeners mainly come in forms like capsules, powders, and liquids that you ingest between once or thrice a day which will help you to make quick and painless bowel movements and it ultimately curbs the symptoms or eases your discomfort due to piles.

Increase your water intake and consume salads often:


This is one of the simplest strategies that stands by the notion- Prevention is better than cure. Why go far with problems when you can look after them on the onset? Drinking plenty of water (8-10 glasses) each day will keep your digestive system in check and will help to prevent piles and ease its symptoms. You can also consume salads, especially cucumber every day after a light nutritious breakfast. You can also consume carrots as they have antioxidant and anti-inflammatory properties which help to cure piles and improve vein health.
Take Away
So, here we have discussed some of the best remedies that can help you to alleviate the symptoms and piles to some extent till the situation of lockdown prevails. No need to worry or panic as you always have preventions in your kitchen and garden. Once the situation gets favorable you can visit your doctor who can even recommend you to a surgeon if you want to go for laser surgery for hemorrhoids to root out the problem itself without the fear of recurrence or infection later.
Laser surgery is performed by a surgeon where the hemorrhoidal arterial flow which feeds the hemorrhoidal plexus is stopped by means of Doppler-guided laser coagulation.
So, you always have this option for surgery once you can easily approach for treatments and consultation by a medical professional. Till then, you can also opt for online consultation after doing some research over the internet choosing the best online consultant as per the reviews or any of your criteria. So, sit back, relax and try these measures. These will definitely help you prevent the worst nightmares that any piles pain can bring along.
Even after all these remedies if you think your pain still exists, visit our website for online consultation with medical experts.