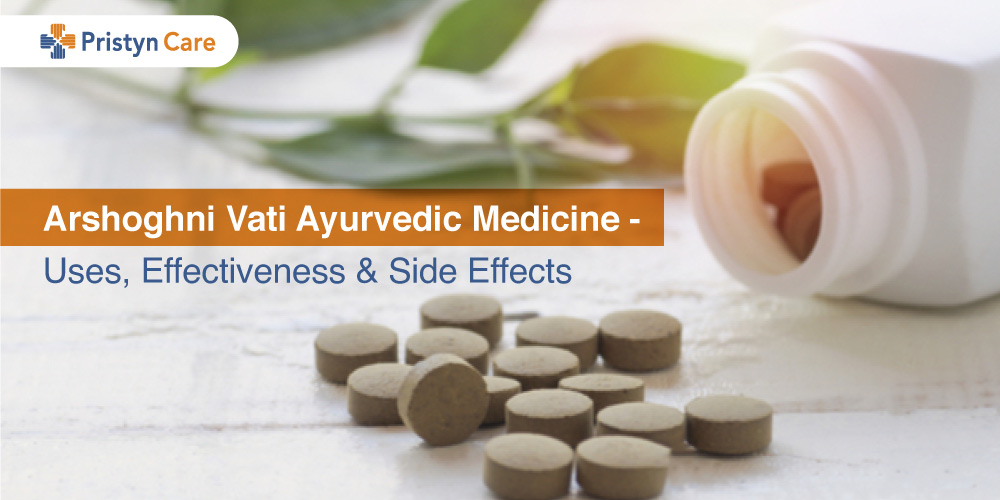 Arshoghni Vati is an ayurvedic medicine used for treating all types of hemorrhoids. It is very common and is beneficial in the treatment of both bleeding and non-bleeding piles. Arshoghini Vati is mainly effective for treating bleeding piles. It stops bleeding within 1 to 3 days of its regular use.
Arshoghni Vati has Ayurvedic herbs that reduce discomfort, bleeding occurring during bowel movement, itching and irritation in the anorectal region. It reduces venous swelling and size of the pile lump.
Constipation is a common cause for developing hemorrhoids, which increases pressure on the veins and causes their swelling. (Also Read: Home remedies for Chronic Constipation)
Uses of Arshoghni Vati
Arshoghni Vati is used to treat
Bleeding and non-bleeding piles or hemorrhoids

Treat constipation
Ingredients (Composition)
| | |
| --- | --- |
| Neem Seed  | 24 grams |
| Bakain Seed Kernel | 24 grams |
| Dragon's Blood Resin – Daemonorops Draco | 24 grams |
| Kaharva Pishti (Trinkant Mani Pishti) | 12 grams |
| Shuddha Rasoth or Daruhaldi  | 72 grams |
How is this medicine prepared?
Take all the ingredients. 

Mix Neem and Shuddha Rasoth till they are finely powdered.

Mix all rest ingredients in the given quantity.

Take 250 gms of this mixture and prepare medicines. 
Effectiveness of Arshoghni Vati
Arshoghni Vati has the following medicinal properties:
Anti-hemorrhoid

Blood purifier

Carminative

Anti-constipation

Hemostatic (Check bleeding) 
Price of Arshoghni Vati in India
The price of Arshoghni Vati in India is INR 40.00 for a pack with 80 tablets (Approx. price). 
Dosage
It is advisable to consult an Ayurveda expert or a doctor for the right dose before taking this medicine. 
Usually, the medicine is consumed twice a day before or after the meal (as prescribed by the doctor). You can take it with water or buttermilk. 
Side effects of Arshoghni Vati 
People with diabetes and hypertension must take this under the supervision of experts. There are no such side-effects of Arshoghni Vati according to research. 
Precautions and warning
Inform the doctor if you are taking any western medicine and if you can take Arshoghni Vati with allopathic medicines. 

If both medicines are administered together, then talk to the doctor to take the medicines in the right way. First take allopathic medicine and then in a gap of 30 minutes, take Ayurvedic medicine. 

Arshoghni Vati is not recommended for pregnant and lactating women. 
Arshoghni Vati Ayurvedic Medicine – Uses, Price, and Composition Table
| | |
| --- | --- |
| Uses | Treats bleeding and non-bleeding piles and constipation |
| Price | NR 40.00 for a Tablet pack with 80 tablets  |
| Composition | Neem, Bakain, and, Shuddha Rasoth |
Take Away
Usually, Arshoghni Vati is good to treat piles while in grade 1 and 2. For severe piles cases, you must consult a doctor. If this Ayurvedic medicine is not helping you treat piles or hemorrhoids, you can consult piles specialists at Pristyn Care. You can also consult them online to know about the right treatment.

Also Read: Piles Treatment in Ayurveda
Also Read: Arshkalp Vati Patanjali medicine