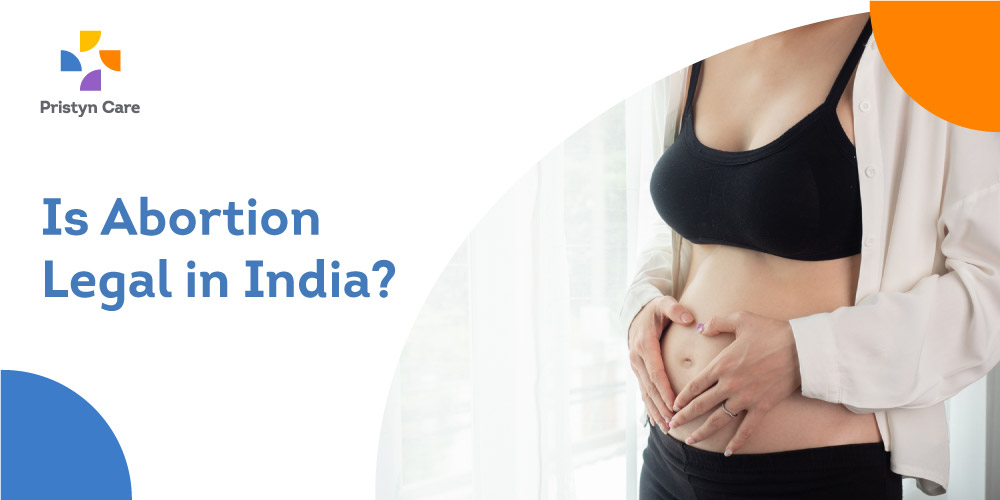 In India, abortion is legal in certain situations, as the abortion laws in our country may vary for unmarried girls, rape victims, and married women. Many females are unaware of their abortion rights and the fact that termination of pregnancy is legal in India but under certain circumstances. Under the Abortion Act of 1971, a woman can get a safe and legal abortion until 20 weeks of the pregnancy. In certain cases, the female can undergo legal abortion until 24 weeks. Abortion laws broadly vary for females in different scenarios. 
Also Read- What is Medical Abortion?
According to the MTP Act of 1971, it is legal to have an abortion in India at any time up to 20 weeks of the pregnancy. Termination of pregnancy is permitted under the following circumstances-
If continuing the pregnancy poses a risk to the female's life or well-being

If the pregnancy has the possibility to cause grave injury to the female's physical or mental health

Abnormal growth of the fetus due to which the child born could be severely handicapped.

If the pregnancy has occurred as a result of sexual assault or rape

If the pregnancy occurs due to failure of contraceptives used by a married female or her husband
What about abortions after 20 weeks of pregnancy?
There are cases when some fetal abnormalities or risks to the female's life come to light after 20 weeks of pregnancy. In such cases, the abortion Act requires the female seeking legal abortion to get approval from the court. However, there have been many cases in India where the courts gave judgment in the negative despite the female and even family wanting the abortion. In February 2017, a similar case of abortion of a 26-week pregnancy was turned down by the Supreme Court of India despite the risk of the fetus being born with Down Syndrome. Another similar case of a 26-week old fetus was turned down despite being diagnosed with heart defects.
Also, in cases like child assault or underage rape victims, the occurrence of pregnancy may come to light very late, often only when the female child develops symptoms of pregnancy. In such cases, the 20-week legal ceiling may be close or past. Many such cases say that this abortion law has many loopholes and possible drawbacks. 
Also Read- A Woman's Guide To Having A Safe Abortion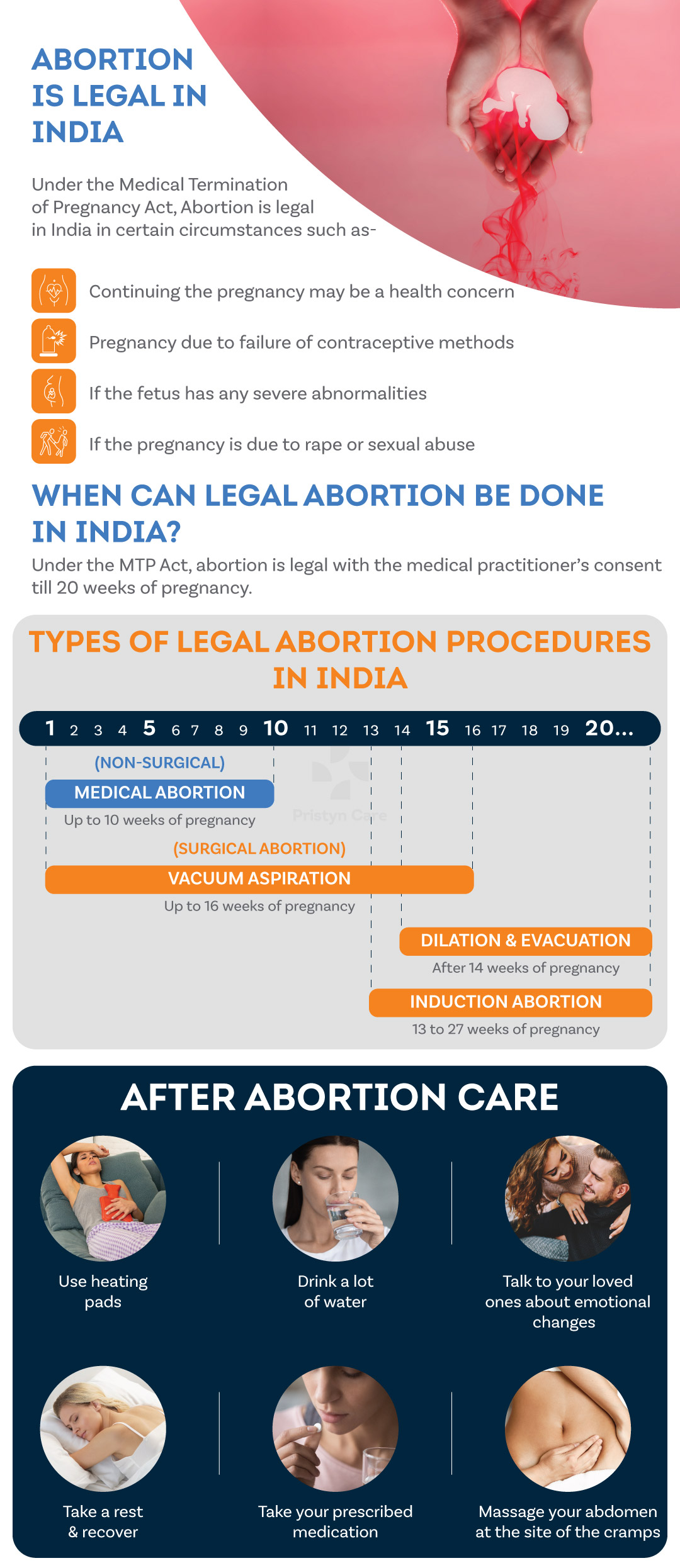 Is abortion in India legal for unmarried girls?
Yes, abortion is leag in India for unmarried girls under certain circumstances. 
The MTP law in India for unmarried girls states that the legal age of abortion is 18 years. A woman who is unmarried and above 18 years of age can provide her own written consent to get a legal abortion. If the female is below 18 years, she must have written consent from her guardian along with the specific reason for the abortion of the pregnancy. The legal abortion period in India for any unmarried girl, by any registered medical practitioner, is 12 weeks of the pregnancy. But, if the female is mentally unstable but an adult, there must be written consent from her guardian. If any of these conditions or permissions are absent, abortion is illegal in India under the MTP Act.
Also Read- Is Abortion painful?
Who can perform an abortion in India under the MTP law?
Every medical institution that has the license to perform medically assisted abortions in the country by the government need to display an issuing certificate by the government as well.
The doctor needs to have one of the following qualifications in order to perform a legal abortion in India-
A registered medical practitioner who has carried out at least 25 medically assisted termination of pregnancy in India.

A surgeon who has 6 months of experience in OB-GYN (obstetrics and gynecology).

Holds a diploma or degree in obstetrics and gynecology.

A doctor who holds registration before the MTP Act, 1971 and who has 3 years of experience in obstetrics and gynecology.

A doctor who has registered after the MTC Act 1971 and has been practicing in obstetrics and gynecology for at least 1 year.
If you still have any queries about abortion, it is best to obtain an expert doctor's appointment with Pristyn Care and talk to the trained professional in person to better understand the procedures, their possible risks, and the options available to you.
Also Read- Safe and Legal Medical Termination of Pregnancy
The Medical Termination of Pregnancy (Amendment) Bill, 2020
There have been various debates on this MTP law. On January 29, 2020, the Union Cabinet gave its consent to the Medical Termination of Pregnancy (Amendment) Bill, 2020, to revise the Medical Termination of Pregnancy Act, 1971. The bill further requires approval in the ensuing session of the Parliament in order to form a revised Act. 
"The Medical Termination of Pregnancy (Amendment) Bill, 2020 is for expanding access of women to safe and legal abortion services on therapeutic, eugenic, humanitarian or social grounds. The proposed amendments to increase upper gestation limit for termination of pregnancy for women in special category aim to strengthen access to comprehensive abortion care, under strict conditions, without compromising service and quality of safe abortion."
Salient features of the MTP Amendment 2020-
Proposing requirement for the opinion of one provider for termination of pregnancy, up to 20 weeks of gestation and introducing the requirement of the opinion of two providers for termination of pregnancy of 20-24 weeks of gestation.

Enhancing the upper gestation limit from 20 to 24 weeks for special categories of women which will be defined in the amendments to the MTP Rules and would include 'vulnerable women including survivors of rape, victims of incest and other vulnerable women (like differently-abled women, Minors) etc.
Upper gestation limit not to apply in cases of substantial foetal abnormalities diagnosed by the Medical Board. The composition, functions and other details of the Medical Board to be prescribed subsequently in Rules under the Act.
Name and other particulars of a woman whose pregnancy has been terminated shall not be revealed except to a person authorised in any law for the time being in force.
Source- https://pib.gov.in/PressReleasePage.aspx?PRID=1600916
It is very important that the abortion is carried out safely by an expert doctor. In case you have more doubts, queries or concerns, or are looking forward to having an abortion, consult our gynecologist online.
Also Read- Periods after Abortion- What to expect?