What is Stretch Marks?
Stretch marks are a kind of scars which occurs while there is stretching of the skin. They are caused by tearing of the dermis which may diminish over the time but will not disappear completely. These scars may be the white , red, or purple color which may affect the areas of breast, abdomen, thighs, buttocks, upper arms etc. The stretch marks are more common with the pregnant ladies, although other factors may be rapid weight changes, hormonal changes and medication effects. Stretch marks are also known as Striae.
What Are the Causes of Stretch Marks?
As we have read, Stretch Marks , usually affects the areas like: abdomen, hips, thighs, back & breasts. There can be various reasons for occurring of Stretch Marks which are given below:-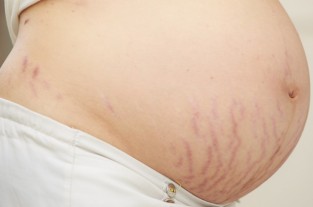 Pregnancy:- This is the most common reason for Stretch marks on abdomen, among women, Carrying a baby in the womb will lead to stretch of the middle layer of the skin causing pinkish and whitish skin. Stretching may also involve some itching or discomfort as well.
Hormonal Changes:- it is also one of the biggest factors which affect the skin. Due to this, men and women both can see the symptoms of scarring of skin at Upper arms, breasts, abdomen, back, and thighs. Abnormal hormone activity will lead to stretch marks. Increase in cortisone and hormone produced by adrenal glands will also lead to weakening of the elasticity of skin fibers.
Weight Gain:- this is the most common cause among obese people when they can see the signs of stretch marks
Medications:- Some medicine used to gain weight may lead to increase the hunger and may cause stretch marks, especially in males. Apart from this, Corticosteroid creams, lotions and pills and chronic use of oral or systemic steroids may also be responsible for the stretch marks.
Disease:- Cushing's Syndrome and adrenal gland may cause stretch marks.
Other factors:- such as lack of nutrients, genetic factors, natural growth in adolescent boys & girls, the sudden change in physical & environmental factors.
Having stretch marks can be embarrassing many of the times. Sometimes they are curable with the medication and sometimes, it requires treatment. This is not the serious problem and may fade over the time by taking timely treatments.
What Are The Symptoms of Stretch Marks?
All the stretch marks are not alike, they have variations depending upon the skin types and causes associated with the scarring. Some Common signs can be:-
Indented streaks or lines in the skin
Multiple pink, red an purple streaks around the abdomen and upper arms
Bright streaks that fade to a light pink, white or greyish color.
To diagnose the stretch marks, medical examination and family history related questions can be asked and analyzed.
Laser Treatment for Stretch Marks
This is one of the most effective techniques, approved by FDA in 2002 which uses various laser techniques to reduce the stretch marks and scarring. Some of the laser therapies are: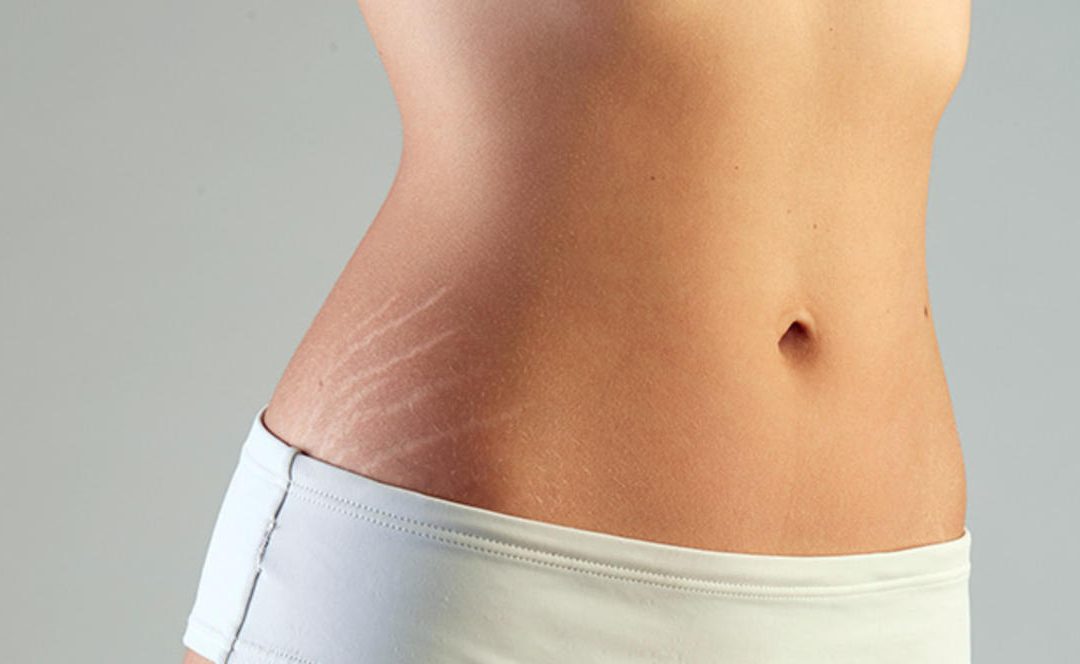 IPL (Intense Pulsed Light Laser): Powerful laser beam focusing at the closer range will heat the damaged skin and will remove it and also helps to stimulate new collagen. It is also called Pulsed Dye Laser therapy. It works for the stretch marks which are young and new. It may also treat the older stretch marks as well by altering the skin color on the darker tones. Due to its limitations, it is not famous as much.
Fractional Co2 Laser:- This is the most innovative and effective treatment. This light hits the stretch marks, and skin will absorb the energy and will lead to growing new collagen. This technique will help to make the skin firmer, lighter, tighter, stronger, resilient etc. This treatment will surely help to reduce any kind of stretch marks within 3-4 sessions under the guidance of expert cosmetic gynaecologist. It triggers the fibroblasts to produce new collagen and elastin by producing more healthy and new skin. Fractional CO2 laser treatment will surely lighten the skin and will tighten the skin at the same time with the assurance of non-occurrence in the future. Session of the same will depend on the severity and color of the stretch marks only.
Advantages of Laser Treatment over the Traditional Surgical Procedure
| | |
| --- | --- |
| SURGICAL (OPEN PROCEDURE) | NON SURGICAL (LASER) |
| Cuts and wounds | No Cuts and Wounds |
| Highly painful | Completely Painless |
| Recurrence | No Recurrence |
| Diet Restrictions | No Diet restrictions |
| 1 Month-2 Months rest | Resume your work from next day |
| Invasive | Minimally invasive |
| Risk of infection is high | Reduced risk of infection |
| More bleeding due to cuts and stitches | Very less bleeding |
| Uncomfortable and time taking post-operative recovery | Easy and comfortable post-operative recovery |
| Low success rate | High success rate |
Why One Should Choose Laser Stretch Marks Treatment?
We have discussed the various treatment for the stretch marks but fractional Co2 Laser treatment is supposed to be the more effective treatment due to its benefits which are:-
Visible improvement
Non-invasive and painless
Resume to normal work just after the laser treatment
FDA approved treatment
Comfortable sessions
Minimal or no side-effects
Cost-effective
Long-term effects
Getting the right treatment will surely boost the confidence of the women. Do not delay the stretch marks problem till it gets worse or chronic. Avail timely stretch marks treatment through Femilift laser technique in Gurgaon at Pristyn Care laser Clinic. Women may consult the cosmetic gynecologist to reduce their stretch marks after the pregnancy or delivery.

Gurgaon: Golf Course Road, Shan Road, MG Road, Cyber Hub, DLF, Sushant Lok, Palam Colony, Sikanderpur, Sector- 3, 4, 5, 6, 7,9, 10, 12, 14, 17, 46, 47, 48, 38
South Delhi: Hauz Khas, Green Park, Jor Bagh, South Ex., Saket, Malviya Nagar, GK.
East Delhi: Mayur Vihar, Laxmi Nagar, Padpad Ganj, Preet Vihar, Akshardham, Vaishali, Kaushambi, Vasundhra, Indirapuram, Geeta Colony, Shahdra, Shastru Nagar, Ghaziabad, Dilshad Garden
West Delhi: Pitampura, Shalimar bagh, Paschim Vihar, Rajouri garden, Moti Nagar, Kirti Nagar, Ramesh Nagar, Inderlok, Rohini, Punjabi Bagh, Subhash Nagar, Mayapuri, Tilak Nagar, Hari Nagar, Wazirpur, Karol Bagh, patel Nagar, Kamla Nagar, Civil Lines, GTB Nagar, Dwarka, Vasant Kunj, Uttam Nagar, Janakpuri, Najafgarh.
Noida: Sectors 15,18, 16, 21, 22, 26, 30, 31-37, 51-55, 70-73, 100, Arun Vihar, Niti Khand, Kaushambi,Vasundhar Enclave, Ghaziabad.
Punjab and Haryana,Rajisthan: Rewari, Rohtak, Bhiwadi, Sohna, Manesar, Karnal, Bhiwani, Sonipat, Panipat, Jind, Chandigarh, Jaipur