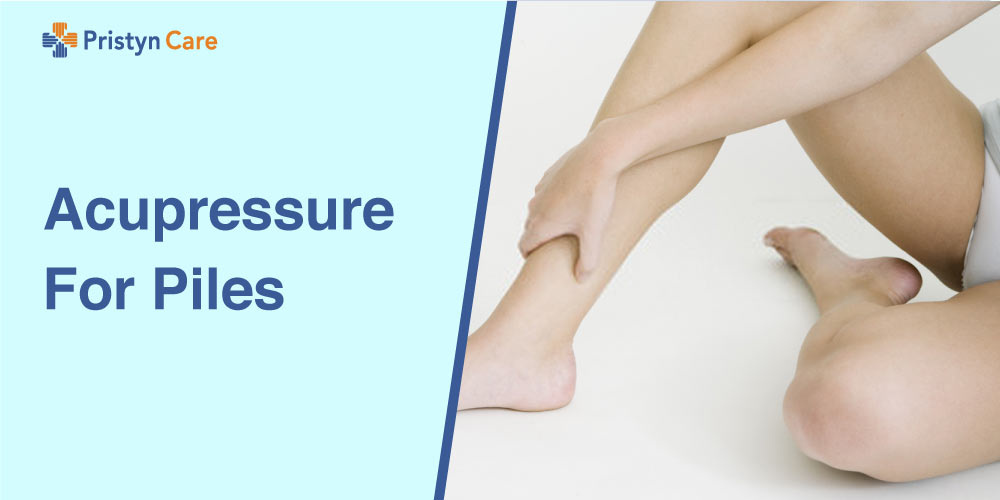 Have you ever thought that acupressure for piles can help you combat the pain and irritation? But while dealing with the pain by stimulating the acupressure points for piles, you must be careful. It is important to get expert consultation as putting pressure on the wrong place can increase the pain. 
What is acupressure? 
Acupressure is a great way of living a healthy life and getting rid of health issues. Acupressure is a natural way to treat piles that originated in ancient China. 
Also, acupressure is not just putting pressure on the muscles, it is manipulated in a specific way to provide relief from pain. There are different tools and devices for applying nonspecific pressure by rubbing, rolling, or applying pressure on the body.
Acupressure experts use their fingers, palms, elbows or feet, to apply pressure to acupoints on the body's meridians. Sometimes, acupressure also involves stretching or acupressure massage too. Acupressure points for piles and fissure are mostly similar, but it is always better to consult an expert.
(Also read: Common causes of piles and fissure) 
Here are some acupuncture points which you can do whenever you are free:
Acupressure Point UB57 — Cheng Shan (Urinary Bladder)
Location: On the posterior midline of the lower leg, directly below the belly of muscle gastrocnemius.
How to do it: Apply firm pressure on Acupressure UB57 Point and hold on for a few seconds. Stimulate UB57 point twice a day to get better results. When you apply pressure to UB57 point, it will help to reduce your piles or hemorrhoids pain, constipation, low backache, cramps in legs and it will improve blood circulation in legs.
Benefits of UB57: Treat the following conditions: 
hemorrhoids or piles, 

cramps in the legs, 

varicose veins, constipation, 

sagging calf muscles, 

leg pains, 

low backache, and

poor circulation in the legs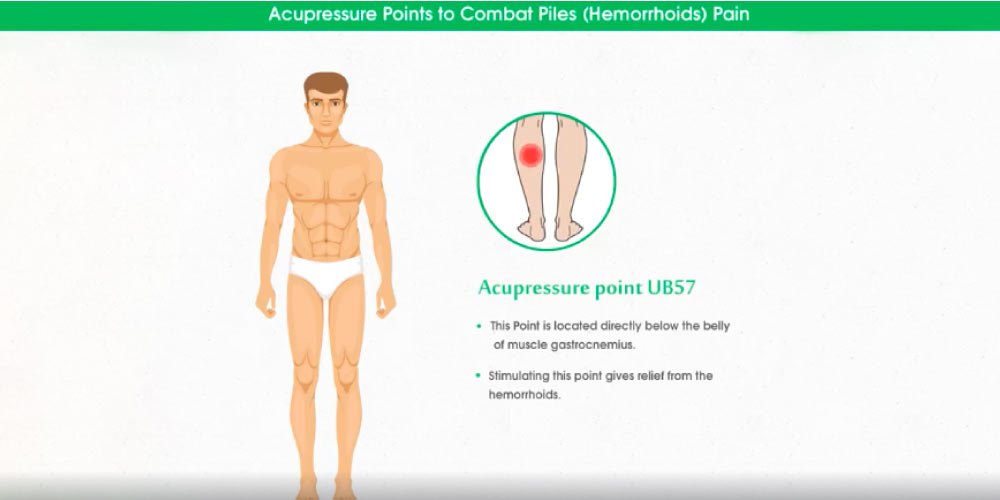 Acupressure Point UB60 — KunLun ( Urinary Bladder)
Location: on the foot behind the external malleolus, in the depression between tendo calcaneus and external malleolus.
Benefits of UB60: Treat the following conditions: 
piles

lower back pain, 

sciatica, 

numbness, 

headache, 

neck rigidity, 

blurred vision,

backache, 

pain in the heel, and

epilepsy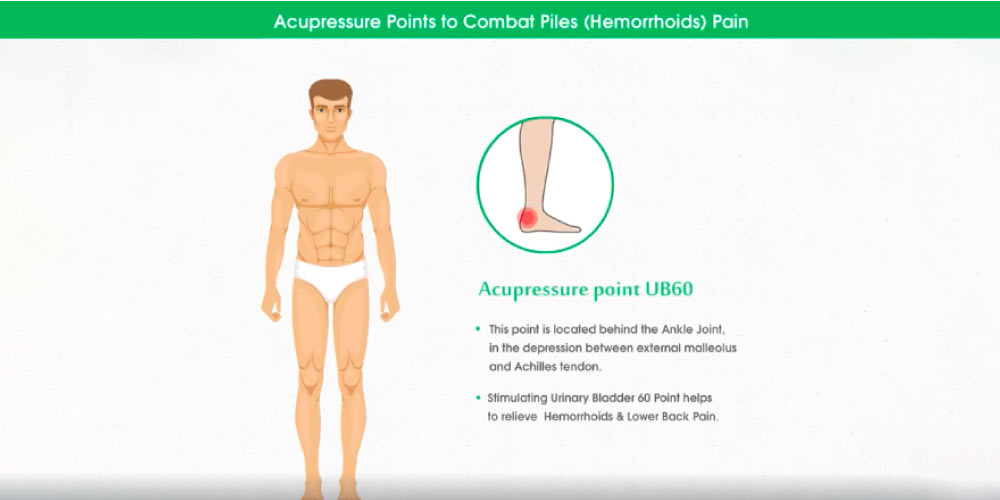 Acupressure Point SP6 — San Yin Jiao (Spleen)
Location: On the inside surface of the leg, four fingers above the inner ankle bone.
How to do it: Apply a comparatively heavy pressure on SP6 point and hold it for one minute. Then repeat the same process with the other leg. Applying acupressure SP6 Point on a regular basis will give relief in piles or hemorrhoids along with irregular menstruation, loose stool, immune deficiency, varicose veins, insomnia and many more.
Benefits: Not just piles, it also helps in abdominal distention, loose stools with undigested food, irregular menstruation, uterine bleeding, clinical depression, immune deficiency disorders, chronic fatigue, impotence, low sperm, sterility in men and women, regulate hormone function, low sexual desire in men and women, pain in the external genitalia, warts, hemorrhoids, varicose veins, insomnia, PMS, hot flashes, cold limbs, side effects of radiation and chemotherapy in cancer patients.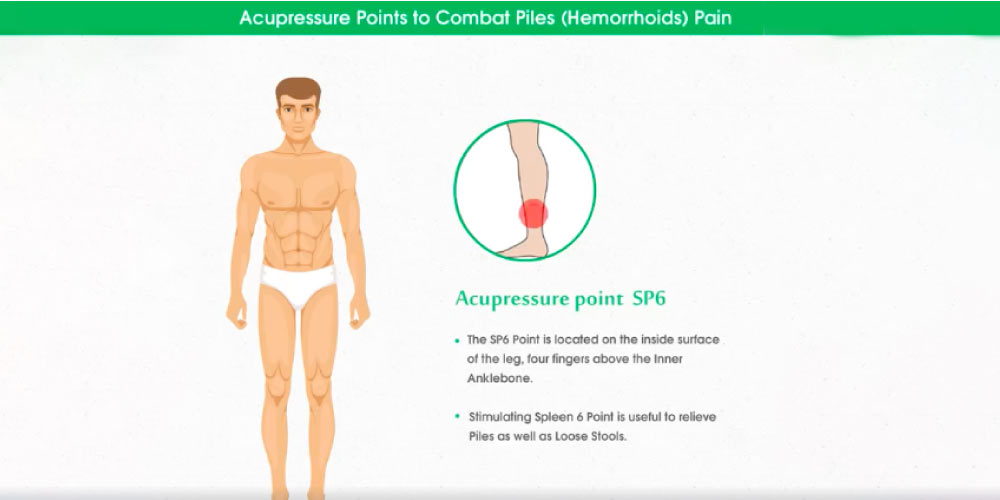 Acupressure Point SP8 — Di Ji (Spleen)
Location: 3 body inches below sp9,  on line connecting SP 9 and the tip of the medial malleolus.
How to do it: Use your thumb and hold the SP8 point gently, leave it after one minute. Do the same process with the other leg. Apply acupressure SP8 point regularly to reduce abdominal distension, abdominal pain, uterine bleeding, difficulty in urination, uterine cramps, and diarrhea.
Benefits: Treats all these conditions – piles, anorexia, neurotic vomiting, abdominal distention, dysentery, severe uterine bleeding, severe uterine cramps, postpartum hemorrhage, impotency, abdominal pain, diarrhea, edema, difficulty in urination, side effects of radiation and chemotherapy.
Acupressure Point LU9 — Tai Yuan (Lung Point)
Location: distal to the styloid process of the radius, at the radial side of the wrist crease. 
How to do it: These are the acupressure points on hands for piles. Apply firm pressure on LU9 Point on the left hand with the right thumb and right hand with the left thumb. Massage lung 9 point on both hands/wrists regularly to get better results in problems like hemorrhoids, headache, facial paralysis, toothache, sore throat, poor circulation and blood disorder.
Benefits: poor circulation, arteriosclerosis, headache, migraine, neck rigidity, cough, asthma, sore throat, facial paralysis, toothache, pain and weakness of the wrist, blood disorder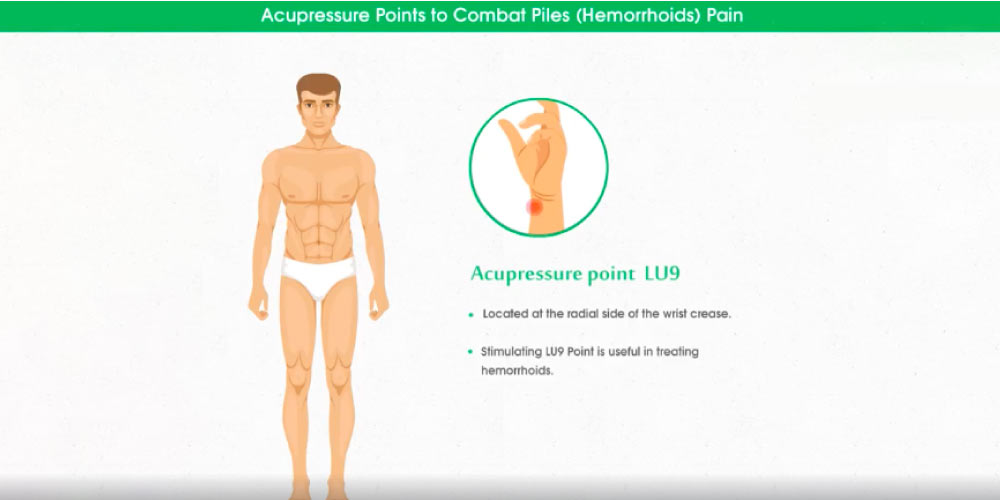 Acupressure Point LI2 — Er Jian (Large Intestine Point)
Location: on the radial side of the index finger, distal to the metacarpophalangeal joint.
How to do it: Apply mild pressure on Acupressure LI2 point for one minute and then apply the same level of pressure on the other hand. Repeat the process several times to get relief in hemorrhoids, lower abdominal pain, nosebleed, blurred vision, sore throat and toothache.
Benefits: piles, toothache, blurred vision, nosebleed, sore throat, pain in the lower abdomen.
Drink sufficient warm water after the massage, it will help clear away toxins in the body.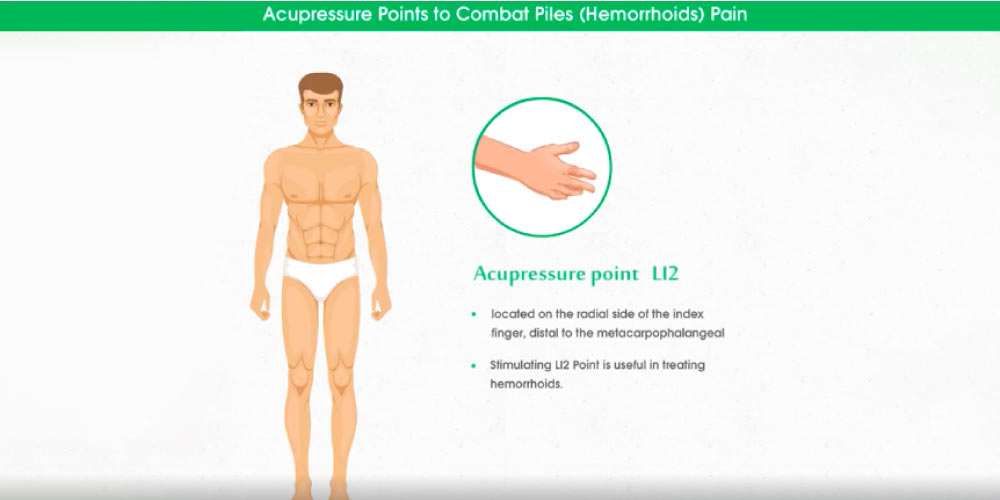 Benefits of acupressure points for piles treatment
The advantage of acupressure points for piles is that with one or two acupressure points, there are several health benefits as mentioned above. Their purpose is to provide balance and a healthy body by preventing it from any disorders. 
Is acupuncture different from acupressure?
Well, acupuncture is Acupuncture needles are usually made from stainless steel wire. When you use them repeatedly, they have to be sterilized before each use.
According to the experts, when the natural flow of the blood is blocked, your health will get disrupted. There are over 670 acupuncture points that can be activated to treat certain health conditions and provide relief from chronic pain. 
Side-effects of acupressure points for hemorrhoids or piles
It is not an effective treatment for all. It is more effective when used in combination with other treatments. 

Acupressure is a slow treatment process. The results take time in treating the symptoms of disease. 

Less effective in soft pressure points such as the stomach.

People with diarrhea and fever are not advised to go for acupressure treatment for piles. 
What if acupressure for piles does not help? 
If you feel that there is no improvement in your piles condition or the problem has become worse, then do not delay further. There are home remedies for piles such as sitz bath, massage and ointments, but consult a general physician for a second opinion. You can contact us or write down your query and send it to us. The medical experts will get back to you as soon as possible. You can also book online consultation for piles treatment. 
Disclaimer: Acupressure Points for Piles mentioned above are for information purpose only. It is advisable to consult an Acupressure expert before trying Acupressure Points for piles on yourself or any other person. Or consult a general physician for other piles treatment. 
Also read: Yoga and Exercise for piles
Also read: Ice packs for piles
Also read: Cost of Laser Treatment for Piles