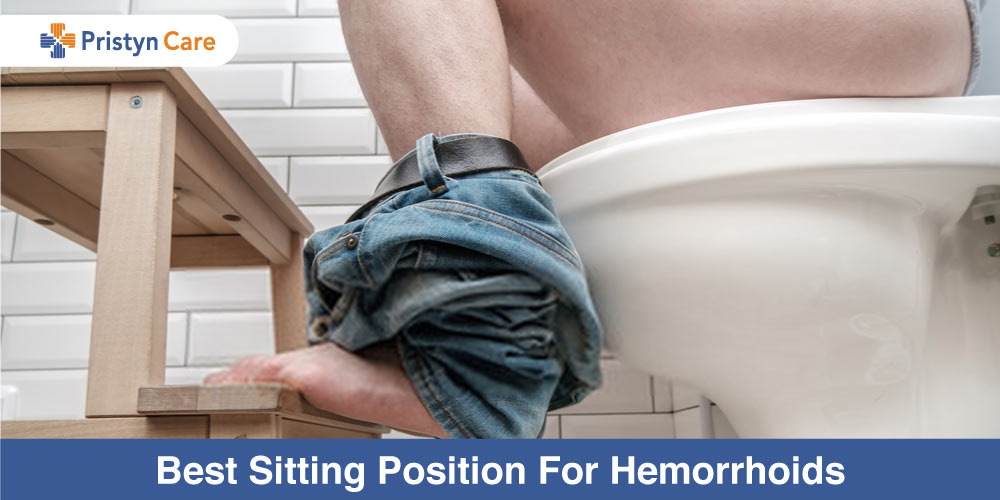 Hemorrhoids are all about itchiness, discomfort, pain and sometimes bleeding. Among many connecting dots to alleviate the painful symptoms of hemorrhoids, there lies a very important subject- "What can be the best sitting position for hemorrhoids?" The sitting position will determine a lot about the discomfort you might face all day long. 
We know that hemorrhoids or piles are swollen veins at the anal verge. They are hell painful while you sit as all the pressure is exerted in the affected area. So, let's know how sitting positions and some insights related to sitting posture during piles help in controlling and eliminating the pain. 
Ways to combat hemorrhoid pain and the best position to sit in hemorrhoids: 
Sit on doughnut-shaped cushion:


When you sit on a chair or anywhere that might cause pain in your bottom area, you can try a cushion. There are hollow cushions that have a shape similar to that of a doughnut. This will help you in elevating your buttocks while sitting, preventing direct contact with the chair or any flat surface. Sitting directly on any surface is likely to cause a sharp or throbbing pain as it will directly impact the affected area.

Use towel roll or foam wedge:


You can also use a towel roll or foam wedge under your upper thighs or each buttock. This will help you lift up the sensitive area affected by piles and will avoid loading the pelvic floor. These are ready to go ways as towels and foam wedges can be easily and readily fetched.

Use pillow beneath the knees:

Lie down with a pillow beneath your knees. This will relieve pressure from the anal passage and reduce the load of your abdominal weight on your pelvic floor. This will help with relieving the stress from straining muscles after a long day of work and a hectic schedule.

Position while defecating matters:


Squatting position creates a better alignment for passing stools. This may also reduce the development of hemorrhoids. You can also try raising your feet above and place a bench while sitting on the toilet seat. If the sphincter muscles are damaged, you may lose control over your bowel and this may cause hemorrhoids or piles. 

Avoid long sittings on the toilet seat:


This is one of the major causes of piles and the reason of aggravation. Sitting unnecessarily on the toilet seat and getting engrossed in phone and newspaper is a bad trap. Moreover, it will be a big problem as you will lose track of time and spend more than required time scrolling through various social media apps. This will put a lot of pressure on the blood vessels and aggravate pain and swelling. (Also read: Sitz bath Procedure and its Benefits)

Avoid rubber ring cushions

: 

Most of the time, you will be advised to use rubber ring cushions when you sit. But you should know that it will worsen your problem and pain. It will increase pressure within the anus obstructing blood flow within the pelvic area. Hence, there will be more swelling and more pain due to increased pressure. 

Do not strain

:

Avoid any kind of position that may strain or put pressure on your anal area as it will restrain the proper blood flow in the lumpy area of piles which will not do any good. In fact, it will make the area more swollen and painful due to extreme pressure. Such positions might include- sitting and straining over the toilet seat to pass stool, lifting heavy objects, having anal intercourse. 
Take Away
To shrink those swollen veins and get rid of all that discomfort, pain and itchiness, you first need to prevent the swelling itself. To shrink the swelling, you can go for a sitz bath and cold compress. And if hemorrhoids need surgery, then laser surgery is the best one to go for. It is less invasive and doesn't require long stays in hospitals. Apart from this, you can bring dietary changes and lifestyle changes to get rid of piles. Drinking lots of water and intaking fiber, staying active will help a lot in curbing symptoms and controlling piles.
Also read: Can Piles cause Back pain
Also read: Castor Oil for Piles