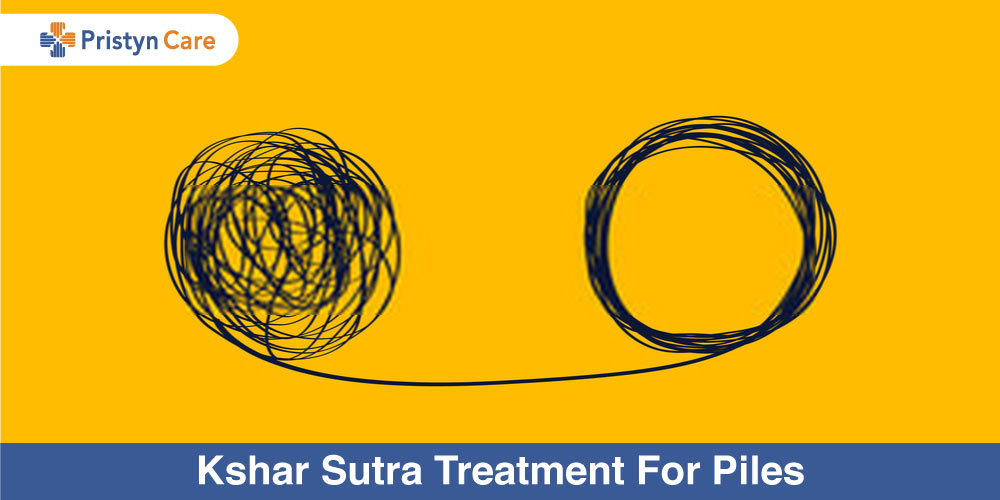 The relevance of Ayurveda in modern times is not unknown to us. In recent times, traditional and ayurvedic medicines and therapies have witnessed a resurgence in popularity due to their effectiveness and the quality of rooting out the major cause of the problem rather than eliminating the symptoms temporarily. Ayurveda offers the traditional approach of healthcare which is very different and very diverse in bringing you in the state of good health without any chance of suspicion and errors in the long run. Kshar Sutra treatment for piles is one of the common procedures in Ayurveda. Let us know the advantages and effectiveness of Kshar Sutra piles treatment. 
Kshar Sutra Treatment For Piles:
It is a minimally invasive Ayurvedic Para surgical procedure and time tested ayurvedic technique in the management and correction of issues related to Anorectal disorders. Kshar sutra is considered to be a safe, sure and cost-effective treatment method in treating fistula and piles in this regard.
How Kshar sutra is performed to treat piles?
The patient's selection is based on the following criteria:

Patients with age ranging from 10-80 years with Grade-2 and 3 piles are considered.

Patients with pregnancy, carcinoma rectum, hepatitis, heart diseases, Grade 1 piles, inflamed piles, leprosy, rectal prolapse tuberculosis are not considered fit for the Kshar Sutra surgery.

Here are some

pre-operatives

that are performed on the patient before surgery:

Doctors take written consent for operation from the patient.

One day earlier to the operation, the pubic hair is shaved and the part is well painted with an antiseptic solution to rest all time before the surgery.

The patient is not allowed to eat at all for at least 6 hours before the procedure. 

Soap water enema is given to the patient on the night before the procedure and also 2 hours before the procedure to ensure clean bowels.

Tetanus test and xylocaine sensitivity test is done.

The patient is provided with a light diet on the night prior to the operation and nothing is consumed thereafter orally.

The standard Kshar sutra is prepared by several coatings of ayurvedic medicines which comprise of 11 coatings of

Snuhi latex, 7 coats of Snuhi latex and Apamarga Kshara and last 3 coatings of Snuhi latex and Haridra churna.

The pH of Apamarga Kshara sutra is 9.72.
The patient is anesthetized with local/spinal or general anaesthesia.

The surgeon assesses the position of piles masses and the patient is positioned in lithotomy on the operation table with an antiseptic solution on the affected part.

The surgeon holds the pile mass with pile-holding forceps and transfixes each piles mass with a needle mounted with Kshar sutra as its base.

After transfixation, they ligate the pile mass anteriorly and posteriorly with required knots.

The ligated and prolapsed pile masses are then pushed inside the rectum and bleeding is controlled and made nil.

Then they clean, wipe the area gently by warm water and then secure it safely by "T" bandaging.

The surgery is done and they shift the patient to the recovery room for a few hours till the patient is able to walk easily and could be discharged.
Some

post-operative guidelines

are as follows:
The patient can sip liquids after 6-8 hours of surgery.

He or she will be gradually shifted to normal diets.

He or she will be undergoing daily dressing schedules with irrigation of warm water and several ayurvedic medicines like

jatayadi taila as matra vasti

before removal of all kshar sutra ligated pile masses.

After the removal of piles, application of jatyadi ghrita and jatyadi taila is done. Adequate quantity of these is inserted per rectum twice a day till it is completely healed.
Advantages of Kshar Sutra Treatment for piles
So, in contemporary times, where modern medical science could fail and can cause reactions and irritation with long term dependency, Kshar sutra treatment in Ayurveda can be a boon to the people suffering from piles and fistula. This ligation procedure is all-natural and effective. It is all benign and does not have any side effects or cases of recurrence. The surgery takes only 30-45 minutes and you can leave the hospital in 4-5 hours after the surgery itself. And you can continue with your normal routine in just 4-5 days after consulting your surgeon/ doctor. This procedure is best when integrated with other lifestyle changes including high fibre diet, deep breathing exercises and avoiding obesity at any cost. 
Hence, we can see how the ancient medical science is reshaping the mind set of people to adopt ancient medical ways of rectification and elimination of causes of the disease itself.
Drawback of Kshar Sutra Piles Treatment
The only conern with pile Ayurvedic treatment is that it may not be able to treat the severe stages of piles or Grade 3 and Grade 4 hmorrhoids. Furthermore, the Ayurveda expertise is very important to perform Kshar Sutra. Therefore, talk to the doctor to know everything about the procedure and consequnces or possible side-effects of Kshar Sutra for Piles.
Take Away
After all this, if you are not sure about Ayurveda treatment or you want to know more about other treatment options, you can write to us or contact us. You can also talk to our Piles specialists online for consultation.
Also read: Effectiveness of Piles Treatment in Ayurveda