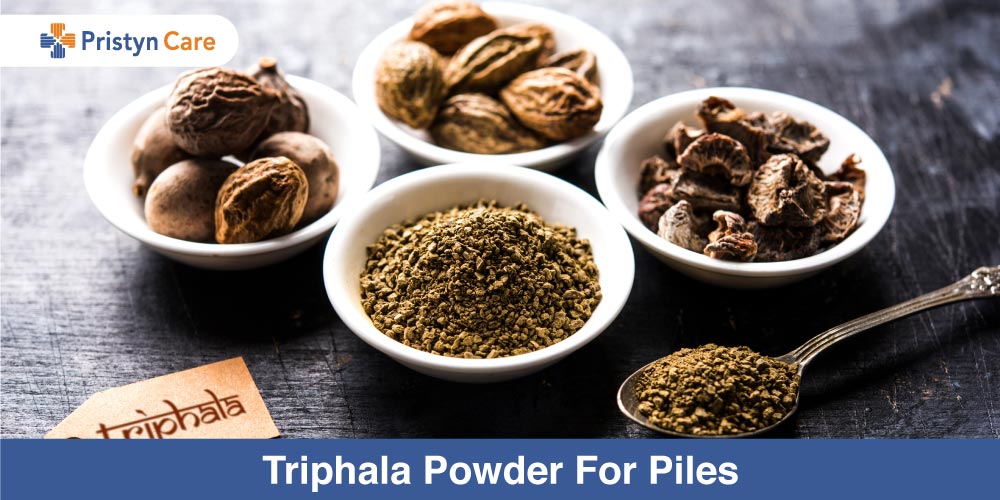 Triphala Powder for piles or hemorrhoids, bawaseer in Hindi, is a known treatment since ancient times. It is commonly used as an Ayurvedic remedy for bowel health. Triphala powder or Churna is helpful in treating constipation that is the primary reason for piles. 
What is Triphala Powder?
Triphala powder is a mixture of Ayurvedic medicinal herbs that are used to treat various ailments from the stomach to dental problems. Triphala is a mixture of three plants namely – Amla, Bibhitaki and Haritaki. 
Amla

: Amla, commonly known as Indian gooseberry, is the oldest ancient fruit that is available everywhere in India. It is a sour and fibrous textured fruit. Amla is used to make pickle, mouth fresheners, or various dishes.  It is rich in fiber and hence used as medicines to treat problems like constipation. Amla is a rich source of vitamin C, amino acids and minerals too.

Bibhitaki

: It is used as Ayurvedic medicine to treat viral and bacterial infection. It reduces uric acid levels in the body which is very helpful for gout patients. Moreover, Bibhitaki has compounds like gallic and ellagic acids that aids in digestion and reduces the chances of developing constipation, thereby preventing piles. 

Haritaki

: It is an Ayurvedic herb that grows all over India, Middle East, China and Thailand. It is an important component in Triphala powder. Haritaki is also known as the "king of medicines" in Ayurveda. Haritaki has powerful anti-inflammatory and antioxidant properties and it also acts as a laxatives making Triphala Powder more effective for piles treatment. 
Benefits of Triphala Powder for Piles
Here are some triphala powder benefits that will help you understand how effective the ayurvedic medicine is for piles treatment:
It cures constipation and softens stools. 

Triphala powder reduces congestion in the intestinal veins.

It gives flexibility to the blood vessels of the anus and lower rectum further improving the blood circulation in the anal region.

Triphala acts as a natural laxative with antioxidant and anti-inflammatory properties to make it easier to pass stools.

Triphala encourages regular and complete evacuation of the bowels. 
How to make Triphala powder at home? 
Here are the ingredients used to make Triphala powder at home:
Amla 80 grams

Bibhitaki 40 grams

Haritaki 20 grams

Mortar and pestle
The method of making this powder is as follows: 
Take all the ingredients in the given amounts and dry them completely.

After they dry up, take them one by one and grind them into a fine powder.

Sieve the powder and mix all the powdered ingredients well.

Store the powder in an airtight container. 
How to use Triphala powder for piles at home? 
There are different ways to use/take Triphala to treat piles: 
Consume it in the form of tea: Take a tablespoon of Triphala powder and add one cup of water. Boil and strain it. You can add honey to taste. You can make this tea 2-3 times a day and drink it to get relief from piles symptoms.  (Also read: Liquid diet for hemorrhoids)
Triphala powder with lemon and honey:

Some people directly gulp Triphala powder while others find the taste strange. Thus you can mix honey and lemon juice in Triphala powder and consume it.  

Triphala in the form of capsule and tablet:

For those who cannot take this powder, there are herbal capsules of Triphala available in the market. Consult a doctor or ask the pharmacist and do not take more than prescribed dosage or as mentioned on the package. 
For maximum benefits, you must consume Triphala Churna with lukewarm water or by taking it with warm milk. 
Warning and Precautions to Use Triphala Powder 
Here are certain precautionary measures that you should consider before taking Triphala Churna for piles: 
Although Triphala is a safe Ayurvedic medicine and good for people suffering from digestive problems, it is better to consult your doctor before taking this Ayurvedic remedy for piles on a regular basis. 

Refrain from taking more than the recommended dosage or as prescribed by your doctor. It may cause dehydration.

Avoid giving it to kids without the consultation of the doctor. This is because an excess amount of Triphala powder may upset the stomach of the child and cause diarrhea or other digestive issues.

Triphala powder is rich in fiber, therefore, if you consume more than the necessary amount, it may lead to bloating. 
A pregnant and breastfeeding mother should avoid Triphala. It may lead to natural abortion or miscarriage. This herbal medicine can also pass through breast milk to the baby; therefore, breastfeeding moms should avoid taking it. (Also read: Piles in Pregnancy)
Can Triphala powder interact with medication?
Whenever you are taking Triphala powder for piles, you must ensure that there is a gap of 10-12 hours before you take any other medication. There are high chances that Triphala powder may interact with other medications. This is one of the side-effects of Triphala powder. The best way to clear confusion is to consult your doctor and ask how to take medicines when you are taking Triphala Churna for piles.
Take Away
There are several Ayurveda treatments for piles with many effective herbal medicines to treat and cure piles. You can consume them, however, it is best to consult an Ayurveda expert or a general physician to avoid complications. If you think Ayurveda medicines in piles are not effective, you can consult a Pristyn Care Piles specialist and learn about the advanced treatment method that is safe and effective to cure piles. 
Also read: Kshar Sutra Treatment for Piles
Also read: Piles treatment for Diabetics